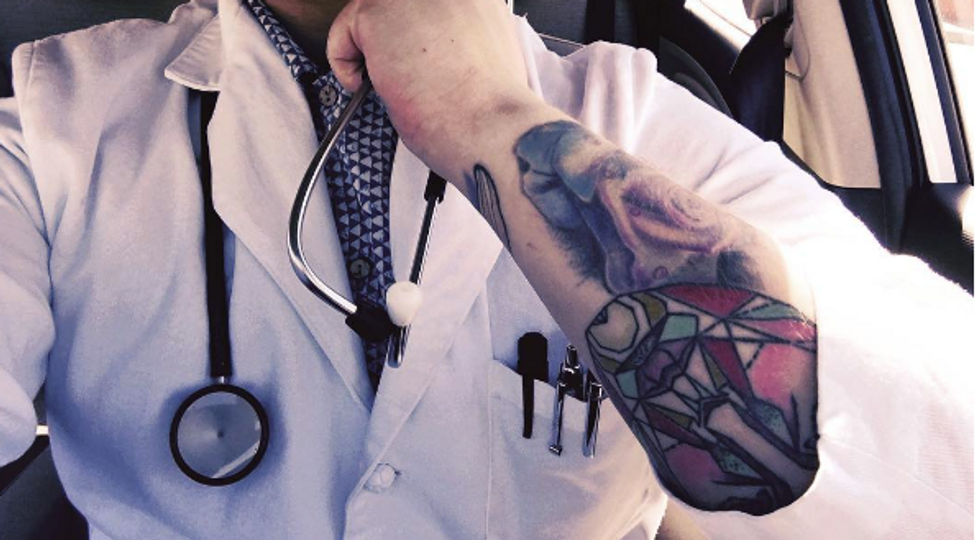 Tattoos are really awesome, and there are so many different types of tattoos as well as styles of tattoos. It's a form of personal expression for some people, and for some a funny drunk story. In the United States of America at least 45% (and rising) of Americans are tattooed. However to some people tattoos seem offensive or unprofessional. People have been denied a position or a promotion just because of the ink their skin. Maybe it was due to an official policy against tattoos in the workplace or perhaps it was someone's personal views on their appearance. Patients have refused to be treated by a healthcare professional because their skull tattoo is either offensive or just too scary looking.
In the health care professional field, most employee handbooks have a designated section regarding tattoos and piercings. In very rare cases, certain hospital positions are only available to people who have no tattoos. In general, however, most medical facilities apply minor restrictions that only prohibit excessive and/or offensive tattoos. Usually they would want you to cover open tattoos with clothing.
While tattoos are becoming accepted more widely, it's also true that not every employer welcomes their presence. Prejudices still exist and the law is undoubtedly on the side of the employer.
This doesn't mean that people with tattoos do not have the needed experience and qualifications to do their job. And this is very important to understand. Personally, I'd trust someone with a whole body of tattoos, if they have the experience that they need to have, if they know what they are doing --- I'd trust them to treat me medically. Some don't, some people refuse to be treated by a medical professional that has tattoos, but has all the qualifications to treat them and that's just a sad reality but it's there and it is what it is.
According to the Equal Employment Opportunity Commission (EEOC), an employer can establish a dress code and appearance policies as long as they don't discriminate against a person on the basis of their race, color, religion, sex, national origin, age, disability, or genetic information. You may be denied a healthcare job opportunity if the employer believes your tattoo violates their internal appearance policies.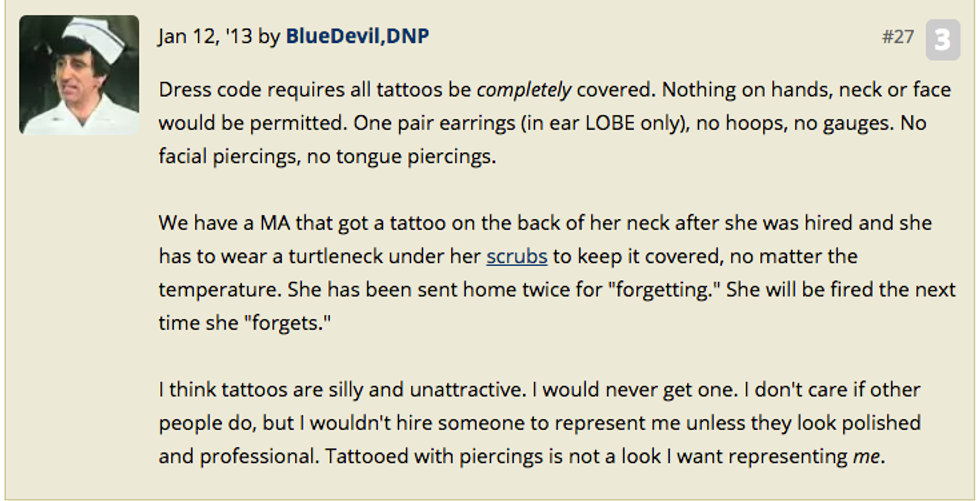 So there isn't really any implicated nationally recognized policies around to protect us and our jobs if we have or get tattoos that we cannot hide properly or if we want to get tattoos that we cant hide as easily, like sleeve tattoos, facial, neck and hand. Each workplace is different, and as tattoos are becoming more popular -- usually the rules can gear towards being more flexible, like tattoos that cannot be seen in normal workplace appropriate clothing is okay.
So what the bottom line is, if you wish to work for a hospital or medical management -- make sure you understand their policies. Hospitals are changing policies very slowly but surely, but some may not change their policy at all, it is up to them solely.
Put your medical career first. it is what it is. When choosing a tattoo, chose wisely about the size and placement of it. Can you conceal the tattoo without extraordinary measures? Do you need to wear a sweater? These things matter.
You have to remember that not only are you representing yourself, but you are also going to be representing the hospital as a professional healthcare worker, when they hire you. People will look at you, and how you carry yourself is how people will see the hospital or clinic that they are being treated in. For some people how you look is how they think they will be treated. Even if you aren't working at a hospital right now, it's good to keep in mind.
Ultimately, you and you alone get to decide how to live your life, and what tattoos to pick to get and where to put them. Working in the medical field with tattoos is no trouble as long as you're mindful of requirements and expectations, of that establishment. I'm going through the process of becoming a health care professional, hopefully a doctor. My path is a unique one but it is a path I am taking.
However I plan on getting tattoos, but I also need to keep in mind of the rules that have been put in place in many hospitals. So I'll get any kind of tattoos that I can get, as long as I can hide them under my scrubs without having to wear a long sleeve shirt, or heavy cover-up. But that's my decision, I choose my career over my tattoos.