Earlier this year, House Bill 2 was passed in North Carolina, stressing that individuals, regardless of gender identity or transition status, must use bathrooms based on the genders they were assigned at birth. This law, commonly referred to as the bathroom bill, is suggested by some as being a way to discourage sexual predators from using public restrooms to find victims yet this bill is incapable of being enforced and provides no harsher penalties for sexual predators who take advantage of public restrooms.
In fact, HB2 was and still is seen by many as a discriminatory law that targets transgender individuals and attempts to control and influence their behavior in public. The bill received immediate outrage and backlash from North Carolinians while also sparking criticism nationwide as well as worldwide.
Musical acts like Beyoncé aligned themselves with LGBTQ+ organizations like Equality NC and businesses like Target took stances with the trans community, choosing to defy HB2 and continue to stress the importance of inclusion, equality, acceptance, and respect.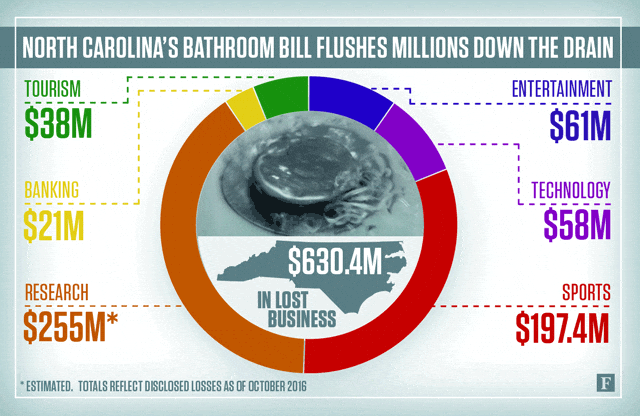 From the law's passing in March of this year to days before the election this past November, Forbes has estimated that North Carolina has lost $630.4 million with $197.4 of those million being related to the loss of sporting events including NBA, NCAA, & ACC tournaments. Forbes also provides a further, detailed breakdown of the losses related to HB2.
In addition to the huge monetary loss, North Carolina has lost countless jobs, business interest, and many entertainment events that may never choose to return to North Carolina. HB2 also cost Governor Pat McCrory his seat as Governor and will likely tarnish his legacy as the 74th Governor of North Carolina.
Gov. McCrory was the first Republican governor in North Carolina this century and his win in 2013 saw NC Republicans control the House, Senate, and Governor's mansion for the first time since Reconstruction.
Despite a 10,000 vote difference, Gov. McCrory refused to concede until today, December 5th. His successor is Attorney General Roy Cooper, a Democrat who continually stressed throughout his campaign that HB2 must be repealed and North Carolina must rebuild on the ground lost by McCrory.
House Bill 2 motivated a North Carolina representative, Cecil Brockman, to come out as bisexual. Representative Brockman stressed how important representation was as well as how important it was for him to come out and be seen as a positive role model for not just black youth but LGBT youth and black LGBT youth as well. He added: "I hope it opens people's eyes to realize that the work we do affects real people's lives."
HB2 was a success but not in the way many legislators and supporters intended for it to be. It successfully showed a united front against discrimination of the trans community, one that used its influence and weight to demonstrate that trans discrimination is unacceptable and consequences will occur whenever any letter of the LGBTQ+ community, or anyone for that matter, is under fire.