With over 7 million monthly listeners on Spotify and over 24 million followers on Instagram, Harry Styles has taken the world by storm. After he first appeared in 2010 as a part of the British boy band One Direction, he quickly gained a mass following and became one of the heartthrobs of the decade.
Now, he's out on his own, making a name for himself in the music industry, modeling industry, and the film industry (you may have seen him in the war film "Dunkirk"). I've yet to figure out what he can't do.

In my preteen years, One Direction was all the rage. I was mildly interested but didn't really become a Harry Styles fan until he started releasing music as a solo artist. Fast forward to 2019, and I think I'm in love with him.
And by the way, he's about to drop a new album.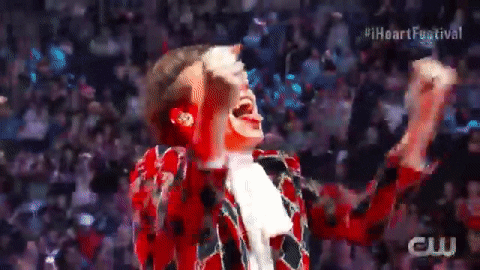 Giphy
Yes, you heard me. A second album from Harry Styles is on the horizon. And I can't wait.
According to a recent article entitled "The Eternal Sunshine of Harry Styles" from Rolling Stone magazine, Styles is finishing up his second record as a solo artist. According to the article, this album is about "having sex and feeling sad." Sounds like a recipe for one heck of an album, in my opinion.
Without gushing too much, I think Harry Styles is one of the hottest and most talented male artists in the rock genre today. His self-titled album, released in 2017, set him apart as a promising artist, and I'm confident that his second album will be even better.
Anyway, whether you're a Harry Styles fan or not, I would highly recommend listening to his first album, and be on the lookout for the next record, cause it's gonna be hella good.
You can find Harry Styles' music on Spotify, and you can check out the Rolling Stone magazine article by clinking this link (trust me, you'll want to see the pictures they've included): www.rollingstone.com/music/music-features/harry-styles-cover-interview-album
We love you Harry.