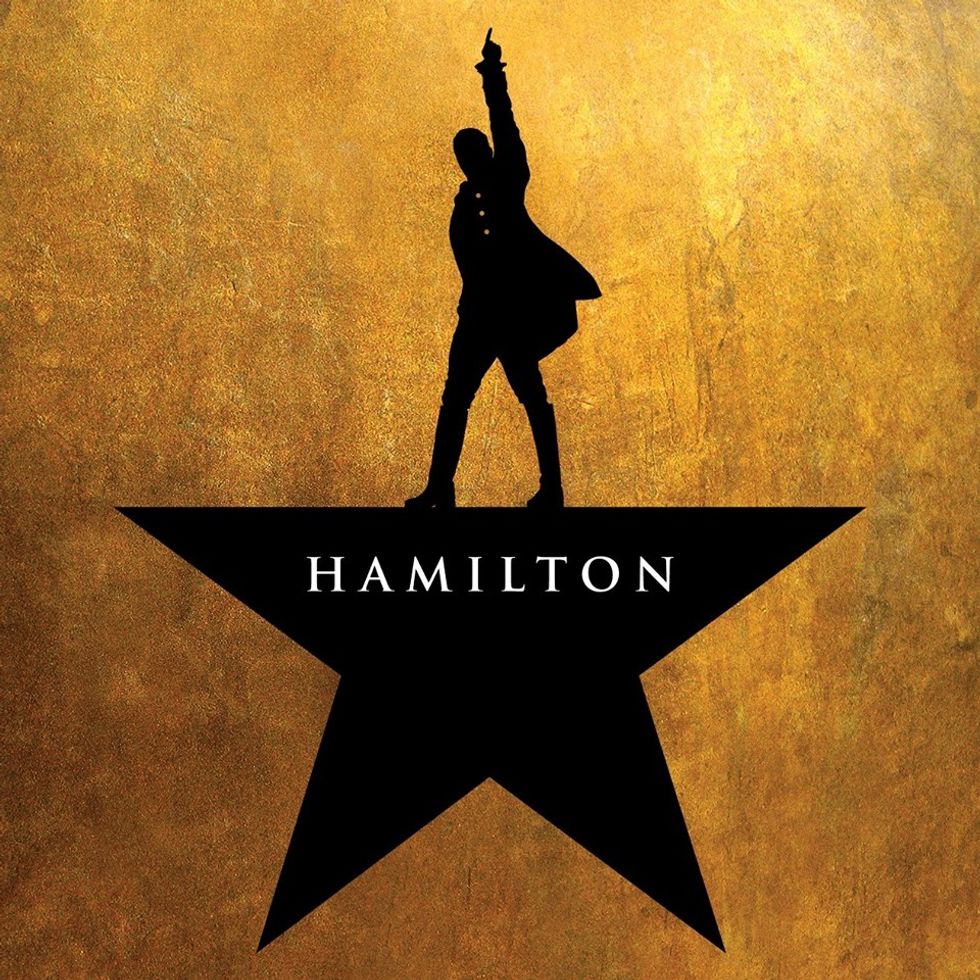 The last thing anyone needs is another "Hamilton" article or more devotion to the show that just won't quit.
It's been about two years since the show first opened up to the public, and ever since then, it's caused a huge hype in the world. So much, that tickets are impossible to come by, with high prices and the fact that at almost every corner, there's a SOLD OUT warning stopping your mission. Now, as far as I am aware (which is not by much), I assume that the fever has died down (while it continues to spread with productions in Chicago and San Francisco). So why am I bringing this back when people moved on to other things?
Within the last year or so, give or take, I finally got to listen to the "Hamilton" soundtrack on Spotify. I thought, 'okay, this isn't that bad, it's pretty catchy." I downloaded it on my iTunes. I was a mellow and unfazed fan, just a girl who has their music and likes to listen to it from time to time.
Come the present time, and I'm searching up backstage footage, interviews, live performances, anything that related to the musical or had at least one of the actors' faces.
Alexander Hamilton was just another face in my high school history textbook before this show. The dude on the ten-dollar bill. Now I'm learning about his life but it's fun doing it because it's being taught in a new, fun way. And we see more of America's history and the people he encountered. All the famous figures from all those years are there; George Washington, Aaron Burr (who I admit had NO idea who he was before the show), Thomas Jefferson, James Madison and Elizabeth, Hamilton's wife and her sisters Angelica and Peggy Schuyler.
This show is able to bring the audience to the edge of their seats with its songs and inclusion of different music genres you probably wouldn't expect on a Broadway stage. Cabinet meetings have transformed into rap battles. Characters are given an introduction piece in a hip hop/R&B vibe. Out of the total 46 songs on the soundtrack, my favorites are "Wait for It," "That Would Be Enough," and "It's Quiet Uptown." "Wait for It" is about Aaron Burr and how, even if life isn't easy for him, he remains optimistic and doesn't give up. It's inspiring enough that I have it on a spot in my own personal playlist I listen to of songs for when I'm feeling crappy about my life. Cause I'm never that optimistic. The other two songs, ironically, come at very contrasting points in the story. "That Would Be Enough" is technically a duet between Hamilton and Eliza, but eventually Eliza takes over and dominates BEAUTIFULLY. It's when Eliza tells Hamilton she's pregnant and that she's happy even if she's richer than her husband and he can't provide as well for her. Then, "It's Quiet Uptown," which is set at a huge, very tragic point of the play. That very same kid Eliza was pregnant with (it's a boy) had died in a duel just earlier and the parents grieve and try to grieve together. Hamilton especially tries to find forgiveness from Eliza cause she's basically pissed at him since he cheated on her earlier. It takes a lot to make me cry during movies and shows and songs, but on the rare occasion when I really listen to this song, sometimes, sometimes, my eyes get watery. "If you see him in the street, walking by her side, talking by her side, have pity. They are going through the unimaginable." Yep. That's an emotional trip.
"Hamilton" does a lot in the two hours and twenty-two minutes of songs and the stage performances, if you're lucky enough to see one. It's no wonder it's gotten the accolades and attention it deserves. It encompasses hilarity, poignancy, and lessons that advance beyond history all rolled into one. There's no show quite like it.
By now, most of the original cast has left Broadway to move on to their bigger things in their career. I'm sure the cast now is doing great and they're still dazzling everyone, but as most others have done, I want to make sure I give my thanks.
Lin-Manuel Miranda, Phillipa Soo, Leslie Odom Jr., Renée Elise Goldsberry, Daveed Diggs, Christopher Jackson, Jonathan Groff, Anthony Ramos, Jasmine Cephas Jones, and Okieriete Onaodowan. Thank you for bringing all the characters to life. Thank you for giving me more Broadway to appreciate and get into. Thank you for inspiring songs and tales that we might not know as much but we can always remember because of this musical. Thank you for your relentless commitment. Thank you for your generosity, your genuineness, your heart, your patience, and your voices. Thank you for giving a new name for Broadway whether through hip-hop/rap or diverse-colored casting. Thank you for the story of the legacy I don't think any of the fans knew they wanted. And lastly, thank you for the hope and wisdom and strong inspiration you put not only with your characters, but you bring out in your other projects and when you're just doing interviews. I hope you guys know how much you mean to your fans.
I may not ever get to see a "Hamilton" production because of costs, ticket availability, time commitments, or I still need some time to get used to the fact that the originals may not be stepping into those shoes. And that's okay. I'll enjoy what I got. And I know that Hamilton is still (probably) creating the same kind of feelings for newbies or anyone else that they have for myself and other fans, and no matter what the cast is doing, they're continuing to thrive like they did regenerating Founding Fathers and historical figures.
That's enough for me.