In the summer of 2016, when Kevin Durant signed with the Golden State Warriors, at the time, the Warriors looked to be unstoppable and have proved that right, by winning two championships back to back. Some wondered could Warriors keep this success without KD, and the Warriors have also proved that they can keep playing at this high of a level without Durant. In Game 5 of the Western Conference Semifinals, Durant suffered a right calf injury, and since then the Warriors have gone 5-0, and look to continue this run to a third straight championship.
Draymond Green has picked up the slack for KD. 
In the early goings of the 2018-2019 NBA season, there was an on and off court disagreement between Kevin Durant, and Draymond Green, both of whom play for the Golden State Warriors. In a media session, Green said that the Warriors won without KD, and can win without KD. In Game 5 of the Western Conference Semifinals against the Houston Rockets, Kevin Durant went down with a left calf injury. After that, the Warriors would win the next 2 games and then go onto sweep the Portland Trail Blazers in the Western Conference Finals. During that stretch, Green average 16.5 points, a game, and Stephen Curry set the record for most points by a player in a 4 game sweep in NBA Playoffs history, with 146. There has also been an outstanding performance by Klay Thompson, who along with Curry, and Green have been with the Warriors since their 2014 NBA Championship.
Does KD need to come back and be effective with the Warriors?
If the Golden State Warriors want to win the 2019 NBA Finals, they don't need KD in order to do that, yes it would be nice, but KD needs the Warriors more than the Warriors need KD. This summer, Kevin Durant will become a free agent and is looking to join Kyrie Irving, and possibly RJ Barrett with the New York Knicks. If Durant doesn't come back to the Warriors, and they win the NBA Finals, with ease, does that diminish the value of Kevin Durant to other teams? As FOX Sports analyst Skip Bayless put it on Skip and Shannon Undisputed. "the worst case scenario for Kevin Durant is, he comes back for Game 1 (of the NBA Finals) and they lose to whoever they would play, probably Milwaukee." If a fully healthy, and rested Kevin Durant were to come back for the NBA Finals, and they sweep whoever they would play, and Kevin Durant can average 35+ in that series, then Durant may be the most treasured free agent in recent NBA History (yes that includes LeBron James in 2010/2014)
Has this run helped solidify the greatness of Steph Curry?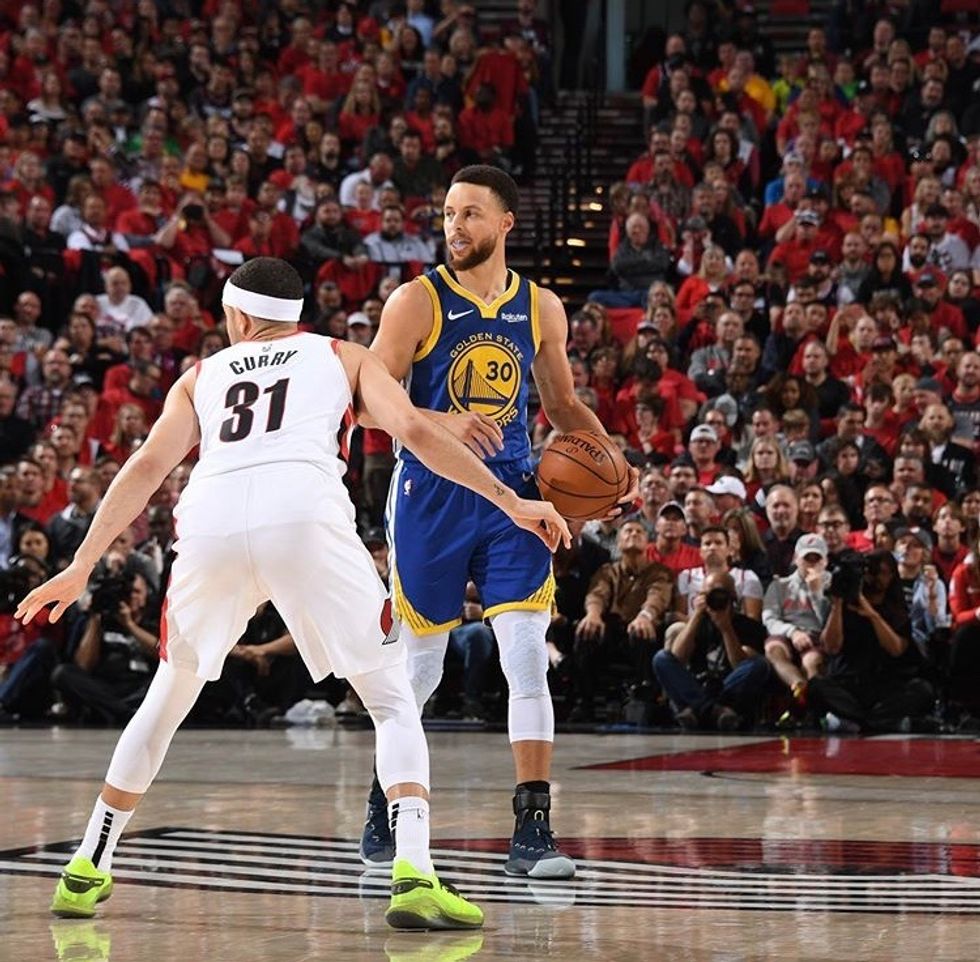 Since Game 5 when KD was injured, the Golden State Warriors have looked, and been unbeatable, but someone who has played out of their mind is Steph Curry. Curry averaged 36 points during that time span and has looked like he can't miss even if he tried to miss. While Steph Curry has been considered one of the best point guards in the game right now, this run he has had throughout the playoffs has made some question whether Curry is the greatest point guard of all time. While Curry may not be at the level in which Magic Johnson or Oscar Robertson ever was, but he sure has made his case for being one of the top three best point guards of all time.