If you're like most people, there will be a time in your life where you want to get a tattoo. Be it some inspirational quote, a specific date, or a picture you found online that you like. Most people will have second thoughts about it, questioning the pain, the cost -- as well as where to go. Here are a few tips to make the process as smooth as possible, and help curve some of your concerns.

1. Pain

This is probably one of the most off-putting things about getting a tattoo. If someone tells you that a tattoo did not hurt, or that they don't hurt in general, they are just trying to act tough. Truth is -- tattoos do hurt, but not equally. Some parts of the body hurt a lot more than others. For instance, you will feel it a lot more on the underside of your arm than you would on the outer part of your arm.
Now, maybe they don't hurt compared to some other things, but it isn't like you're not getting stabbed a million times with a needle or several in the same area. From my experience, you might not be bothered by it, but in some areas, you will feel it more. It is not unbearable, though, and it only "hurts" where they are actively tattooing. Once they move to another spot, you won't feel the pain where they just were. The part that you will notice the most is shading. Shading is used to fill in areas on the skin, and can range from three to 12 or more needles going into your body part.

2. Do your research

There are a lot of things you will want to research before you actually step foot in a shop. First, you need to actually decide on something you want. It does not have to be the exact design, because a tattoo artist can and will work on it with you. For instance, on two out of the three tattoos I have, the artist did some drawing on the design, and eventually we came up with something better than the original.
The next thing you will want to look into is who you want to do it. A good way to figure this one out is through friends. If you know people with tattoos, ask where they got them and who did them. Chances are, if you bring up your friend or whoever to the artist, they will likely work with you a little more. Also, Instagram is a great place to meet artists. If you look up the name of a local shop on Instagram, you can usually find all the artists that work there and their profiles, which will typically have copious examples of what they have done.
3. Scheduling an appointment
This one typically depends on the studio, as some do accept walk-ins. If you're able to find an artist you are interested in, it is always good to contact them and ask if they have any openings. If the studio does accept walk-ins, you'll be good to just walk on in with some idea of what you want, and usually walk out in good shape. But making an appointment is the best way to go, as you will have a guaranteed time to go in, and it will typically be faster overall. If you go in without an appointment, you might have to wait awhile before you sit down in the chair.
4. Getting it done
There you are, walking into the studio to meet the artist, design in hand, and a nervous feeling in your stomach. You're greeted at the counter, meet the artist, and suddenly, all your concerns go down the drain. The artist knows exactly what it feels like to enter the studio slightly worried, and will quickly ease your concerns with their personality. Once they get talking, and you go over the design and get to know them more, you will calm down a lot. And, after they finished prepping, there you are, sitting in the chair.
At this point, you will have an outline of the design on your body, done through a process similar to that of carbon paper; this will give you a great idea of what it will look like, and allows you to get the placement you want. And then the artist prepares the machine, and you hear that familiar buzzing sound, slightly like a dental drill, but a lot deeper. Next thing you know, they are applying a lubricating liquid to your body part and start going to town on it. You will notice the pain, but it probably will not bother you all that much. The thing that you'll feel more than anything is the shading.

What my most recent one looked just moments after finishing. The redness faded a few hours later.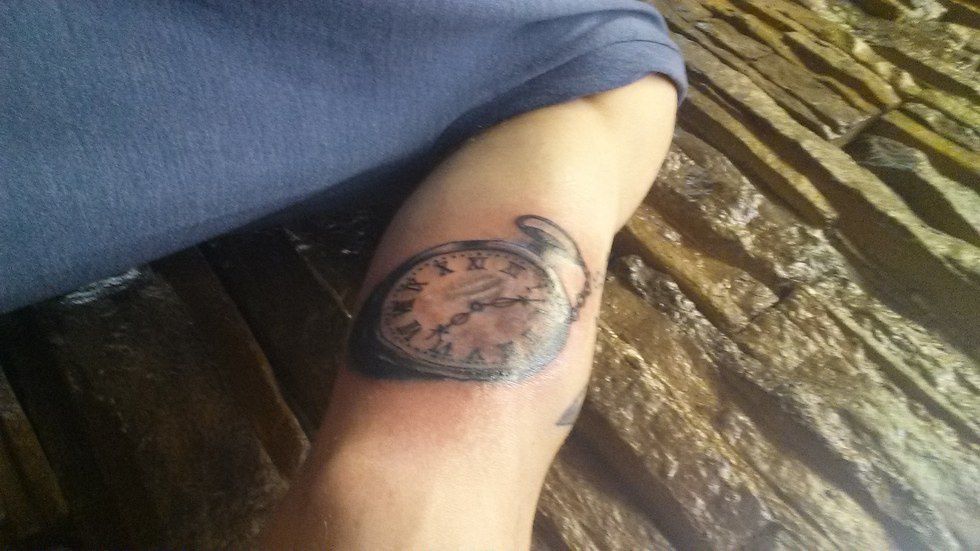 5. Aftercare
So you just finished getting your new tattoo, you and the artist took pictures to post on Instagram, and you feel how swollen it is under the plastic wrap they placed over it. Nobody wants the tattoo to heal properly as much as the artist, so they will likely go through a detailed aftercare plan with you. What I have found that works is to leave the plastic wrap on for a few hours to allow everything to settle, and then jump in the shower.
The location of the tattoo on your body correlates to how careful you need to be while you shower. Let the water be as cool as possible and still comfortable, wash your body, and avoid that tattoo as much as possible. After you wash your body, use a non-scented soap, such as Ivory, to wash it. Let water run down it, but not directly hit, so don't stick your arm straight under the shower faucet, or you could end up in a world of hurt, just let the water run down over it.
After that, I would pat it dry with a paper towel and apply a small amount of Aquaphor -- just enough to give a slight shine. I would wash it three or four times per day and follow the wash with Aquaphor, until it starts to peel, or two days have passed after the initial day of getting it. Just a heads-up, you will peel like a snake. Do not pick at the skin, as prematurely removing the skin can lead to loss of pigmentation, aka fading.
After those few days, continue to wash it, but switch to an unscented lotion, such as Aveeno. During this two-week-plus process, it is best to avoid having direct sunlight on it, as it can cause it to fade, and the direct sun will burn quite a lot. Eventually, your investment will look good, as the redness will die down, and it will settle into the skin.
It all might seem confusing, but trust me, it isn't. Now that you have your new ink and it has properly healed, feel free to flaunt it! A tattoo can be a conversation piece, especially if you just got it, as it will be red and puffy for a couple days, so people will notice it right away. Don't be afraid of tattoos. I can promise you, once you get one, you'll want more. After my first one, I got another three weeks later, and then my most current one a couple months after. Have fun, and happy tattooing!