Indian dances, or garbas, are held at various locations throughout October. This tradition originated with the Gujarati people of western India and comprises a significant aspect of their culture. In addition to the dancing, there are buffet-style tables set up with authentic Indian foods for purchase such as dahi vada, kaali daal, and pani puri. There are garbas organized specifically for young kids, but there are also garbas that teenagers and adults can attend, often held at middle schools, high schools, banquet halls, and hotels. School garbas are typically free, while the ones at banquet halls or hotels cost between five and ten dollars.
A few weekends ago, I attended my first garba with my friend who is actually from southeastern India. Since she is from a different part of India than the Gujarati, she had never heard of the garba dance and had no idea how it worked or how we should dress. We spent a good three hours just getting ready, putting on lots of (fake) gold jewelry, makeup, and saris, Indian scarves that wrap around a dress.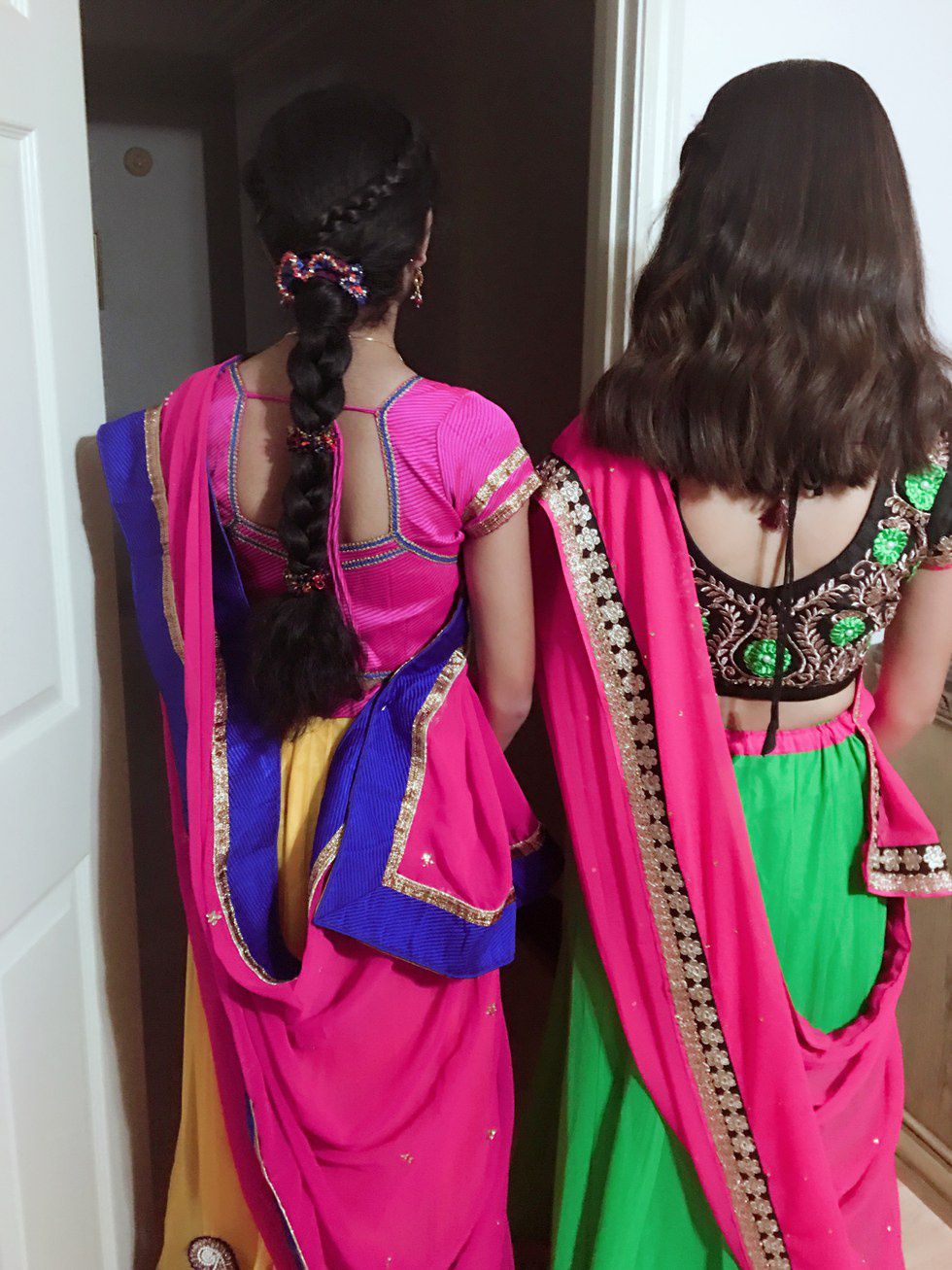 Boys and girls wear extremely colorful, vibrant outfits to garba. Traditionally, boys wear kurtas, and girls wear chaniya cholis. A kurta is a loose shirt that falls just below the knee and has a straight-cut edge along the bottom. Some kurtas have designs around the collar as well. A chaniya choli costume consists of a crop top, a long skirt, and a chunari, an Indian scarf that can be worn around the shoulders or along the arms. If a person wants to go to many garbas throughout the season, he or she may buy outfits in various colors and styles or stick to a certain color scheme.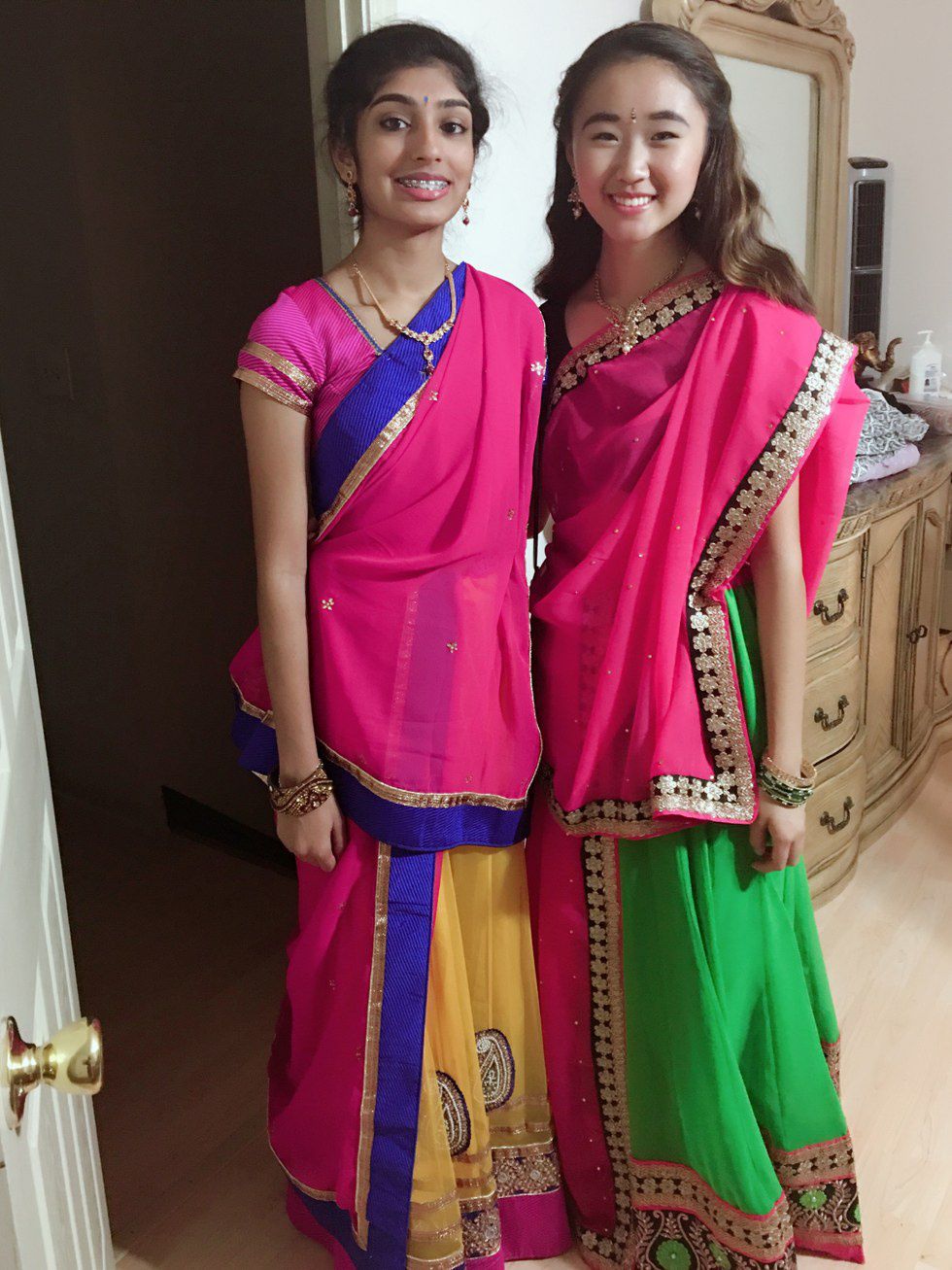 A garba is very busy, and people fill up the ballrooms at hotels. People are gathered in big groups, so teens have the opportunity to meet new people, catch up with old friends, and interact with individuals who are from the same age group. Since garbas are held at various places, students from various schools around the area may attend the same garba and catch up with people who go to different schools.
Oftentimes, teens attend a garba in a group and join other groups once they arrive, giving them the chance to engage in conversation with people of the same culture or learn about a new culture. Unfortunately, my friend and I arrived thirty minutes before it ended, so all we learned was the dance.
My friend and I entered the crowded yet lively dance area as parents watched their children participate in the garba, and we followed the rhythm, trying to find a good time to jump in. My friend jumped in first, and it took me awhile before I finally agreed to participate. I don't regret it at all. Yes, it was terrifying to try and dance when you don't know how to dance and everyone is watching you, but it was a fun experience that opened my eyes to a major part of Gujarati culture. If you ever have the opportunity to attend garba, do it. Everyone is dressed up, and it feels great to be a part of this collective dance with all of your friends.
Lastly, these garbas lead up to the widely-celebrated Indian holiday Diwali, or the "festival of lights," on November 30th. There is one large room for the actual dance, and in this room, there are at least three circles for people to join. Normally, dancers with the most experience are in the innermost circle, while those like myself danced in the outermost circle. Everyone dances circling the statue of the Goddess Lakshmi because, after all, it is a religious event for celebrating the gods. Even though the garba is an Indian dance and Diwali is an Indian holiday, any person is welcome to go. People of any religion, ethnicity, and background can attend a garba to experience the Gujarati culture.