Women aren't just one thing or another. As strange as it might seem to have to say so but, all women of all types of personalities are important. Our society tends to want to "understand" women, trying to put women into boxes of "chic" and "butch" and "fiesty" and so on listing characteristics as though they define everything about this woman, and then expect all women to prescribe to a very particular physical, emotional, and mental form by both rewarding those who do and shaming those who don't. What makes Game of Thrones so important is it's wide span of strong female characters and women who aren't just what society wants them to be. They're as real as women can be in personality and spirit and shape and size- just placed in unusual and hopefully unreal circumstances.

1. Melisandre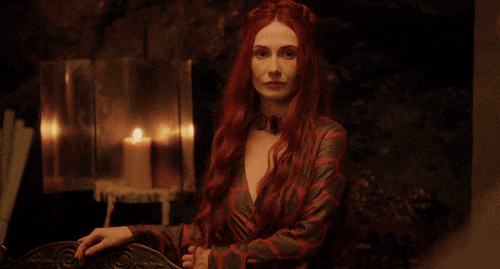 Melisandre probably wasn't the first person anyone thinks of when considering a strong female from Game of Thrones, however, she is the perfect embodiment of the religious woman. Melisandre will do anything, anything at all for her Lord. Her beliefs are strong, and her will is powerful. Though her religion is not anything like what is mainstream currently, it is what her beliefs are, and to have the strength to hold onto them regardless of what others say is a courage unto itself. She is strong willed and charming, thus making her incredibly powerful, and passionate about that which she believes in,.
2. Arya Stark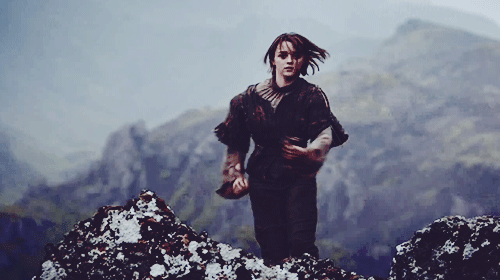 Arya Stark is no lady. She is a fierce young woman who does what she wants as she wants, and isn't afraid to be who she wishes to be. Every step of her journey, she shows her courage and bravery, as well as her anger. Arya Stark is an angry young woman. She loses everything, everything she has ever loved and cared for, only to then have a price placed on her head. As watchers follow Arya's story, her stubborness and her will shine through with every challenge she is faced with. She does not handle everything with poise and grace. Instead of speaking in diplomacy, she speaks with Needle, her tiny sword created for her by her half brother Jon Snow. She is angry and fiery and stubborn, and thus all the more powerful.
3. Margaery Tyrell

Margaery Tyrell is the exact definition of a woman who is hungry for what is rightfully her's. She jumps from king to king, seeking for nothing but her royal hold. She is cunning and trite, always playing her cards so the rest all fall in her favor. There is a sweetness to her and a kindness, and she shows it on multiple occasions, but there is a passion in her for what is just and what is not. Like a snake, she slides in and out of the loopholes and crevices of the rules of the Seven Kingdoms for one day, she will be queen, and she will have the throne.
4. Sansa Stark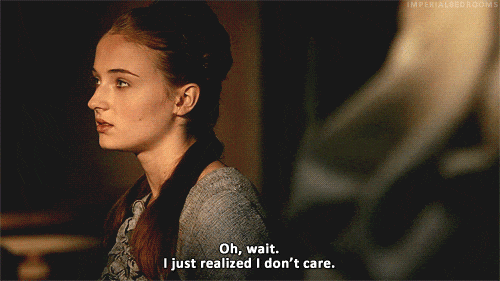 It's no secret that Sansa Stark has had a rough time. She roams from castle to castle seeking refuge and safety as wars begin to break out around her. She develops extremely over the six season of the show, from a naive young girl who believes Prince Joffery will be her savior to a woman who is taking her strides to care for herself, to secure herself a home, and to possibly be the ruler of the North. She starts off the sort of girl that everyone expects her to be. She is mild and demure, well poised, well spoken, and has a taking to her betrothed, the Prince. She enjoys her stitching, much to her sister's despise, and is the perfect lady.
As she enters the game for the throne and begins to experience the horrors which many other women faced every day, her sharpness shows and grows, and with every turn, Sansa learns how to be a step ahead of all those she encounters. She is quick to the tongue, and like Margaery, slowly learns to play her cards well just so she can ensure her safety and a lifestyle which she finds suitable for herself. For her, that is putting on an act. It is being the perfect lady, the perfect wife. It is being manipulative and conniving and witty, all out of an experience of trauma and lack of security.
5. Daenerys Targaryen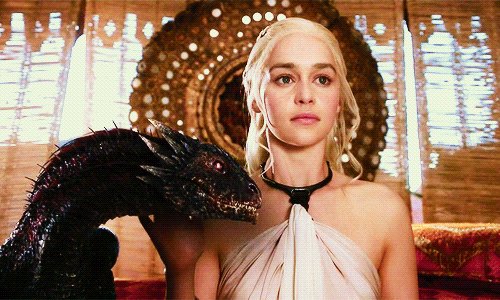 First of Her Name, Queen of Meereen, Queen of the Andals, the Rhoynar and the First Men, Lady Regnant of the Seven Kingdoms, Protector of the Realm, Khaleesi of the Great Grass Sea, Breaker of Chains, Mother of Dragons
Daenerys Targaryen is probably the most iconic strong women on this show. She is very literally the mother of dragons, and the survivor of many horrifying tragedies having been done unto her. It becomes very clear straight off in the series that women are very primarily sexual objects for me, property in a sense. This is seen with Sansa and the many brothels, and especially so with Daenerys. She is a product of hatred and anger and a need for justice. She is a product of her past and of her name.
As a Targaryen, she holds the blood of the dragon within her veins, a fire which will not and cannot be quenched until she has satisfied her needs, whether it be power or love or justice. She is the breaker of chains, the woman ruling over nations of people freed of slavery. Her dragons give her power, seeming physical manifestations of the heat inside of her. Daenerys shows multiple times her capabilities as a fair and kind leader, one who knows what to do and how to do it, a complete reverse from the powerless, hopeless child she had felt she was.
Game of Thrones airs Sunday nights at 9:00 PM on HBO.