As college students, my friends and I try not to eat out very often. Some days, though, we just can't handle dining hall food anymore and have to eat somewhere else. On these days, one of our favorite places to go is Jimmy John's. There is one nearby our campus, and it is fast and cheap. We even sit at the exact same table every time we are in there. There is a sign next to our table, that says this at the top: "16 Things That It Took Me Over 50 Years To Learn." It looks like this: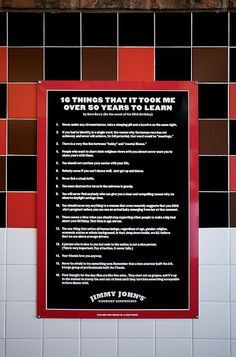 Some of the items on the list are humorous, some are serious, but all are good life advice. Here're a few of my favorites:
"Never, under any circumstances, take a laxative and a sleeping pill on the same night."
"Nobody cares if you can't dance well. Just get up and dance."
"A person, who is nice to you but rude to the waiter, is not a nice person (This is very important. Pay attention. It never fails.)"

"Never be afraid to try something new. Remember that a lone amateur built the Ark. A large group of professionals built the Titanic."

"You should never say anything to a woman that even remotely suggests that you think she's pregnant unless you can see an actual baby emerging from her at that moment."

At my most recent visit to Jimmy John's, I was reading through the list, just as I always do, and I was struck by one of the things on the list. It was just five simple words:
"Your friends love you anyway."
I was amazed at how much could be said in so few words. How many emotions that one sentence drew out of me? How many memories were brought up from reading that? And I realized how important it is for people to believe that. That no matter what sort of mistakes you make, or how dumb you sound in the moment, your friends love you anyway. No matter what you weigh, how much makeup you wear, what your singing voice sounds like, or how opinionated you are, your friends love you anyway.
And if they don't, they aren't your friends.
Every human being deserves to feel loved. We all need people in our lives that tell us we are beautiful, we are valuable and we are loved. No matter what. In the last couple of years of college, I have learned how important that is.
My friends are constantly reminding me of my value. Through their words and actions, they show me love every day. On the days that I don't think that anyone wants me around, they are there to remind me that they choose me. When I say something dumb or mean or unloving, they are still there, laughing with me and pushing me to be better.
Without my friends, I would have never been able to make it this far through college. I can't imagine not having their support and love right now. So thank you, too all of my friends, for always loving me, even when I'm not the best friend to you.
And to everyone, let's take some time this week to remind our friends that we love them anyway. Because everyone needs to know that they are loved.