There is going to be a hole in our family that will never be filled. There is going to be silence where your paws once padded around the kitchen. There is going to be a sad feeling in my chest when I don't come home to your wagging tail and smiling face.
This week, my family had to say goodbye to our 9-year-old black labrador, Ollie. Ollie was diagnosed with cancer at Christmas and a few months ago we found out it had metastasized. We have been doing everything we can to keep him comfortable and his quality of life high. But we decided, to keep him out of pain, to have him put to sleep.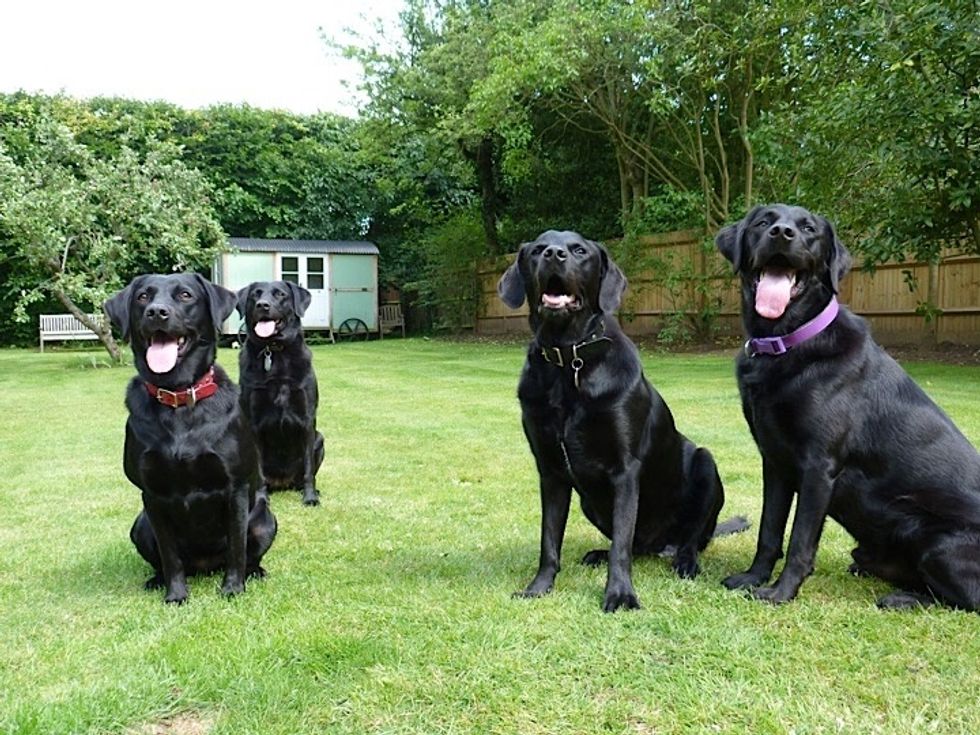 Mary Frances Bellman
Ollie is like a brother to my sister and I. He is happy all the time, a great listener, and the world's biggest lover of tennis balls. He is mischievous and full of personality while simultaneously being the most well-behaved dog out there. Ollie says hi to everyone and anyone at the park, no matter who they are, and he absolutely loves a movie night with his girls. Every time we go to Virginia Beach, Ollie becomes a puppy all over again, rolling around in the sand and jumping over the waves. He'll even chase a crab or two. Ollie has made friends with all of our friends and in the process, he has touched the lives of so many people.
We picked up Ollie from The Wall's house in Wimbledon, England when he was just seven weeks old. He whimpered all five minutes it took to drive a few blocks home. When we got him out of the crate, Dad picked him up by the scruff of his neck and showed him around our house: his new home. Ollie was immediately drawn to our garden. It soon became the site of many fun puppy memories.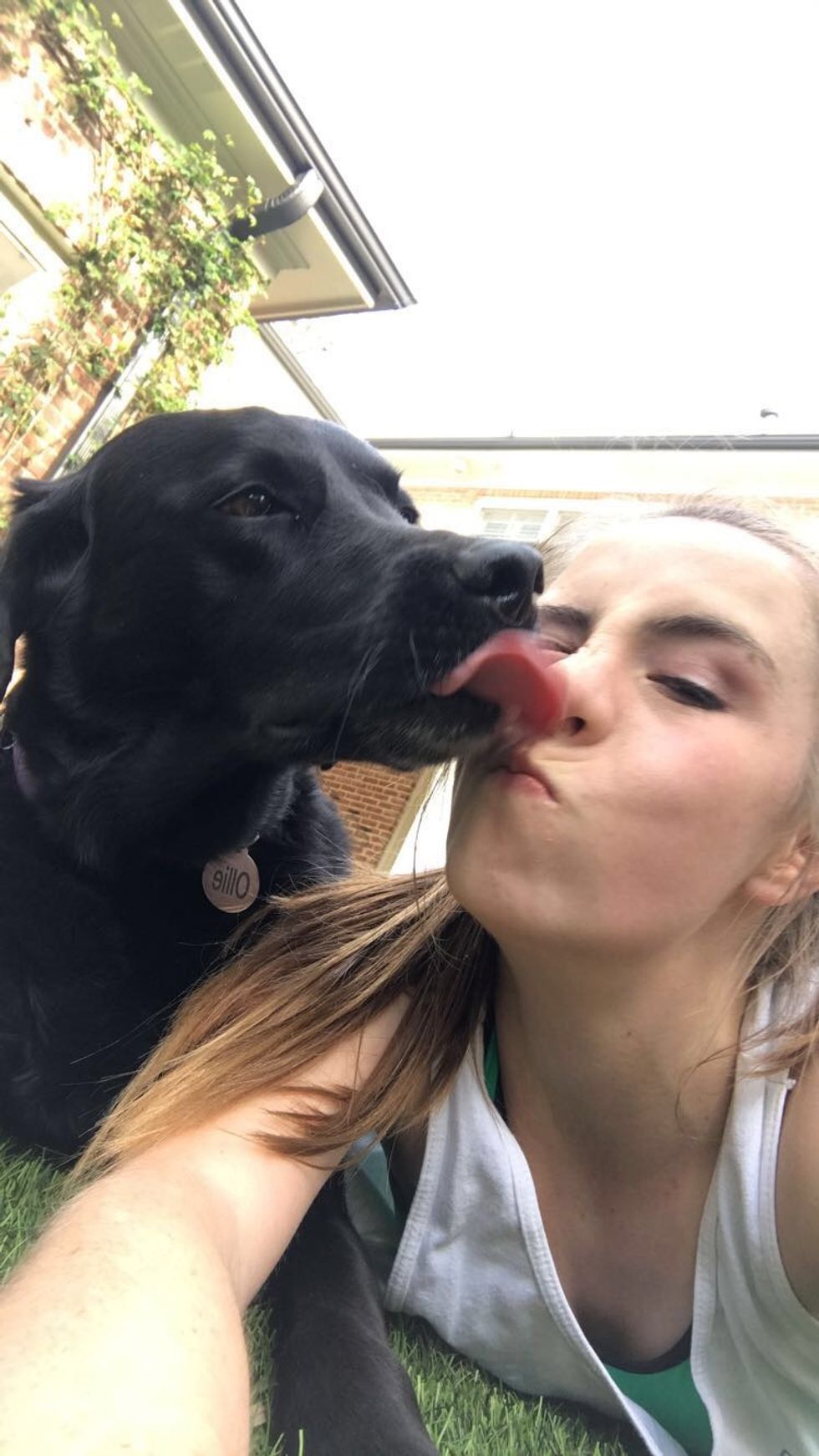 Grace Bellman
Ollie was terrified of Dad at first. As soon as he'd hear Dad's voice, Ollie would come running and sit shaking on the closest family members lap. Now, he couldn't love Dad more. The two of them are quite the pair with their similar optimistic outlook and kind hearts.
We moved to Texas with Ollie in the summer of 2012. He arrived at our rental house, extremely relieved to be off the plane and out of quarantine. After struggling with a couple bouts of anxiety and depression, Ollie became accustomed to his new American life. He had to get used to walking on the leash again due to the different laws in the US vs. England, and he found a new appreciation for cold, hardwood floors in the Texas heat. When we moved to our permanent home, Ollie fell in love with our swimming pool. He had no fear and embraced his waterdog genealogy right away. Some of my favorite memories involve all four of us swimming on a summer evening with Ollie chasing the tennis ball back and forth across the garden with contagious joy.
In the winter, Ollie was the best companion for opening presents under the tree and making s'mores by the fireplace. He would get a little too close to the marshmallows for comfort but never crossed the line (or at least not that I know of…). His big brown eyes would droop as he fell asleep at Mom's feet every night in front of the television. Those simple nights-in are something I think we are all going to miss dearly.
To be honest, I haven't really experienced a loss quite like this before. Ollie, although not a human being, is so close to my heart. He has been by my side through all of middle school, high school, and my first two years of college. He has never failed to put a smile on my face, and has listened to me when no one else would. Ollie helped Josephine with her AP Art projects until the early hours of the morning and "assisted" me in my circuit training workouts in the backyard. He always gave Mom some company while cooking meals and sat loyally behind Dad when he was doing papers at his desk.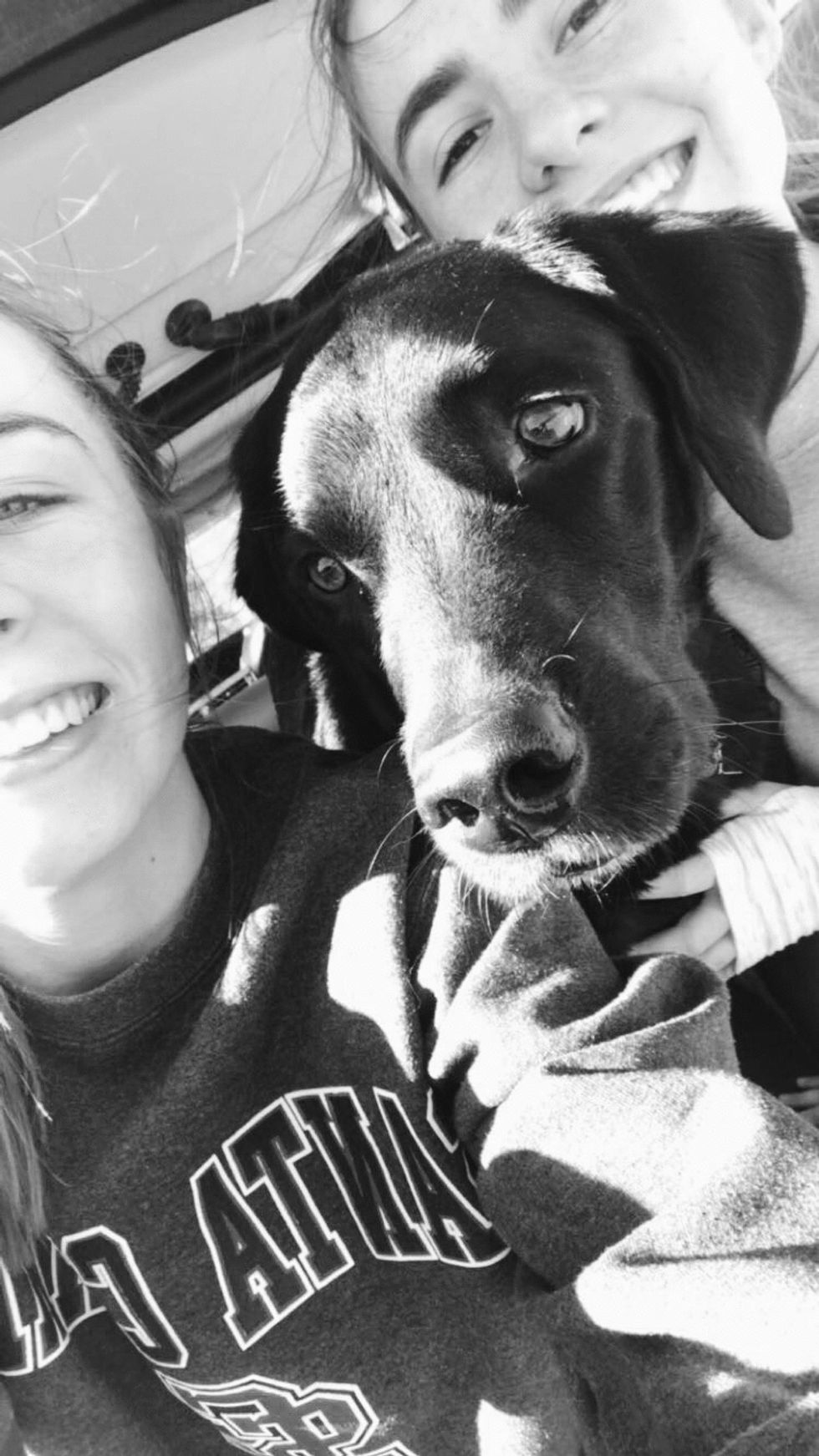 Grace Bellman
I don't think Ollie could ever understand just how much he has given my family. I can't help but wish there was something more we could do for him. But I know he will be up in heaven blissfully chasing tennis balls, swimming in murky water, and saying hi to everyone in sight.

Ollie, you will be missed down here on earth greatly. We love you.