Emma Watson will tell you, " it is not synonymous with man-hating," and she is right. Being a feminist solely means you believe in gender equality. So why do so many people shy away from this title, why has the word developed a negative persona? The answer; society has confused feminism with man hating which has stunted progress towards gender equality. I know I have shied away from feminism until I watch a video of grown Hermione Granger making an effort to bring feminism back to its true meaning. Responding to Emma Watson's speech to United Nations, gender equality cannot be achieved if only half of the world's population considers themselves a feminist. To all the fathers, grandfathers, uncles, and brothers: do you want the special women in your life to receive the same opportunities as you? do you want your children to receive equal pay for equal work? If you answered yes to either of these questions, then by definition you are a feminist too! There is nothing wrong with being a feminist. There is nothing wrong with outspoken, passionate women speaking strongly on topics they care about, topics that have a large influence on their lives.
There is power in numbers, and unless men and women feel comfortable with the word feminism society will continue to struggle with gender inequality. HeForShe encourages men to join the fight for gender equality. Gender equality should not be considered women's problem. It is an issue that affects everyone. How does a father explain to his daughter and son, that daddy's little girl will receive less pay for the same amount of work her brother performs? How do men explain to the women in their life that they may be treated differently and receive different opportunities because one day they might be pregnant? Pregnancy, one of the most beautiful, precious parts of life might hinder the woman at work. Gender equality is an issue that should also be important to men.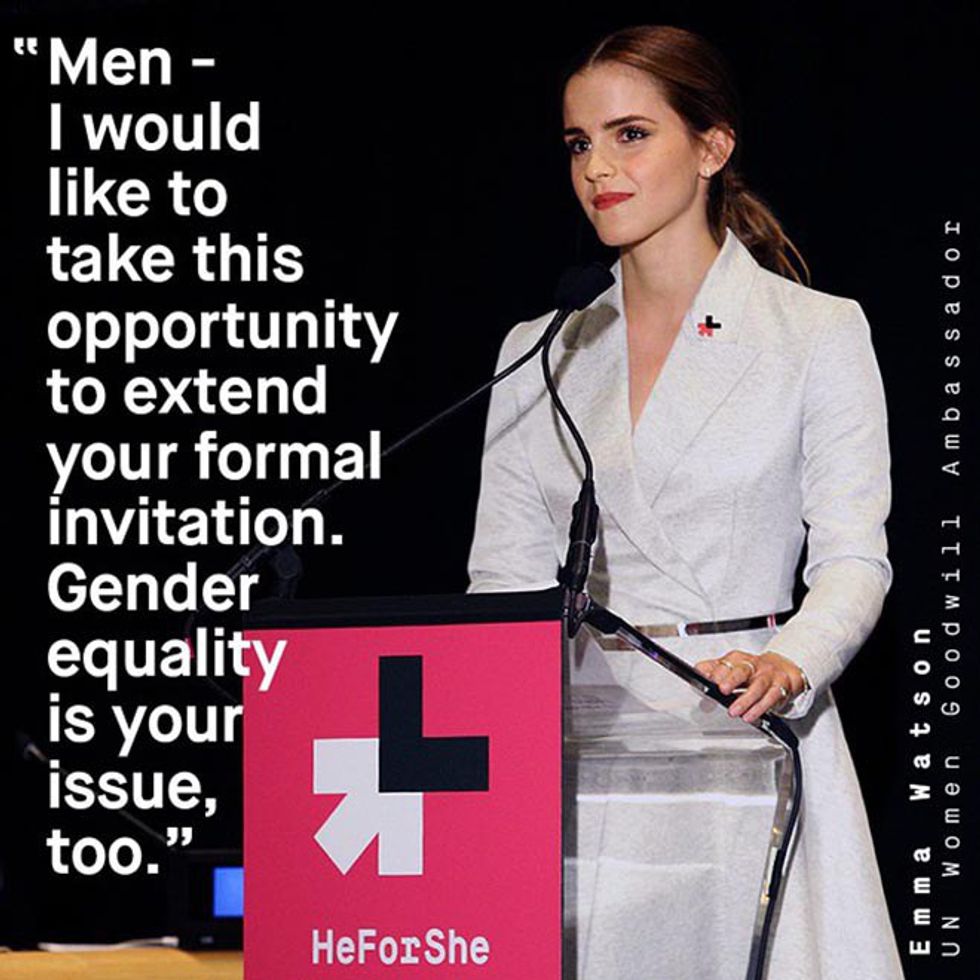 I want to receive equal pay for equal work. I want to have the same opportunities as my male friends. I want my words to make a difference, not for them to have more of an impact coming from a man. I do not want to have to explain to the young women in my life why their pay suffers because they are female. I do not want them to feel less than because they female. I want women to have the freedom to be anything they want to be. I do not want the ability of a woman to bear children to hinder them in any way. For these reasons, I am a feminist. I believe in the equal rights of men and women. I am not a man hater, crazy, or bossy. I am a woman who believes in the true meaning of feminism, I believe in empowering women to be strong, outspoken leaders. Men should not shy away from feminism. It's not about the word and the bad rep it has received. It's about the true meaning of what the word stands for; the belief that men and women should have equal rights and opportunities. When I say I believe in feminism, I am saying I believe in equal rights. This is what I believe the true meaning of feminism, it is what I want feminism to stand for.
Feminism has developed several different meanings and ideas, it's controversial and confusing. This article is my opinion of feminism, I respect that not everyone holds the same opinion. Like Emma Watson, I am saying I stand for gender equality, which is what I believe feminism should mean.