Muse Paintbar is a very family and friend oriented place. It has the perfect atmosphere to bring a family member, a friend, or even a date. There are specific "date nights" and other fun sessions. This is exactly the place where everyone has the chance to show their creativity. Some people may not have the specific "gift of art", but that does not mean that they are not creative. Creativity can be shown in a majority of ways, but in this case, it is shown through painting and personality. Muse Paintbar is the place to go for any occasion or simply for fun; to learn more about it click here.
Muse Paintbar was founded in 2012 and there are 20 locations with more coming soon. They have donated over $300,000 to local organizations and charities with a team size of 260 and growing! There is always an enjoyable music playlist on to make the atmosphere more pleasurable; you can even request your own songs.
"All ages are welcome and no prior experience is required!"

"Muse combines painting instruction with a restaurant & bar."
"Muse works hard to support the local economy and community. We donate 5% of our profits to local causes, and we work with many of you on fundraisers. If you have fundraising or charity ideas for us, please email us at Hello@MusePaintbar.com!"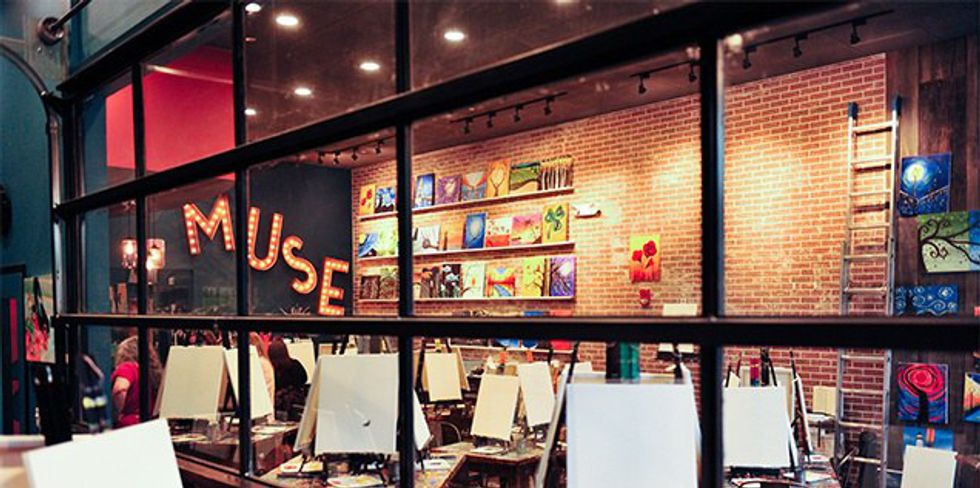 The booking process is simple. Round up some friends, choose your location, look at the thousands of painting options, choose a day, book it and there you go! You're ready to paint! For instance; here.
The teacher of each session walks you through each step of the painting very easily and how to approach it with both confidence and humor. You are provided with everything needed to complete your artwork. Your table will be full of friends, both old and new! You are always guaranteed to leave with new acquaintances. You'll get both laughs and smiles throughout this time and will happily leave with not only a beautiful painting, but an even better experience.
This is definitely, without a doubt, something that everyone should experience. There is also more to do than paint on canvases. There are party sessions, painting wine glasses, couples art, sessions for kids and family, paint your pet and more!
Name the occasion and it can be turned into a great time here, such as children's birthday parties, bachelorette parties, work events and fundraisers. The bar and kitchen provide you with drinks and delicious appetizers to fulfill this experience even more. The overall environment is delightful and the presence of surrounding friends, family and others makes the experience even better.

When the session is over, you'll feel relaxed, proud to show your creativity and will want to come back again as soon as possible!