"Encino Man" is a 1992 comedy directed by Les Mayfield (the same director of "Flubber" and "Miracle on 34th Street"). The movie stars Sean Astin (from "Lord of the Rings"), Brendan Fraser (from "The Mummy"), Robin Tunney (from "The Mentalist" television show) and most importantly Pauly Shore.
The premise of the film is two high school losers, who get edged 'cause a frozen caveman starts wheazin' all their grindage. If they had the whole brady bunch thing happenin' at their pad, they'd just go grind over there, but this missing link taxes their gig so hard-core cruster. Dave (Sean Astin) is interested in this major babe named Robyn Sweeney (Megan Ward), but she thinks Dave is crusty and that life is all about greasing the 'do back and wheezin' on the buff-fest; Robyn is also already dating the school jock/bully who's got the buff spikes chillin' on top of his melon, checks her cheeks, has a serious beak, his own personal holding company full of fundage and weazes off major 18-inch bi's (biceps).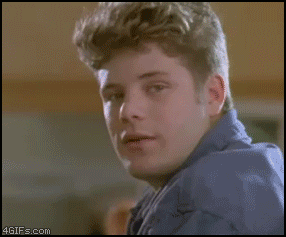 Sorry about that last paragraph, I let Stoney (Pauly Shore) write it. So the movie is about these high school kids who find a frozen caveman, later named Link (Brendan Fraser), buried in their backyard. When he melts and is released on the world, he is forced to adapt to survive and ends up really liking the modern world. The boys teach him all their pubescent brains know and pass him off at school as a foreign exchange student. The rest of the story is a comedic slew of grade school drama, prehistoric love and the struggle to go after what you really want.
This movie is not unheard of, but, much like the cavemen, is largely forgotten about. I recommend and plead with you to watch this movie in an attempt to revive it and then keep it alive. I know you will enjoy it, and everyone will enjoy different things about it.
In the beautiful words of Stoney, "I'll be ba-Ak."