If you have somehow never experienced the cinematic masterpiece that is "Legally Blonde," please do so immediately.
If you have, however, then you hopefully know what I mean when I say Elle Woods is the female character. She's blonde, she's beautiful, she's sweet, she's fun. She's the stereotypical girly-girl whose plot twist is that she's smart. However, if you take a closer look at the film, you'll quickly realize that Elle Woods is actually sneakily hiding in plain sight as the greatest female character of all time.
The secret is that she has almost no character development.
This is the story of a girl, Elle (portrayed by Reese Witherspoon), who is exemplary from start to finish, we just watch her get over her ex. The movie implies that she only starts working hard in law school, and from that, she gets smart, even though the only reason she got the opportunity to work on Brooke's case is that her professor was attracted to her. That being the case or not, Elle doesn't become smart. She is smart the entire movie, we just don't always realize it. She had a 4.0 GPA in college in a major that only sounds simple because it has the word "fashion" in it, which again makes you underestimate Elle. In all actuality, fashion merchandising is a very difficult major that combines retail with the maximization of profits, strategic analysis, marketing, and management. And she gets into Harvard Law without exactly one semester of preparation. Finally, she got a 179 on her LSAT, which is insane considering the highest possible score is a 180.
Elle does not become smart, she merely continues to be smart.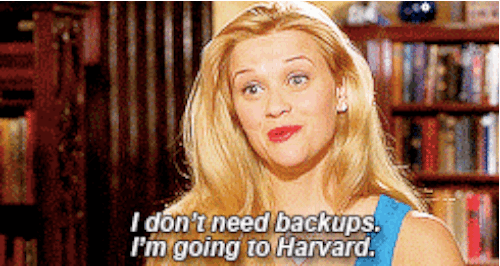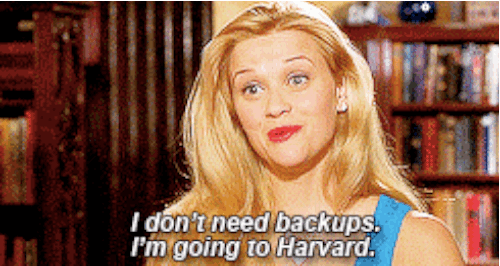 She also furthers herself consistently not just because of her brainpower, but because she goes out of her way to be kind to people. Elle brings muffins to her study group and immediately helps Pauline with both her crush and getting her beloved dog back from her ex. She is only ever rude when extraordinarily provoked, and even then it's simply her standing up for herself. In fact, despite the way she is constantly pitted against other female characters, especially Vivian, it is her ability to be kind and form positive female relationships that allow her and the women she meets to flourish, Elle's kindness gets her equally as far as her talent, which makes her a very intentional character who proves you can be smart and girly and kind all at the same time.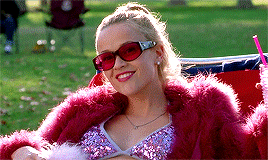 Elle Woods
And that brings us to the most wonderful thing about Elle Woods: she never sacrifices her femininity.
Oftentimes in order to make female characters "strong," Hollywood gets rid of more traditionally "feminine" qualities. Wonder Woman is a great example of this. While obviously an incredibly important female character, the writers of her movie made her power come largely from her physical abilities, her headstrong tendencies, and her ability to take up space, all traditionally societally "masculine" things. This is not a place for Wonder Woman slander. Those are all great things. But the thing I really enjoy about Elle Woods is that she is not powerful despite her femininity. She is powerful because of her femininity. Those things she gets underestimated and ostracized for end up becoming the very things that save the day. She never compromises who she is or her femininity in order to be a powerful female character, and that is a really beautiful thing.
Does Elle Woods follow a man to Harvard? Absolutely she does. But she thought she would marry him, and who hasn't done something crazy for love? Furthermore, the emphasis of that sentence typically ends up being "Elle Woods follows a man" not the part where she casually gets into Harvard. The brilliance of her character is that even the audience underestimates her, and yet she is possibly the only strong heroic female character I've ever seen who genuinely sacrifices none of who she is, and especially none of her femininity. So writers take notes when portraying strong female characters because femininity and powerful women can go hand in hand. What, like it's hard?