Life after high school graduation is a rollercoaster— there're ups and downs and moments when you just want to stop and throw up— and, unfortunately, drifting apart from some of your closest friends is a part of the ride.
Slowly, you begin to notice changes in your life and with your friends back home from high school. Living over 350 miles away makes keeping in touch difficult. The "I miss you" texts become less frequent, Skype dates become a thing of the past, and the only phone calls you get are from your mom because she genuinely, whole-heartedly misses you. After a while, you will slowly stop speaking to your clique or keeping updated on their lives. Instead, you find out about their adventures through social media.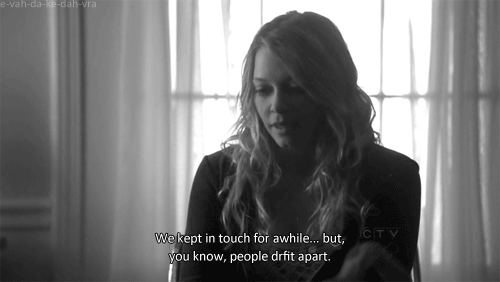 Friendships drifting apart aren't happening because you're a terrible person or because you stopped being a good friend. It's a part of the human experience. We are all growing up and leading very different lives, sometimes in extremely different places, making it more difficult to keep a friendship alive and well. No matter how hard we fight to keep these friendships alive, there will be friends from high school that will sadly remain "high school friends."
Through everything, you will still care about how they are doing and what is occurring in their lives. Whenever you can, you will like their Facebook photos and statuses, double tap on their Instagram photos (sometimes this will happen on accident while you're following their lives at 2 a.m. and that's okay too, no shame fam), or send a "we should catch up soon!" text. However, after high school, there is no longer constant communication or visits to see them and ask how things are with their lives, or make plans to grab a Starbucks together.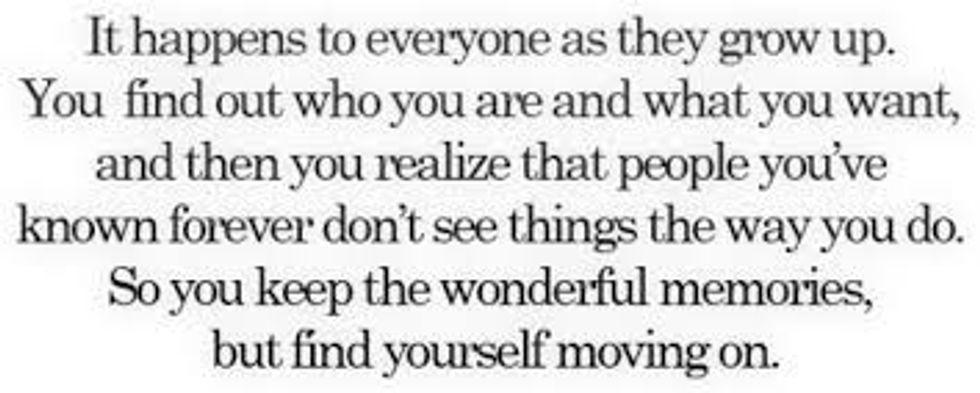 One morning, without putting much consideration into it, you'll be hit with a train of realization and emotion. The feelings will fill your entire being, thoughts and memories will flood your mind making you relive some of the most precious moments with those whom you held so dear, "I should have's" will take over. You will come to terms, eventually, with the fact that some of the people who you spent four crucial years of your life with are slowly becoming distant memories; these beloved people are becoming strangers. Even when it seems like you're losing people from your life, you'll slowly come to realize that what's actually happening is that you're figuring out who your closest, lifelong friendships will be with.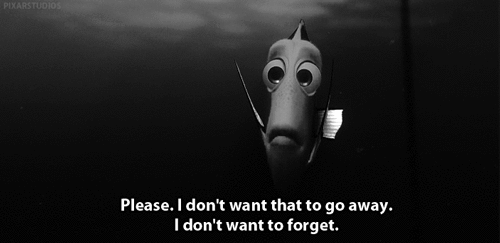 These friends hold an extremely special place in your heart. They were the ones who held your hand while you were finding yourself through high school, who stood by you even when you went to school in pajamas because they didn't care what you looked like as long as they could be with you, the same people who made you literally roll on the floor laughing for the simplest things. Hold on to the inside jokes, the thousands of pictures, the ridiculous tears you shed when you said goodbye. These beautiful people happened to have shared every phase in your life with you—including your One Direction phase (which honestly isn't over yet or ever). No matter where life takes you all, there will be a place near and dear where all your memories, laughs, and adventures will remain.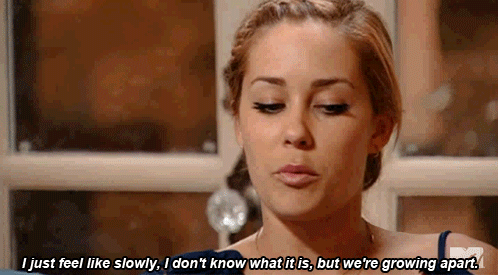 After you have gone away to college you will realize how quickly and drastically everything will change. Don't become overwhelmed by the relationships that have drifted apart. Instead, look at all the people who have and all the new people that will abide in your life despite distance, time, and all the curve balls life throws. These are the beautiful human beings, the beautiful friends, who despite all odds will remain in your life through every up, down, twist, and unexpected turn; these are the people that you need in your life—and that will willingly and lovingly stay.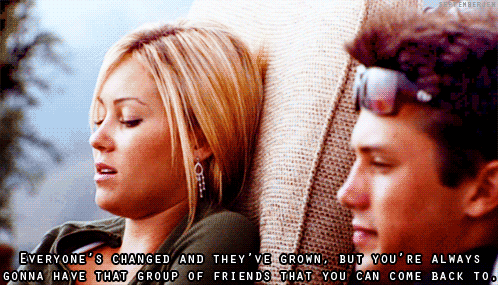 ---
To all the beloved people who have drifted apart because of distance and time or because we just grew up and changed, not a day goes by that I don't miss you. Not a single day. I hope you all are doing well in life and remember me every once in a while. Always remember that no matter how much time passes, I will be waiting with open arms whenever you are ready. I'm still the same goofy goofball, I love you all.