As an enthusiastic football fan, Super Bowl Sunday is my Christmas. It is one of my favorite days of the year, because it's the biggest football game of the year. It's also one of my least favorite days of the year, because it also means football season is ending. I understand that a lot of people watch the Super Bowl for the commercials and not for the football aspect, and while I do thoroughly enjoy the commercials, I watch the Super Bowl solely for the football. So imagine my surprise when I saw a football commercial that included my love for my favorite sport as well as engaging non-football fans with its light-heartedness and hilarity.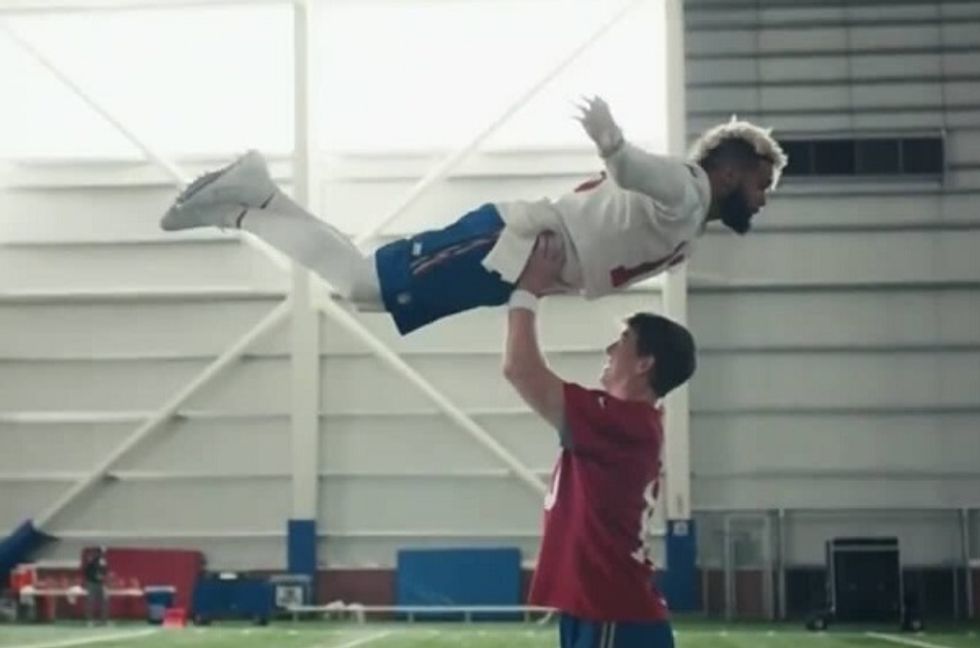 Let me just also say that the New York Giants are my absolute favorite NFL team and Dirty Dancing is a cinematic masterpiece. So the very second this commercial began, I knew I would love this commercial.
However, I wasn't the only one who loved this commercial right from the get-go. My friends, who only watch football for the commercials and have no idea who the players dancing are, loved this commercial too. There are no words to describe this commercial other than sheer perfection.

Close your eyes. Take a minute to imagine with me. You see a football practice and two teammates talking a water break and wiping the sweat from their faces. One player, at 5'11"and 200lb, while the other is 6'4" and weighs in at 220lbs. One player throws a perfect, short spiral to the other standing in the end zone. What else is there to do but celebrate a touchdown and practice their touchdown celebration for the upcoming season. However, this touchdown celebration is not your typical touchdown celebration. There is no snow angel, fake nap, outrageous spike, or leapfrog. Rather, the music to the beloved '80s classic starts up, and the two incredibly talented athletes, who are definitely taller than the average male, look at each other and start the legendary dance that Baby and Johnny practiced throughout the entire summer. Intrigued? Fascinated? Wanting to see more? Check the video out here.
It seems pretty obvious that once either player retires, they have a future in dance and possibly on Dancing with the Stars. I might not watch the show, but I definitely would if Odell Beckham Jr. or Eli Manning end up as their dance stars. Perhaps the two can start up their own dance company for former football players and other retired athletes. All that matters right now though, is that I can't wait for all the future touchdown celebrations to come with the next football season. Sadly, we still have around 200 days to wait and see what comes next.