I'm not THAT big of a television watcher. Yeah, I know, in this "Golden Age of Television," it should be a no-brainer, but since I usually don't have access to cable, my usual television habits are usually pretty limited.

One of the few areas of television I still regularly keep up with is the 'Arrowverse' on the CW, a mix of interconnected shows based on the characters of DC comics. I wasn't a fan since Day 1, but starting with Season 1 of 'The Flash' back in 2014, I've been consistently coming back to these shows for their quirky, if imperfect takes on some of DC's legacy mythologies.
I've never actually done any sort of television reviews before, so this'll be an interesting turn. But I also figured that this would be the best time to try it given the debut of the Fall 2019 television season, the introduction of 'Batwoman' this year to the fictional universe, the fact that I finally caught up on 'Arrow' in the last few months, and, of course, the likely-insane crossover of 'Crisis on Infinite Earths' set to premiere in December.
Here's how I thought this could work: every week, in addition to my usual film reviews and such, I'll also be attempting to regularly recap the week that was in DC TV, with a couple of short reviews on the week's episodes. This week will only be 4 of the 6 shows, as Season 8 of 'Arrow' won't be starting up until next week, and Season 5 of 'Legends of Tomorrow' won't be debuting until January. Yes, I'm including 'Black Lightning' in this: it's a CW show based on a DC property that's included in the crossover, it counts.
So, without further ado, let's jump into DC TV Recap #1!
Batwoman Season 1, Episode 1 - Pilot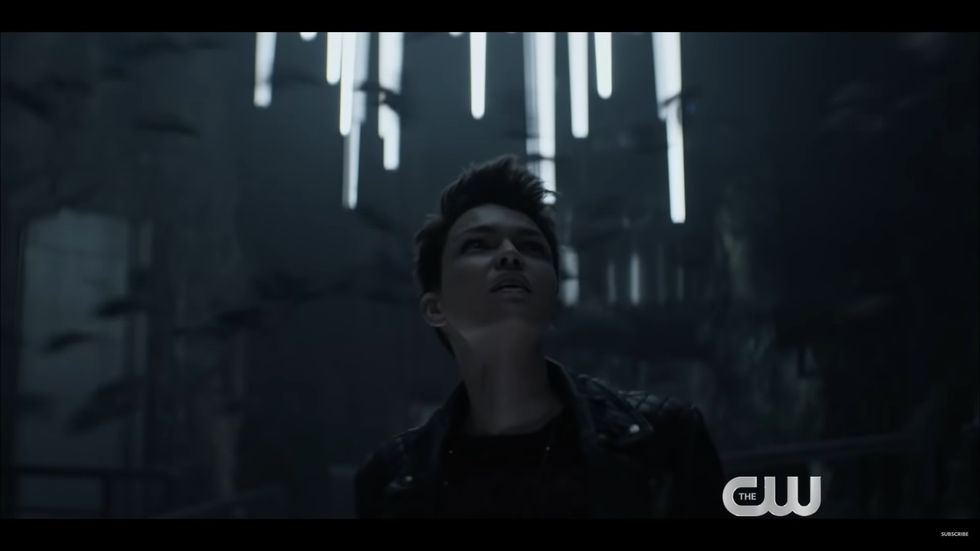 Ruby Rose stars as Kate Kane in the CW series, 'Batwoman'
Photo Credit: Rotten Tomatoes, - YouTube
As a child, Kate Kane was forced to watch her mother and sister die after Batman was unable to save them. Traveling the world to find a sense of purpose, Kate is called back to Gotham City when Kate's former love interest, Sophie Moore (played by Meagan Tandy) is kidnapped by a new criminal named Alice (played by Rachel Skarsten), who seems to have a grudge against the city's private security firm, Crows Security, run by Kate's father, Jacob (played by Dougray Scott).
Attempting to contact her missing cousin, Bruce Wayne, Kate discovers Bruce was, in fact, Batman. With the help of Bruce's friend Luke Fox (played by Camrus Johnson), Kate dons the mantle of the bat to save Sophie's life and give Gotham City a new hope in the process.
'Batwoman' is the new kid on the block in the Arrowverse and judging by the first trailer has the most amount of bad faith going in as any of the shows so far. I had my own concerns about the show (remind me to go into those at some point), but I haven't shared the internet's concerns of overwritten feminist dialogue, mainly because 'Supergirl' had that same issue early on, and I think it's turned out great in the long run (more on that later). This is my long-winded way of saying that, while I'm not ecstatic about everything we got in 'Pilot,' 'Batwoman' has gotten me on board, at least tentatively.
For as little as I've been impressed by Ruby Rose's acting over the last number of years, there are a few scenes in 'Pilot' that really made me raise my eyebrow in a good way. I liked seeing Bruce Wayne's influence on her, both physically and philosophically, and she manages to carry the story in an effectively distinctive way than any of the other protagonists. I also appreciate the type of Gotham City we get in this which isn't the most visually interesting take on the city, but does give us a sense of world-building. Batman, the city's main protector, has been gone for years - where does that leave its citizens, its heroes, and its villains?
The supporting cast also provides interesting dynamics to Kate, even if they are pretty blatant copycats of Arrowverse staples (the excited tech nerd, the star-crossed love interest, the well-meaning father figure, etc.). I'm also not crazy (pun intended) about Alice as a villain yet, mainly because the dynamic between her and Kate seems to be pretty straightforward. But at the very least, it doesn't seem like the show is going to try and stretch it out (at least, not as of right now).
What can I say? I think the show certainly needs some time to figure out where it wants to go, but I won't be kicking and screaming for the ride.
Overall, I give 'Batwoman' Season 1, Episode 1 a score of 7/10.
Supergirl, Season 5, Episode 1 - Event Horizon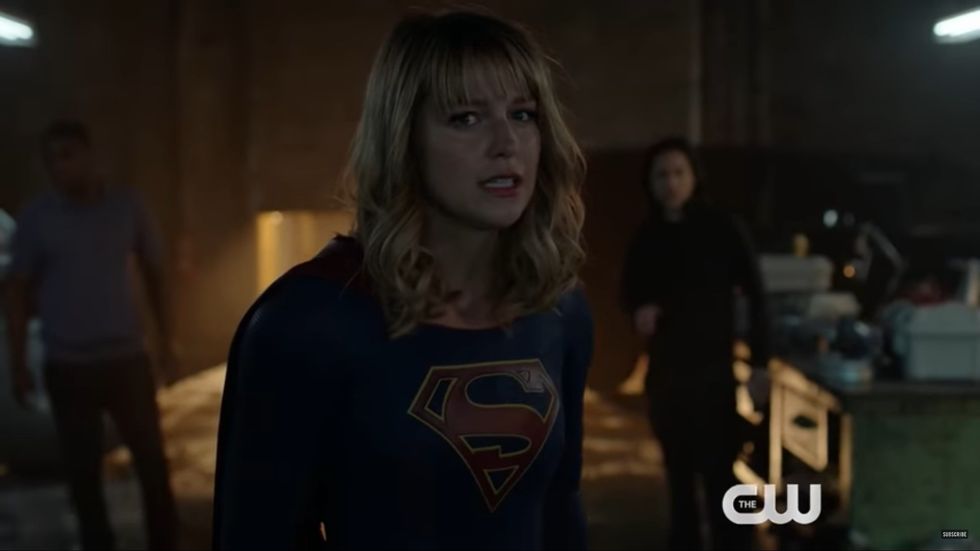 David Harewood, Melissa Benoist, and Jesse Rath star as J'onn J'onzz, Kara Danvers, and Brainiac-5 in the CW series, 'Supergirl'
Photo Credit: TV Promos, - YouTube
In the aftermath of Season 4, Lena Luthor (played by Katie McGrath) has learned of Kara Danvers' secret identity as Supergirl and is attempting to hurt Kara in retaliation for having her trust betrayed. Meanwhile, Kara has just been nominated for a Pulitzer Prize, but has been putting off telling Lena her secret, despite the insistence of her sister Alex (played by Chyler Leigh).
While Kara and Lena are dealing with their friendship's future, CatCo has come under a new editor-in-chief, Andrea Rojas (played by Julie Gonzalo), an old friend of Lena's who seems intent of prioritizing digital clicks than the hard news reporting established by Kara and James Olson (played by Mehcad Brooks). At the same time, Kara and Alex, along with their allies, Brainiac-5 and J'onn J'onzz must capture a recently escaped alien prisoner named Midnight (played by Jennifer Cheon Garcia) who has been released by J'onn's returned brother, Malefic (voiced by Phil LaMarr)
I'll boil my thoughts down to this: LENA AND KARA IN THIS EPISODE, I DIDN'T CARE ABOUT ANYTHING ELSE!
No, in all seriousness, this was a bit of a mixed premiere for me. As a setup to what we can expect in this season, it does a decent job, but it also feels a bit more like the tail end of Season 4 mixed in with set up for Season 5. We get some insight into where James' journey might be going as far as CatCo is concerned (Mehcad Brooks is leaving the show soon) and we get some hints into J'onn's relationship with his brother, who he may or may not remember. But they aren't distinctly set up for the new season, or how our group is supposed to respond to the new threats, nor is their new villain in Midnight very threatening. Remember the "big bad threat" of Leviathan teased at the end of last season?
But really, this episode is about Lena's feelings of betrayal towards Kara and Kara wanting to overcome her own fears of rejection to keep Lena as a friend. I was furious that we didn't get some sort of resolution to this at the end of last season, but to be honest, it was worth the payoff. The reveal is teased throughout the episode and, when it does come, it is such a relief, owed in large part to Melissa Benoist and Katie McGrath's performances, which make the reconciliation feel sincere, honest, and incredibly powerful. Yet the door does seem to be left a bit open as to where Lena's connections to Supergirl and her team may go the rest of the season.
I guess I'm a bit mixed to 'Event Horizon'; it's not a great season premiere in terms of set up, but it is a great episode of 'Supergirl.' At the very least it didn't make me uninterested in what might come next, and this is a show that has proven me wrong so many times in the past about its quality.
Overall, I give 'Supergirl' Season 5, Episode 1 a score of 8/10.
P.S; +10 points for great use of Muse's 'Supermassive Black Hole.'
Black Lightning Season 3, Episode 1 - The Book of Occupation: Chapter One: Birth of Blackbird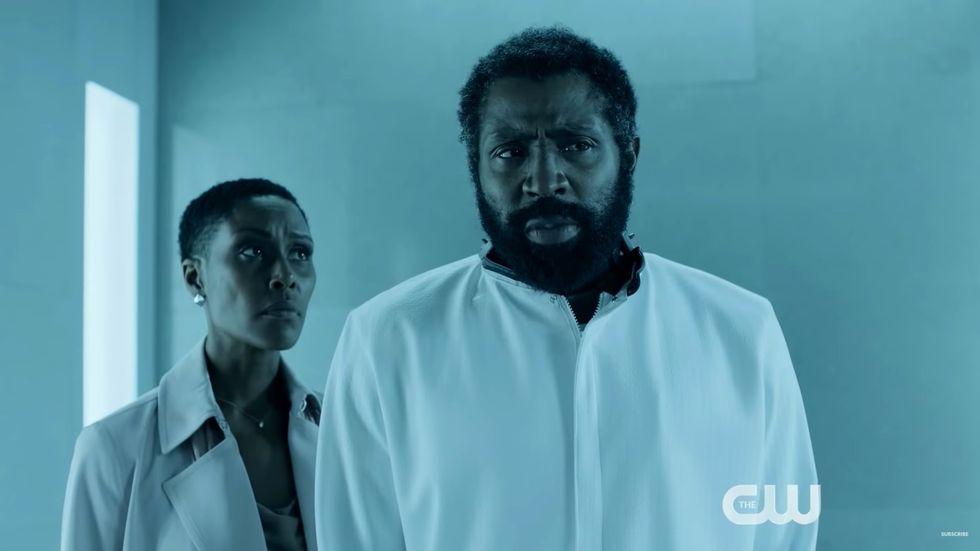 Christine Adams and Cress Williams star as Lynn and Jefferson Pierce in the CW series, 'Black Lightning'
Photo Credit: TV Promos, - YouTube
In the aftermath of Season 2, the Pierce family has been forcibly split up by Agent Odell (played by Bill Duke) in order to keep them safe from Markovian terrorists who intend to use them as weapons against the United States. Jefferson a.k.a Black Lightning (played by Cress Williams) and Lynn (played by Christine Adams) have been taken to a Black Ops site for protective custody, where they attempt to reason with Odell to allow them to see their family and to keep the meta-human children of Freeland safe.
Meanwhile, Jefferson and Lynn's daughters, Anissa (played by Nafessa Williams) and Jennifer (played by China Anne McLain), along with the family's ally, Peter Gambi (played by James Remar), have taken to the streets to find as many of the meta-human children as possible and get them to safety. Anissa has taken up a new mantle as Blackbird and Jennifer continues to learn about her new abilities under Gambi.
I'll come out with it: 'Black Lightning' has consistently been the best superhero show on the CW. All of the other shows have had ups and downs up to this point (and granted this show seems to be the least concerned with a "CW audience"), but 'Black Lightning' has been something truly special on the network, between the acting, writing, themes, and music among other things.
Season 3's premiere did exactly what I wanted it to do: keep the focus squarely on Jefferson and his family, while also giving us a wonderful toybox of hints about where it might be going. I didn't know what I'd think about Jefferson being one of Agent Odell's prisoners, but Cress Williams really dives into the desperation of the scenario and it helps form new layers for how the character intends to get out.
I'm also becoming a bigger fan of the Agent Odell character in general in that he's so good at seemingly playing every side to a standstill to get what he wants. I can't wait to see where he and Jefferson's stories end up going in the midst of the prep for the war. There are also some great developments with Gambi acting as the team leader for Jennifer and Anissa's defense of the city, and we even see a brief return of Tobias Whale (played by Marvin Krondon Jones III).
I guess if there was anything I didn't like in this, it's that the Grace Choi character seems to be in the foreground. We get a quick reference, but it seems more like an obligation than actually reintroducing her and Anissa's relationship (although Anissa herself seems to be developing new relationships as well, so we'll see where that goes). I also don't love the new ASA officer Carson Williams as the sort of occupying force to Freeland. He seems a bit too cartoony at the moment, but I hope the show explores the impact he has on the city, and his thoughts on serving the ASA as a metahuman.
Top all of that off with some excellent fight scenes and 'The Book of Occupation: Chapter One" is an excellent start to Season 3 of Black Lightning. I know this is probably the one the majority of you haven't been watching, likely due to its distance from the rest of the Arrowverse, but don't miss out because things only seem to be heating up from here and I can't wait.
Overall, I give 'Black Lightning' Season 3, Episode 1 a score of 9/10.
The Flash, Season 6, Episode 1 - Into the Void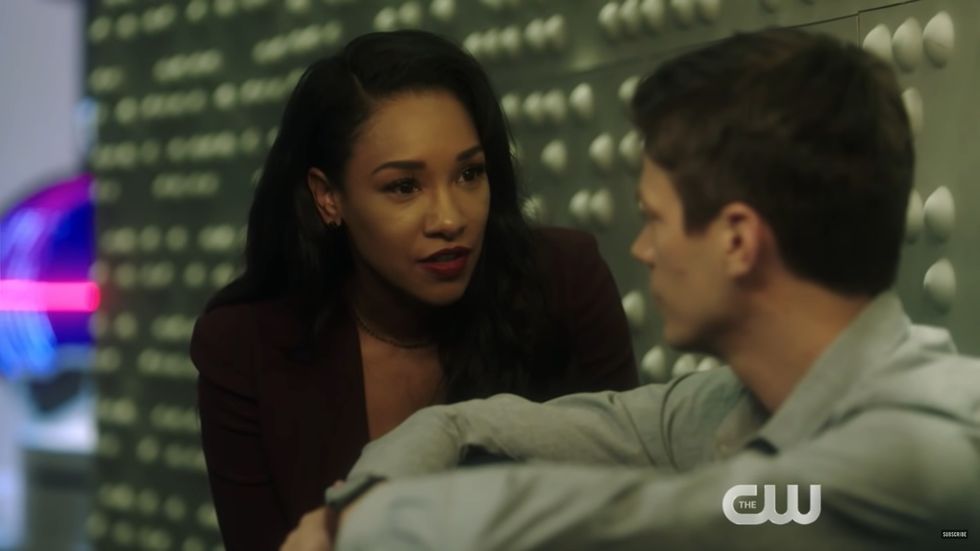 Candice Patton and Grant Gustin star as Iris West and Barry Allen in the CW series, 'The Flash'
Photo Credit: TV Promos, - YouTube
In aftermath of Season 5, Barry and Iris have attempted to return to some sort of normal life after their daughter Nora was erased from the timeline. Barry continues to run Team Flash's superhero antics while Iris has been building up her news outlet, The Central City Citizen.
Meanwhile, Caitlyn (played by Danielle Panabaker) has been struggling with balancing her dual identities as both Caitlyn as Killer Frost, the latter of whom seems to be reluctant to appear, while also reconnecting with scientist Ramsey Rosso (played by Sendhil Ramamurthy). As Ralph Dibney (played by Hartley Sawyer) returns to aid the team, black holes begin popping up around Central City, and seem to be tied to a scientist video streamer named Chester (played by Brandon McKnight), only for larger forces to be at play as well.
'The Flash' is on Season 6 already? Wow, I feel old.
Alright, so 'The Flash' Season 5, despite its pitfalls, was actually a pretty darn good season of television that ended on a fantastic dramatic note: Nora being erased from the timeline, Reverse Flash escaping to who-knows-where, Joe West (played by Jesse L. Martin) becoming police captain, Cisco taking the meta-human cure, and of course, the Crisis moving up in the timeline to 2019. Season 6 has taken the opposite approach of 'Supergirl,' in that, it doesn't have one fantastic element, but a bunch of smaller elements that make something worthwhile.
The central emotion of the story is around Barry and Iris's sense of loss and confusion after Nora's disappearance. I appreciated the way the episode showed them dealing with it in their own ways, but also letting it be known that they're still broken. They know they'll see their daughter again when she's born, but will she be their Nora?
But there's more to that as well. Cisco now has a happy, committed relationship with Kamilla (played by Victoria Park), which puts him in a new position that makes him rely more on his scientific abilities than any sort of superpowers. On top of that, Caitlyn has a great journey in this episode, both with her being one of the forces that seems to build up Ramsey as a recurring antagonist, but more fascinatingly, she and her Killer Frost Identity are becoming more distinctive and relying on each other as individuals. Also, this episode features another "main characters having dinner together" scene and a music choice that I have been waiting for years to hear on this, I dare not spoil it.
I know 'The Flash' usually relies on villains-of-the-week, but this week's Chester got a bit tiring from a narrative perspective. I mean Barry just outran a black hole, what's there left as far as feats go? Ralph also isn't given much to do in this episode, which almost begs the question of why he was brought back this week and not next. I think overall everything comes together nice enough, just not to the point of some of the shows other season premieres. But the tantalizing notions of next week's episode shining some light on what Barry and the team will have to face are bound to keep me hooked.
Overall, I give 'The Flash' Season 6, Episode 1 a score of 8/10.
What did you guys think of this weeks episodes of DC TV? Comment below and let me know your thoughts!
____________________________________________
Want to follow me on social media? Follow me on Twitter and IG @TheMovieKing45