Tap Classes, live performances, and the unveiling of the newest dolphin to the Pinellas County's Pod... Needless to say, Saturday, September 15th, was filled with tons of fun and love in the dance community. The Florida Tap Dance Project held their inaugural tap festival in Dunedin, Florida. The Tap Project was developed by Kayla Cowart in efforts to encourage the growth of tap dancing throughout Florida.
The event was held at Patricia Ann Dance Studio, which has been in the Tampa Bay Area for over 55 years. Kayla chose to hold her first Tap Festival there because it is the studio she grew up dancing at. Kayla started dancing at Patricia Ann when she was younger, and still feels a great rooted connection. She is currently performing in the cast of New York City's Off-Broadway production of STOMP. Moving to New York has been a dream come true for her. She went there for a weekend in 2015 to audition for various shows, not thinking much of it, and never came back. However, she never forgot where it all started. Kayla considers Patricia Ann Dance Studio to be her home away from home. With all of her success, she wanted to do something special for her dance family back home.
The Florida Tap Project, which consists of Kayla, as well as 5 other Tap Dance Ambassadors of Florida, 4 Tap Dance Ensembles, 3 Prominent Dance Studios, and 2 Corporate Sponsors, put together their first festival. The event was totally FREE to the public. The day started out with master classes taught by the talented Ambassadors. They held classes of every level- beginner, intermediate, and advanced. There was even a class for adults that wanted to come out and get a little tap on!
Classes wrapped up around 1:45 pm, and the next event began at 2:30. This was one of the most special parts of the festival for me. If you've ever been to Pinellas County, I'm sure you've seen at least 1 of the 200+ artistic dolphins around. At 2:30, the City of Dunedin unveiled the official mascot of the Florida Tap Dance Project- Rhythm!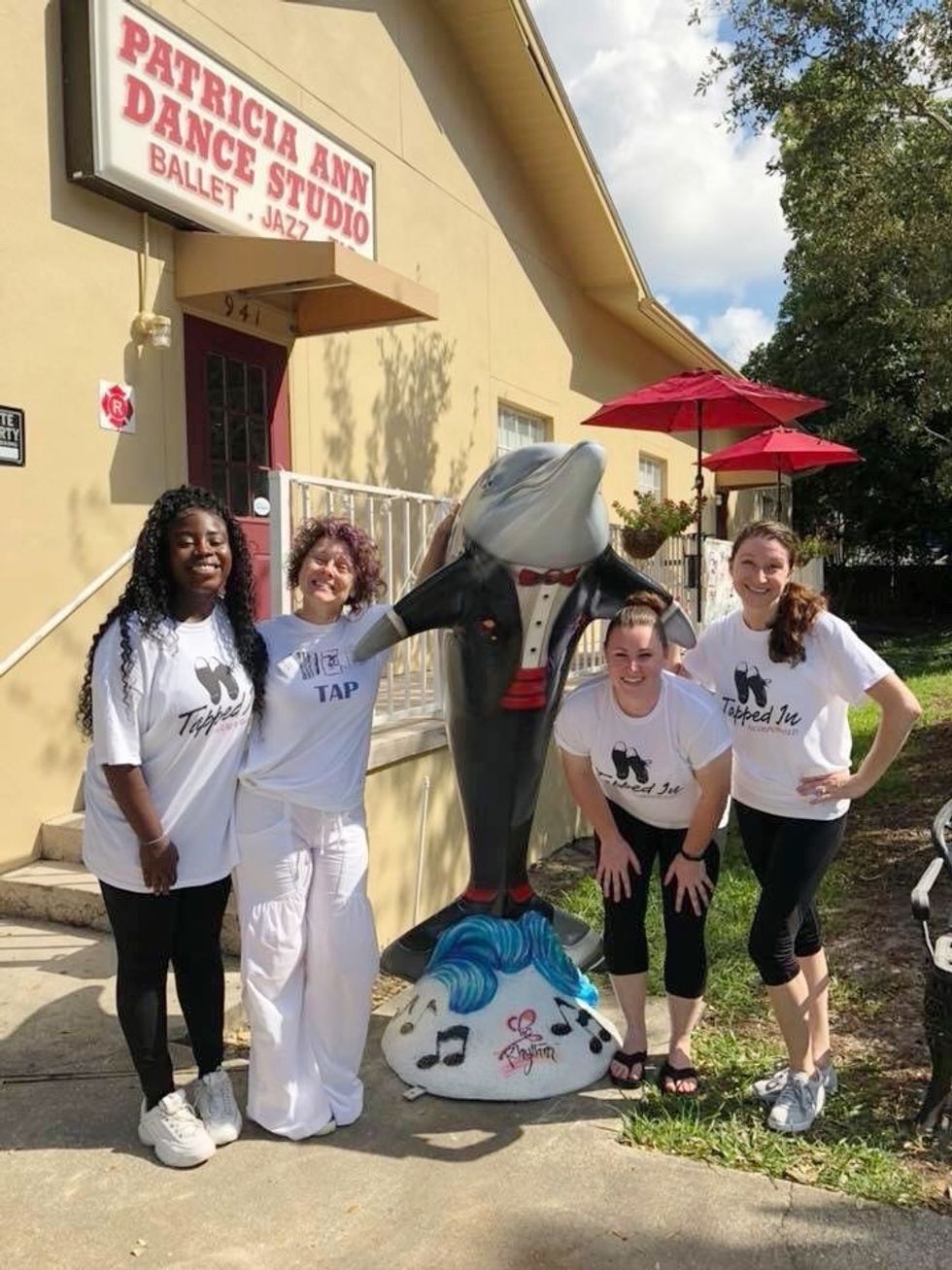 Kayla Cowart, Patricia McNally, Rhythm, Cara Zamudio, Morgan StorrisonMorgan Storrison
Rhythm is the newest addition to the Pinellas County's Dolphin Pod. As awesome as that is- Rhythm is actually even more special. Rhythm is not only the official mascot for the Florida Tap Dance Project, but is also in memory of Kayla's First Tap Teacher- Miss Elaine Forestier. Miss Elaine passed away earlier this year, and Kayla wanted to do something special for her. She is the reason that Kayla, along with countless others, found a love for dance. She spoiled the community with her knowledge and talent. She influenced not only the tap community, but the arts all together in Florida. If she never taught you directly, she taught someone you knew. I don't think words could ever possibly do Miss Elaine justice, but its obvious to say that in 55 years teaching dance in Pinellas County, her outreach is endless. If you're ever in the area, make sure you check out Rhythm, and appreciate the impact Miss Elaine had on so many people.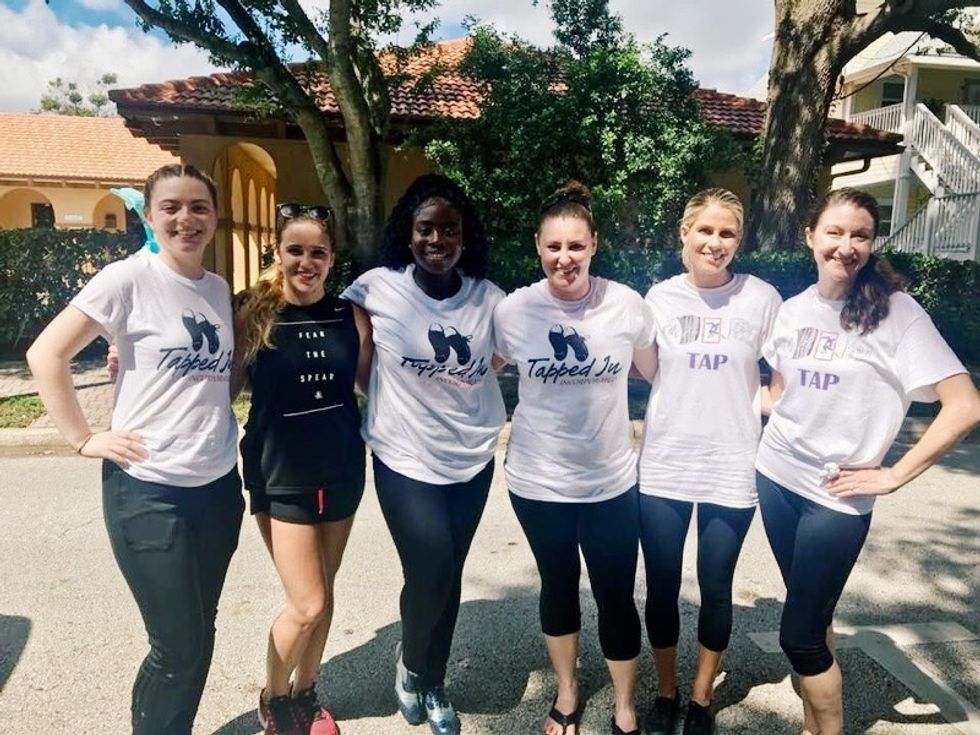 5 of Miss Elaine's Soloists. Tammy Zeph
Patricia Ann Dance Studio tends to impact their dancers for life. Here, is photographed 6 different generations of tap dancers taught by Miss Elaine. They all came out to tap, and support the first Tap Festival. The Festival concluded with live performances from different Tap Groups at John R. Lawrence Pioneer Park. It was the perfect ending to the perfect day.
No matter where life takes us, it's important to appreciate how we got there. Kayla has truly done this. It's wonderful to see successful people giving back to their community. I am so impressed with everything Kayla has done, and I cannot wait to see what the Florida Tap Dance Project does next. For more information and upcoming events check out http://floridatap.com.