If you know anything about me and my family, you know that we all have a sweet tooth. We are always on the lookout for something new to try. Whenever we go on vacation, we look around the area for interesting dessert places we may want to try. No, seriously we do. We have a love for all things dessert... cookies, cakes, brownies, macarons and, of course, cupcakes. Below are just four popular cupcake makers from across the country that I've had the honor of trying. Now, I'm breaking down who's got the best cupcake.
1. Coccadotts Cake Shop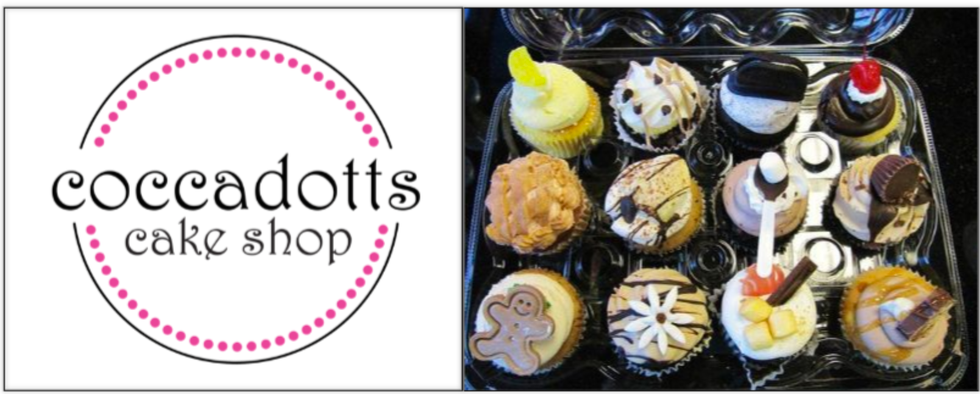 Background: Located in my hometown of Albany, NY this cake shop opened its doors in 2007. After three appearances on the hit show Cupcake Wars, Coccadotts won! They are currently preparing to open their fourth store which will be located in Ft. Lauderdale (the others are located in Albany and Clifton Park, NY and Myrtle Beach, SC). This place sells cupcakes, cakes, cookies and has its own food truck.
Taste: There have been times when I've eaten a cupcake from here and felt like I went to food heaven. However, there have also been times when the cupcakes just didn't hit the mark. The culprit may be changed recipes or the fact that they are trying to expand stores and may be spreading themselves too thin.
Price: $2.50 each
Presentation: Throughout the years, some of the cupcake designs have been revised or improved. Each cupcake has a unique look to it that really sets them apart. There have been a few times when the cupcakes looked like they were thrown together last minute. Overall, though, they are colorful, intriguing and really stand out.
Overall Rating: 3.5/5 - If I had to sum up Coccadotts' cupcakes in one word it would have to be inconsistent. Most of the time the cupcakes look fabulous but sometimes I question whether or not there was heart or passion put into making them. I'm afraid to try other flavors since I've been disappointed with them before. However, not all of them are bad and they do offer some incredible tasting cupcakes.
2. Sprinkles Cupcakes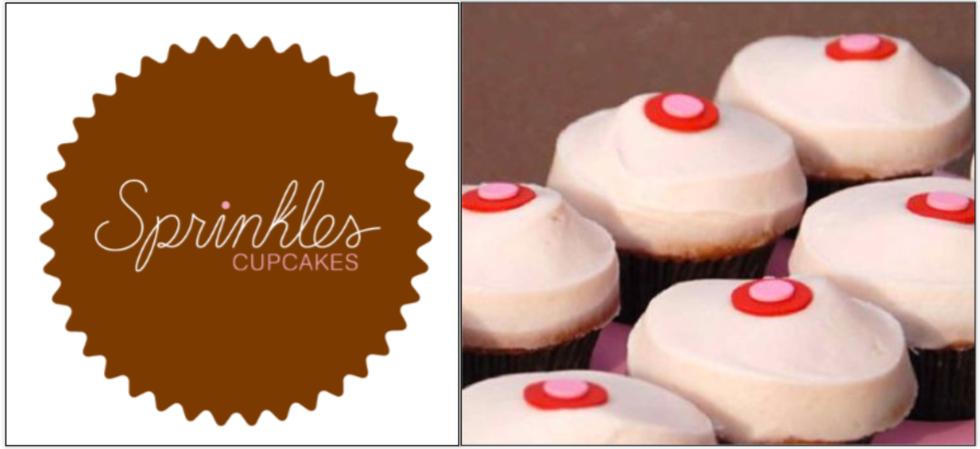 Background: Deemed the first cupcake bakery, this company started out in Beverly Hills, CA in 2005. They also sell cookies, ice cream and cookie dough. Since then, they have expanded across the West and South with a total of 14 locations. In 2012, they debuted the world's first ever Cupcake ATM! Of course, I had to use the ATM when I visited there and it was pretty darn cool. Also, the founder of Sprinkles, Candace Nelson, is a judge on the same show Coccadotts appeared on, Cupcake Wars. Small world, huh?
Taste: Bland and boring. The second you take a bite of the cupcake you can taste the dry cake that lacks any real flavor. Sadly, the icing isn't much better either.
Price: $3.95 each
Presentation: With a thin layer of icing on top for most of the cupcakes, they could be compared to a Hostess cupcake. While they didn't look terrible, the designs were general and you can't always tell what flavor it is.
Overall Rating: 1.5/5 - I had high hopes for these cupcakes, especially since the creator judges cupcakes! However, these cupcakes were really disappointing in flavor, price and presentation. For the cost of each cupcake, I expected a lot more but was met with dried out cake and a barely flavorful icing. It definitely wasn't worth the money or the calories. The Cupcake ATM was the most exciting attribute this bakery had.
3. Wicked Good Cupcakes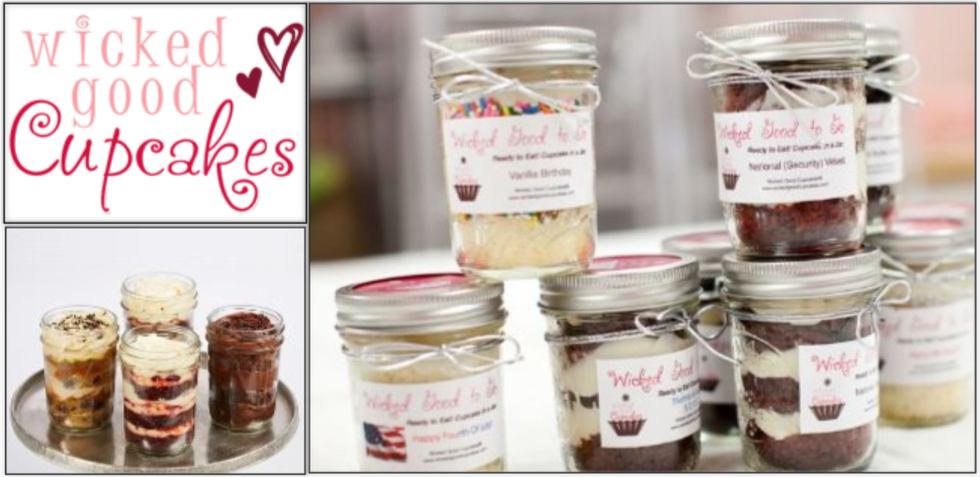 Background: This company started out in 2011 when the founders, a mother-daughter duo, opened their first store in Massachusetts. They created a "cupcake in a jar" so that they could ship their goods nationwide. In 2013, they debuted their product on the hit show Shark Tank and caught the attention and investment of Mr. Wonderful himself. Plus, cupcakes aren't the only thing that they sell; they also make cakes, brownies, pies and cheesecakes. You can get your hands on these wicked either in Quincy Market (MA), five retail locations throughout Massachusetts and Connecticut or online.
Taste: These cupcakes taste absolutely amazing. I don't know if it's because they are in a jar or if it's the ingredients (I vote both) but the jars are filled with rich and savory goodness. They really are wickedly good. (See what I did there?)
Price: $7.50, per jar at a location; ~$10 per jar online; Shipping: Free-$5 flat rate
Presentation: While it obviously isn't going to look like your typical cupcake (since it's, you know, in a jar) it still looks really nice. The mason jar has a cute sticker on top and can be used for additional use once you've eaten the cupcake! Plus, one jar is equivalent to roughly two cupcakes. You can easily see the layers of cake and frosting and it overall looks appealing.
Overall Rating: 4.5/5 - These cupcakes take the cake! The price isn't that bad considering you get about two cupcakes per jar. Plus, I love the fact that for most orders it's a $5 flat rate shipping. It is reasonably priced and the deliciousness of these cupcakes will make you pull out your wallet in two seconds.
4. Baked by Melissa

Background: In 2009, the first shop opened in SOHO and offered a unique take on cupcakes. To help people avoid having a "post-dessert guilt trip," Baked by Melissa serves bite-size desserts that come in a variety of different flavors. These quarter-sized treats include cupcakes and macarons. In addition to the all-year-round selection of flavors, the store also has a "Mini of the Month" and seasonal collections. There are currently 14 locations spread throughout NYC that you can visit. Plus, they offer same-day delivery in Manhattan and can ship nationwide.
Taste: So.freaking.good. Even though they are tiny, these cupcakes pack in a lot of flavor. With a wide range of flavors to choose from, these mini desserts are delicious.
Price: Per cupcake, $1; Shipping: 25 pack, $25 with $14.95 standard shipping
Presentation: These cupcakes are absolutely adorable to look at! They are assembled and decorated very nicely and are easy to pick up and eat. One thing I really like is that there are so many different flavors and the decorations highlight each one.
Overall Rating: 4/5 - The only criticism I have for these cupcakes is the price. While they are quite unique and are able to be shipped, the price for these treats is just a little too steep. I understand that they use dry ice packaging to ensure freshness, but $14.95 for shipping is way too much. On the flip side, these bite-size cupcakes do taste absolutely delicious and the fact that they come in a wide variety of flavors (plus special limited-time ones) and are available for nationwide shipping make them come out towards the top.
Conclusion:
Overall, the winner from this batch of cupcakes is... Wicked Good Cupcakes! Do you agree? What are some other cupcake places that you have fallen in love with that I should try too??