The mirror in my house, on first look, is identical to any mirror in any house. It has a thick, blue border and stands five feet tall, tucked behind my dressing table. It lets me see my peacock blue sari in all its glory. But glance over to the top right edge and you will notice a red dot that ethnicizes my otherwise Walmart-bought mirror. The red dot is, in fact, a small red bindi placed ever so delicately on the wooden border. It is mine. And it is high time people understand what that means.
The bindi, most prevalent in South Asia, is a forehead adornment worn most by Hindu women. It is said to be our third eye, the center of our intellect. However, in the last couple of decades, there has been a shift in the connotations of a bindi among the South Asian population. Although the bindi's past in intertwined with Hinduism's caste system, in today's times, South Asian women wear it more as a cultural symbol than a religious mark. The majority of married Hindu women (and also non-Hindu Bangladeshi women), especially those from the middle class, wear bindis on a daily basis back in the sub-continent. And when it comes to important occasions like weddings or festivals, South Asian girls and women all across the world don the resplendent bindi. However, we are not the only ones doing so.
An increasing number of women not from bindi-sporting cultures have been wearing the bindi for its "aesthetic value." Several mainstream music artists in the U.S. have worn the bindi—Gwen Stefani, Iggy Azalea, Selena Gomez, and Madonna are just a few. They see the bindi as a fashion statement, as something with which they can make themselves seem more "exotic," as though my culture is a mere toy to be played with. Coachella, a music festival famous for pricey tickets and cultural appropriation, went so far as to shower "boho" white girls with bindis the same way children are showered with candies from a piñata on their fourth birthday. This is just one of the many instances where cultural appropriation was blatantly celebrated.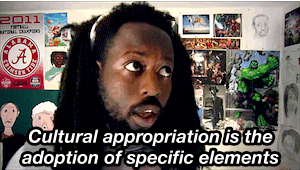 Racism against South Asians has always existed and continues to exist. Right from the 1917 Asiatic Barred Zone Act, which sought to ban "undesirable Asians" from U.S. to the outrageous backlash Nina Davuluri, a second-generation Indian American, received after winning the Miss America title in 2014, racism is deeply rooted in America. Hate crimes against Muslims have become five times more common after the 9/11 tragedy. The 2012 Wisconsin Sikh Temple massacre that took the lives of six Sikhs and injured four others is an example of the increased violence against the Sikh community. According to the Sikh Coalition, 12 percent of Sikhs in the San Francisco Bay Area have reported suffering employment discrimination. But there are also the more visible cases of racism.
From the late 1980s to the mid-1990s, there was a hate group in New Jersey called the "Dotbusters." In their own words, the Dotbusters "hated [Indian People]… [and] will go to any extreme to get Indians out of New Jersey." They were responsible for killing one Indian man and beating another into a coma. This group was notorious for spitting on South Asian women who wore traditional clothes in public, a hateful act that many non-affiliates soon emulated. And this is the problem.
Because no longer does the bindi symbolize our culture for those of us who live abroad. Now, when brown women wear the bindi, it symbolizes "otherness." So much so, that it has become unsafe to adorn our culture and walk outside. Our names are mocked, our food looked down on, our bodies are labeled dirty, and our people are labeled "scary" and "primitive." The bindi is seen as the mark of my non-whiteness. But this isn't the life that white women who wear the bindi have to live.
When white women wear it, they are seen as "cute" and "edgy." They are not called a terrorist, but are seen as fashion icons with a trendy and new style to offer. But the bindi is not theirs to offer. The bindi has taken the form of shared understanding among immigrant South Asian girls and women. It has become a symbol for all the discrimination that still persists against us in countries that pride themselves on diversity.
This might seem like an insignificant problem to many, including some brown people themselves (especially those back home), but that could be because they have not seen kids shouting "Terrorist!" at a Sikh boy. They haven't seen teachers refuse to pronounce our names correctly despite our numerous attempts to correct them. They haven't seen my peers in high school enunciate to me that my "English was very good" after they found out I was from India. They haven't seen brown people being called "Paki" and "Dothead" for simply existing. But my fellow clueless brown people aren't the primary problem here.
An entire generation of foreign-based South Asian women have been stripped of their right to do with their heritage as they please. Many argue that the bindi is just a fashion statement, even for brown women, so it shouldn't matter if non-South Asian women use it solely for aesthetic purposes. But that's the point. Even if it is just a fashion statement, it's our fashion statement. It's our culture and we get to choose how it evolves. White people do not get to pick and choose what parts of our culture they "appreciate" and then consume it. We are people, not a buffet.
My sisters should not feel unsafe when they walk outside wearing the bindi. The bindi on us should not signify "dirty." My bindi should not be a source of discrimination for me. My bindi should not be target practice. My bindi is mine to define. It can be my concealed wisdom, my link to home, my expression of my culture, or simply my fashion accessory. It is mine; my all-seeing third eye, and this eye had spent a lot of time not wanting to see herself in a sari or bindi for a white girl to slap it on with such flippancy. Nobody should steal a cultural symbol while abusing the very people behind its genesis. So dear non-desis, my bindi is not for sale.