The holiday season can be stressful for almost all of us. Whether you're celebrating or observing Christmas, Hanukkah, Kwanzaa, Three Kings Day, Mawlid, Yule or any other holiday, this time of year can add a lot of stress. This time of year is meant to be magical and exciting, but for many of us, it's extremely exhausting, especially those of us with a mental illness. We tend to feel the pressure of the holidays very intensely.
Every year it's the same thing for me. I'm excited for the holidays as early as October. By November, I feel a little disheartened. By December, I'm fatigued and anxious, even more so than usual. With my birthday falling during this month, it only adds to the unease. When New Year's comes around, I'm entirely out of any motivation and energy. I struggle to find the joy that seems to come so easy to others. This is the truth for many of us experiencing mental illness during the holiday season. Yes, I love spending time with my loved ones. Yes, I love all of the holiday cheer, listening to holiday music, and watching holiday movies. Yes, I love the traditional foods that we don't eat often throughout the rest of the year. No, I'm not saying that I don't like the holidays themselves, only that they bring me down a little bit. Everyone is all smiles, and I just feel a bit alien.
The money-spending, the gift buying, the cooking, the nearly impossible to avoid weight gain, and the people arguing over Starbucks cups and the phrase "Happy holidays!": these things can really get to you every year. Not to mention, the drab cold weather makes me feel a little low as well. Being around loved ones that I'm not usually around this time of year, reminds me how badly I miss them during the rest of the year. I'm not trying to be a downer, that's just how it is. It's hard to imagine that some people feel nothing but jolly during this time
However, you can do something about the holiday season. Here're tips to cope during the holiday season when you have a mental illness: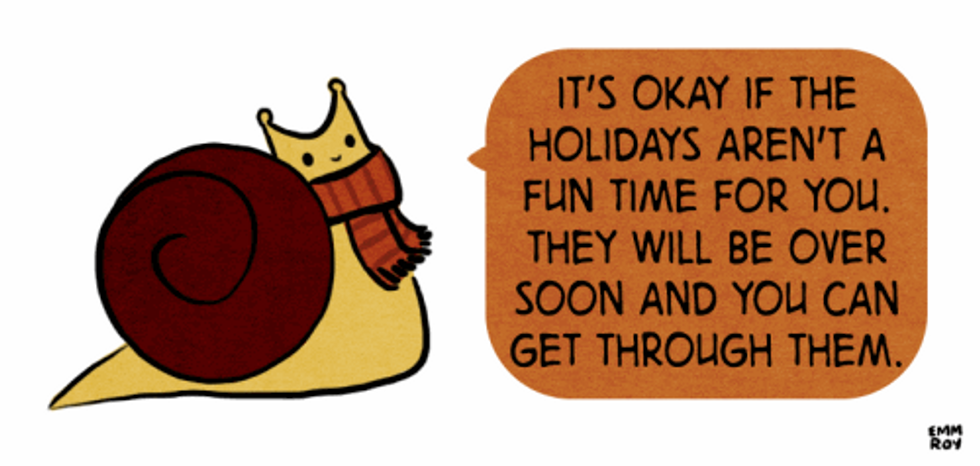 Remember Self-Care
It can be hard to remember to make yourself the main priority this time of year when so much emphasis is put on caring for others. It's not that you shouldn't be compassionate, only that you shouldn't do it at your own expense. It's okay to say no. Remember to take care of yourself, first. Try to get enough sleep, eat enough, take care of your hygiene, and take your regularly scheduled medications. I know that sometimes with all the extra things on your to-do list, it's easy to forget about yourself. So make your self-care a part of your to-do list, and the most important part!
Communicate With Others
This one is always a scary thing to do. Being honest and vulnerable with others can be extremely intimidating, but it can also be incredibly freeing. Communicate what you're feeling. Tell your family, friends, or roommate that you're feeling down, and you just don't want to watch How The Grinch Stole Christmas right now. Tell them how you're just so stressed out, or that you can't afford to buy everyone presents this year. Honesty can lead to better conditions, you just have to try it.
Set Your Time Limits
Don't feel obligated to stay for the entire holiday dinner, or holiday office party. It's okay to decide to stay until you're done eating, or to just stay until you've given your present to your secret Santa recipient. When you set schedules for how long you want to stay, it can make the holidays feel less like a panic-inducing obligation, and more like a time when you're free to have fun. If your limits are that you don't want to go at all, that's okay too. Just try not to isolate yourself, it can lead to you feeling more alone.
Don't Overschedule
For a lot of us, doing too much in a row can lead to anxiety and/or exhaustion. Try not to book yourself for intense activities several days in a row. Running from place to place for holiday parties and events can be tiring, so give yourself some time to rest. Schedule in days where you don't have to go to any of these things, where you can just take a nap or read or do whatever you like instead. Allow yourself to recuperate, so you don't burn yourself out.
Be Aware of Alcohol
It's a known fact that alcohol is everywhere during the holiday season: champagne, eggnog, wine, you name it. Though it can be tempting to drink during this time of the year, alcohol can also greatly affect you if you take medication. Alcohol interactions with medications can lead to a lot of negative side effects and can be extremely dangerous. So, ask your doctor about drug interactions before you take a sip.
Don't Ignore Red Flags
Don't put yourself at risk. If you feel suicidal, reach out to someone. Call 911 if you ever find yourself in any immediate danger, such as drug interactions or suicidal behaviors. Call the National Suicide Prevention Hotline at 1-800-273-8255 if you feel suicidal, and need someone to talk to. They're available 24/7. You can also text "GO" to 741741 at any time of the day, any day of the week, to text with someone about your suicidal thoughts. To chat with someone online about your suicidal thoughts visit this site and click "chat now with a soulmedic."
Please know that you are valuable, important, and needed. You can get through this holiday season, I believe in you. Try to take care of yourself. It's okay to put your health and safety first. It's okay to not stay for the entire holiday event, or even just say no to them. Take time to rest between events. Stay safe, and stay strong. Spring will be here before we know it.