To many hip-hop artists, the genre has always been looked at as a sport. Hip-hop is very competitive and because of the competitive nature, occasional "beefs" will arise. There's a constant battle of having the best lyrics and having the best body of work. Rappers strive off wanting to out do their peers, and even though there's still respect between them, rappers want to fugitively destroy them. It's the same mindset in sports.
But what's fascinating to me is the amount of respect and admiration athletes and rappers have for each other. The hip-hop culture is embraced by athletes because of its ability to tap into the dual-consciousness of rags and riches.
Most professional athletes, especially NFL and NBA players, are able to relate to hip-hop's discussion about financial difficulties and urban upbringings. The majority of athletes come from the same socio-economic circumstances as rappers and then eventually graduate to millions of dollars, fans, and the spotlight.
But aside from the similar backgrounds these entertainers share, let's look at how hip-hop has impacted the rise of the business of sports.
The throwback jersey was once one of hip-hop's most compelling fashion trends.
[rebelmouse-proxy-image https://media.rbl.ms/image?u=%2Ffiles%2F2016%2F05%2F16%2F635989569582632604-159344543_635989513956601422-1753263134_Fabolous%2520Namath.jpg&ho=https%3A%2F%2Faz616578.vo.msecnd.net&s=719&h=f8ba4f6a84fb51f6f78d25fdbf1adc70a5c2ed2914a6fa085aa817d8bf08e986&size=980x&c=2306410114 crop_info="%7B%22image%22%3A%20%22https%3A//media.rbl.ms/image%3Fu%3D%252Ffiles%252F2016%252F05%252F16%252F635989569582632604-159344543_635989513956601422-1753263134_Fabolous%252520Namath.jpg%26ho%3Dhttps%253A%252F%252Faz616578.vo.msecnd.net%26s%3D719%26h%3Df8ba4f6a84fb51f6f78d25fdbf1adc70a5c2ed2914a6fa085aa817d8bf08e986%26size%3D980x%26c%3D2306410114%22%7D" expand=1 original_size="1x1"]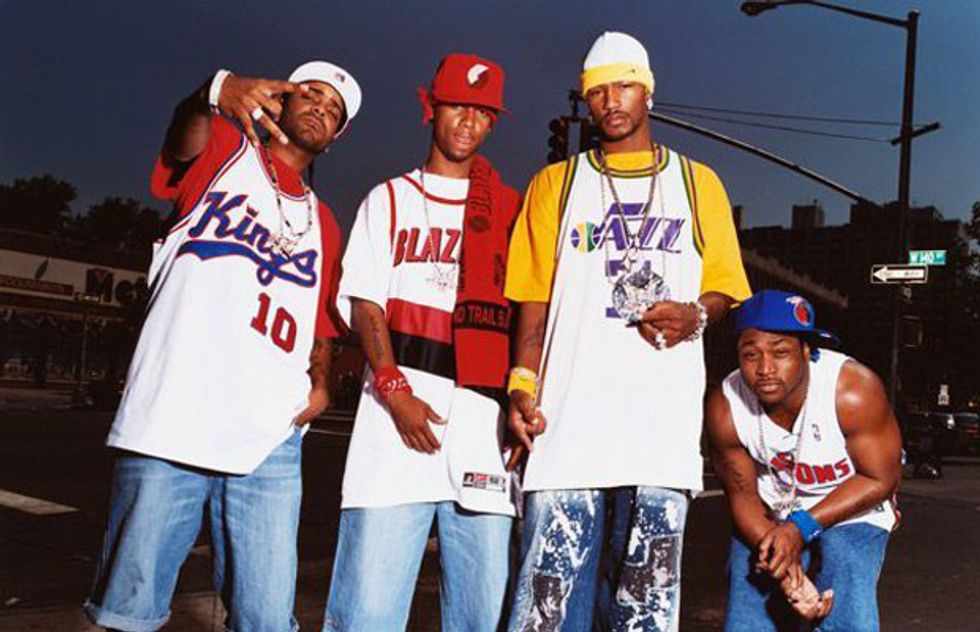 In the early 2000's rappers appeared in music videos laced in throwback jerseys and matching fitted caps. This trend made every youngster at one time (including myself) go out and buy a throwback jersey and even a jersey of their favorite current player. The bond between hip-hop and sports apparel started to grow at an even more rapid pace, once its marketing promise was seen by companies such as Mitchell and Ness.
In almost every one of NWA's photos, they are seen sporting Oakland Raiders gear.
The silver and black paraphernalia would later stand as a symbol of rebellion. The Raiders saw their merchandise revenue increase from millions to $3 billion, just from the ties between their product and the nation's biggest rap group at the time.
Another hip-hop group that rapped its way into impacting sports apparel was Run DMC, who actually made a track called, "My Adidas."
That track would later help them get a $1 million dollar endorsement from the company to wear its signature "Superstar" sneakers.
The group would be seen sporting the sneakers without laces with the tongues out at their shows. This style, too, soon took over and, in exchange, increased sales for Adidas.
But just when you thought that hip-hop couldn't influence sports even more, in the 2015 NFL season Carolina Panthers quarterback Cam Newton made the popular hip-hop dance the "dab" his signature touchdown celebration.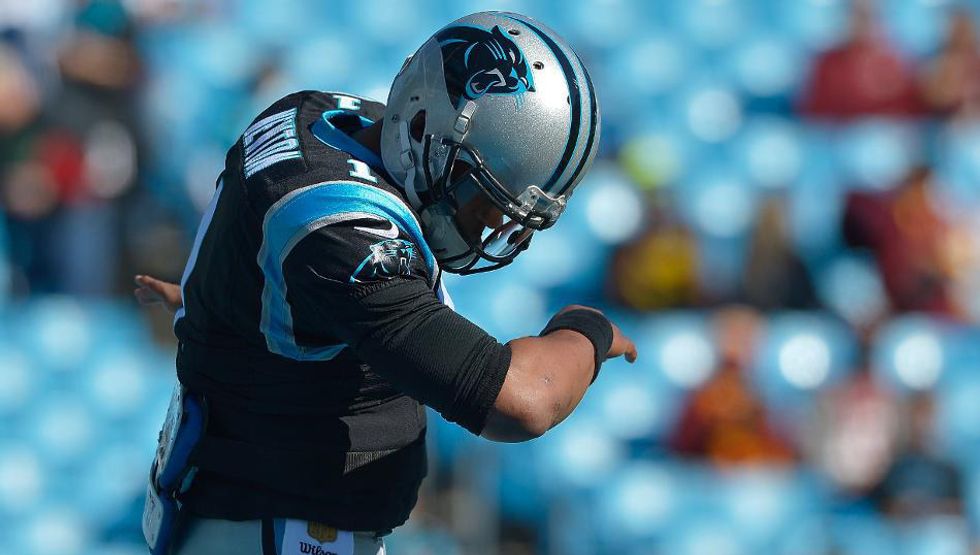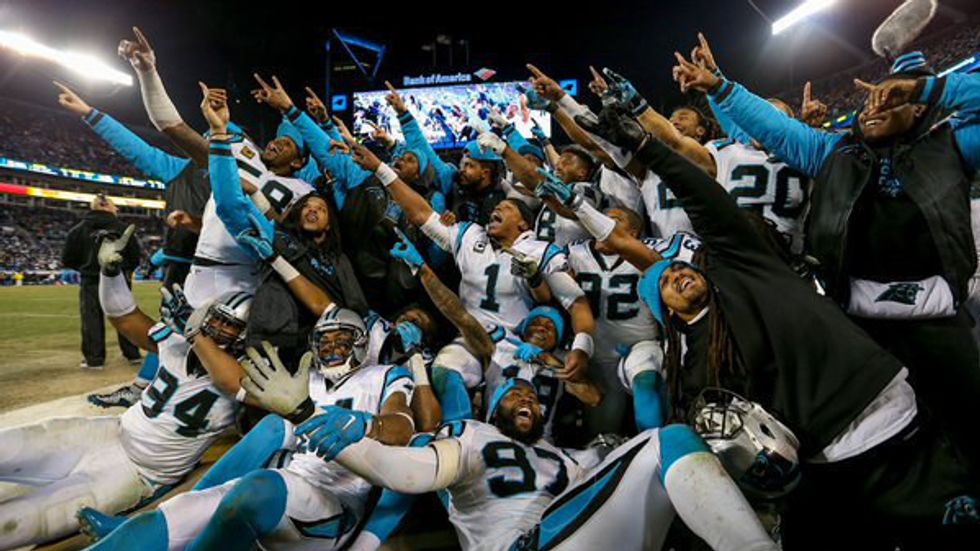 Newton and his teammates would take the league by storm making headlines "dabbing" en route to an undefeated regular season.
Hip-hop artists such as Wale and Fabolous are known to make sports references in their music. My personal favorite Wale sports reference is in his song called "Legendary" where he says, "this is anti-Mark McGwire it takes patience for power." Referring to former baseball player Mark McGwire admitting to using performance-enhancing drugs during the majority of his career, after leading Major League Baseball in home runs in 1996-1999.
Also, a recent popular sports reference is in Drake's 2014 song "0-100" where he shouts out his close friend Golden State Warriors Point Guard Steph Curry saying, "I been Steph Curry with the shot".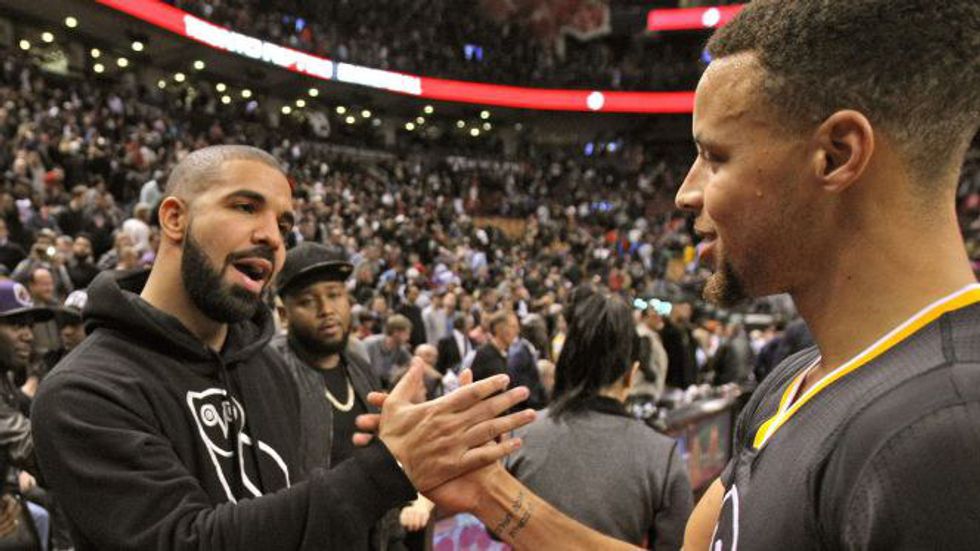 The parallel between sports and hip-hop will always be, especially since hip-hop heavyweight Jay-Z owns a sports management company titled Roc Nation Sports. Roc Nation Sports' manages athletes such as New York Yankees All-Star second baseman Robinson Cano, New York Giants receiver Victor Cruz, WNBA player Skylar Diggins and many more.
I love sports and I love hip-hop. What makes the connection between the figures in these fields strong, is not only their similar upbringings but the respect they have for each others craft. They support each other and connect both industries together. It's great to hear a reference to your favorite athlete in one of your favorite rappers songs, seeing your favorite athlete and your favorite rapper pose together for an Instagram pic, or even read about business deals being done between them. But the relationship between these individuals make fans like you and I even more excited because they inspire each other, and the end result is great entertainment.