Somewhere under hours of Italian homework, band practice, and planning the spring concert is Anthony. Somewhere jogging the streets of New York and trying his hand at screenwriting is John. And somewhere on an assortment of college campuses are nearly a thousand people smiling because of the two.
Anthony Salterelli and John Benenati of Wilton, Connecticut, are both in their sophomore years of college. Anthony is a computer science major at the College of the Holy Cross and John is studying financial engineering at Columbia University. Together, they have tapped into the technology of this day and age to harness positivity among college campuses. They have created a new and innovative app called Chin Up.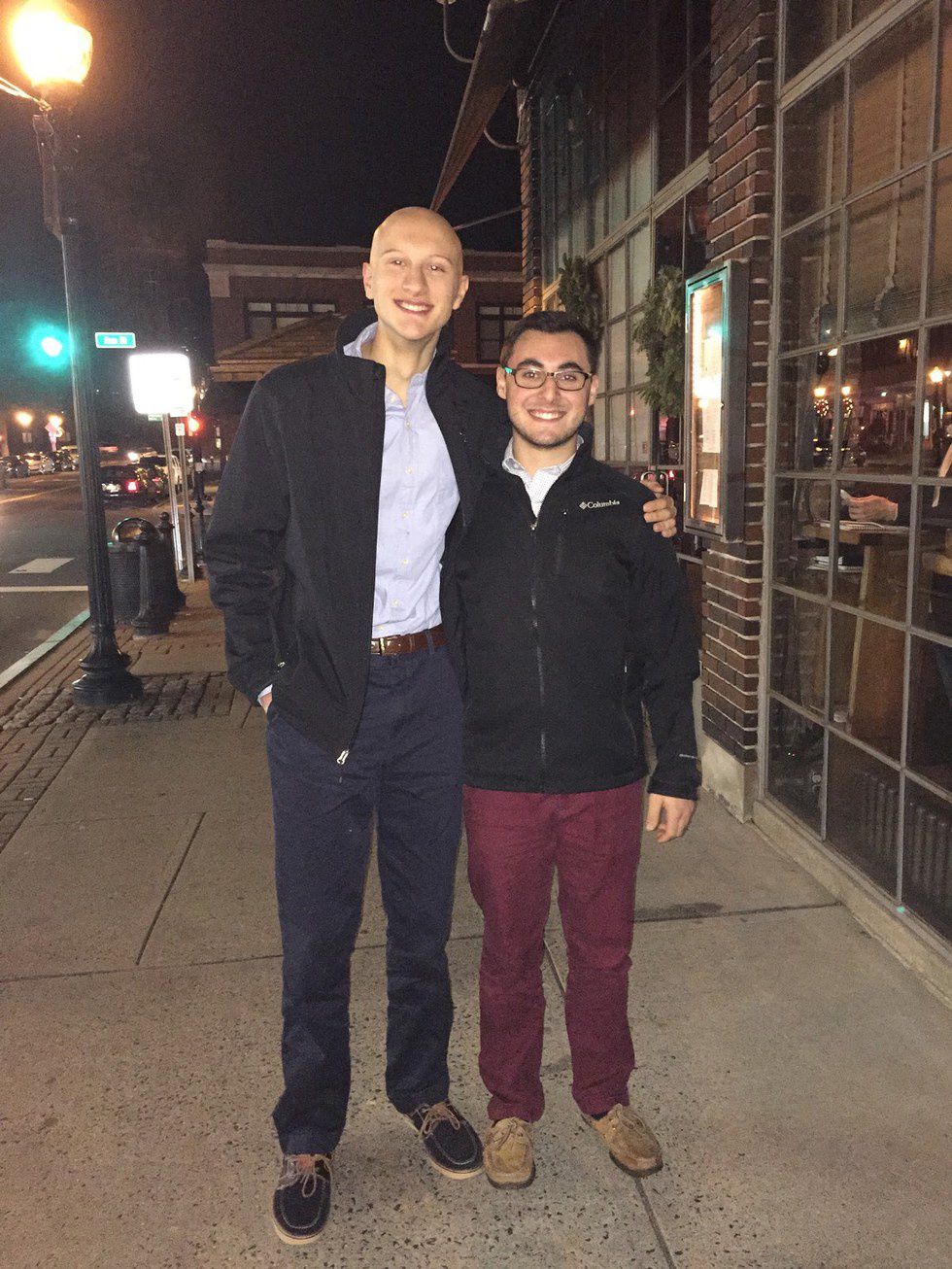 What started as one of those casual "hey, wouldn't it be cool if…" is now something that is rapidly growing in popularity. John and Anthony had originally set out with the intent to create a game for social media. As time went on, this drive evolved into the desire to create a space where people could compliment and uplift one another. They were inspired by their high school's twitter account - WHS Compliments - and other Facebook pages for compliments that various colleges had. Yet the two masterminds wanted to eliminate as much of a third party as possible. As Anthony remarked, "People like being positive, especially if it is anonymous."
Thus the birth of an anonymous, communal, and kind version of Twitter: Chin Up.
Unlike other apps (think Yik-Yak), Chin Up is not based off of a radius. When you download the app, you select your college. (Currently Holy Cross, Columbia, Moravian College, Williams College, Bucknell University, and UConn have joined the positivity bandwagon). This feature is meant to enhance the community building mission of Chin Up. To create a post, you type the name of the person and then have 180 characters to give an encouraging shout-out. All posts can be reviewed and favorited in the news feed. Another neat feature of Chin Up is the ability to send a thank-you note (which has started hundreds of conversations).
Chin Up truly brings a campus together because, for example, posts aren't limited to individuals: they extend to teams, classes that just took an exam, residential-life staff, anyone. Some posts are even dedicated to just good moments - the weather, the day, the meal. It is a genuine celebration of happiness. I have heard from numerous people that reading through Chin Up is a great way to start or to end the day. Anthony explained how the app has the power to make "dozens of people happy at once because they know someone is supporting them."
In addition to strengthening communities, their mission is to combat cyberbullying. Anthony describes how "social media as a whole is an enormous force that brings millions of people together, though a lot of it is positive, there is negative backlash too. We want to make the nice thing to do, the popular thing to do."
The app has a plethora of security features, as well, to prohibit offensive language, cap the amount of thank you notes sent, and regulate the news feed. The intricacy of it is really quite incredible considering the infancy of Anthony and John's college careers. They taught themselves any coding that they didn't know and put in roughly 350 hours of time. The two relied on the feedback of their friends before launching the final (18th) product. Furthermore is the web of legal and economical measures that John and Anthony have done on their own. The genius is more than commendable.
As they look to the future, John and Anthony are excited to spread to more college universities and to strengthen their presence in the ones where they already are. They also hope to partner with national organizations that help children with terminal illness. The goal is that under the "featured post" section of the app, a child will be featured with their name, story, and picture. Users will then be able to send Chin Up's to them and Anthony and John will deliver the posts in a way to be determined.
John and Anthony are revolutionaries. If there's one thing that needs to be revised in young people today in order for us to be productive and happy adults of tomorrow, it is the disease of low self esteem and loneliness which are so often perpetuated by social media. Chin Up works to establish positive connections while reflecting on a community's assets. Above all, it encourages people to look up, and it inevitably helps us to be seen. By reminding us to keep our chins up, John and Anthony, perhaps unknowingly, exemplify Walt Whitman when he wrote, "Keep your face always towards the sun and the shadows will fall behind you."