So, if your social media feeds and Instagram Explore pages aren't filled with this year's Coachella outfits, you may be living under a rock.

In my heavy habit of procrastinating, I've been scrolling through pages and pages of various festival outfits and having a love/hate relationship with them. Some have me wanting the links to their clothing, and some have me wanting to redress them and thinking that they don't deserve to be at Coachella with so many fashion icons and outfit opportunities.
Being so, I'd like to share my favorites and worsts of the celebrities who attended this year's Coachella. And in the spirit of always saving the bests for last, I'll start up with some of my least favorites.
Worst:
1. Rihanna
Although it physically PAINS me to put her in this category, one of her outfits for the first Coachella weekend was in one word: horrendous. Although I've written in my spring trends article that monochromatic outfits are in, this outfit was a deafening monotonic song that I, in no way, wanted to listen to. This seems harsh, but c'mon, bad girl Riri can do SO much better! I strongly believe in the saying, "it's ugly until Rihanna says it's not", but you can't make a brown paper bag cute.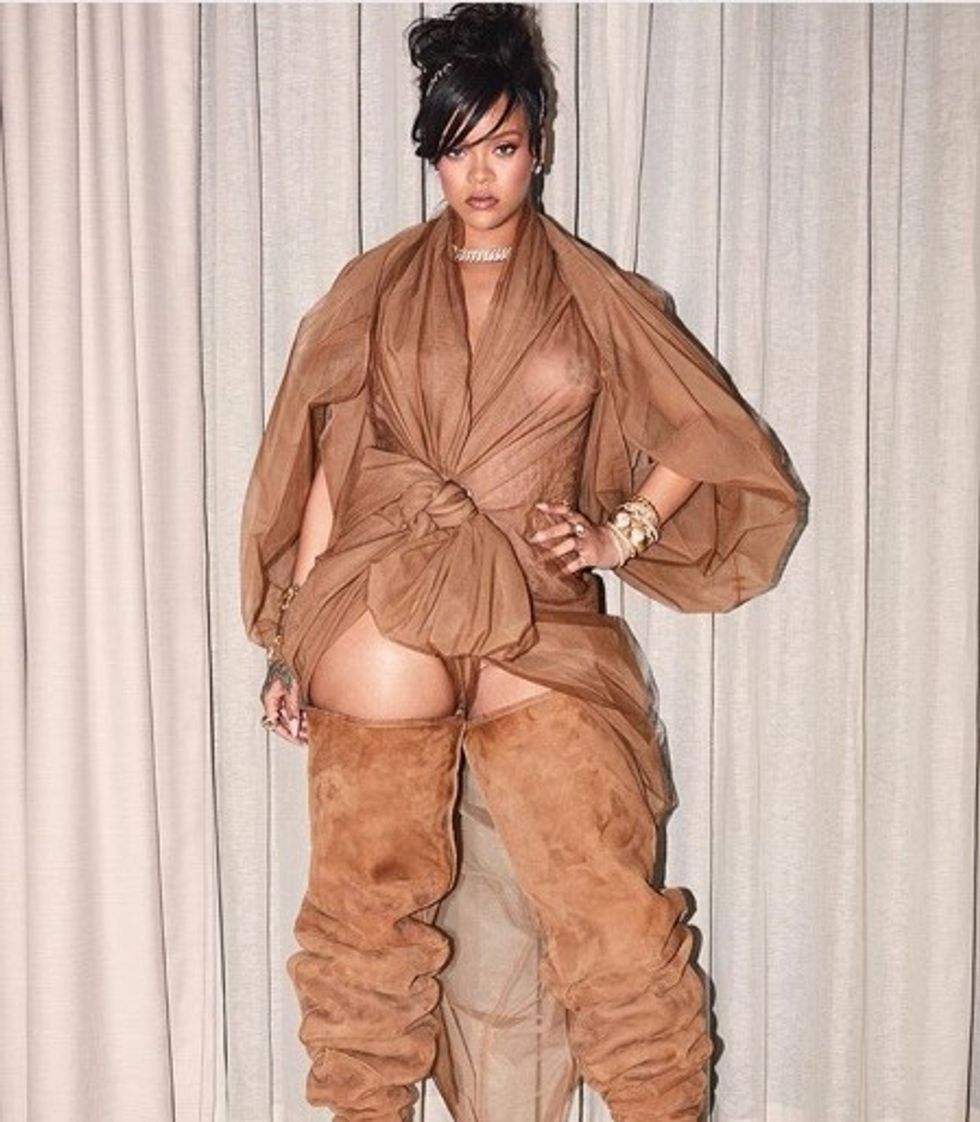 2. Bella Hadid

Once again, disappointment sets in with this outfit. Although it's not the worst outfit, it is underwhelming, especially for a Hadid sister. I always see Bella Hadid walking the streets in some stellar streetwear and other clothing items, so I had high expectations for her outfit at Coachella. But alas, all we got was a subpar outfit that anyone could have put together. Dressed in a basic white crop top, jean shorts, white belt, white Nikes and scrunched socks (not pictured) and accessorized with a white scrunchy, sunglasses, and body chain, this outfit was neither astonishing nor Coachella-themed.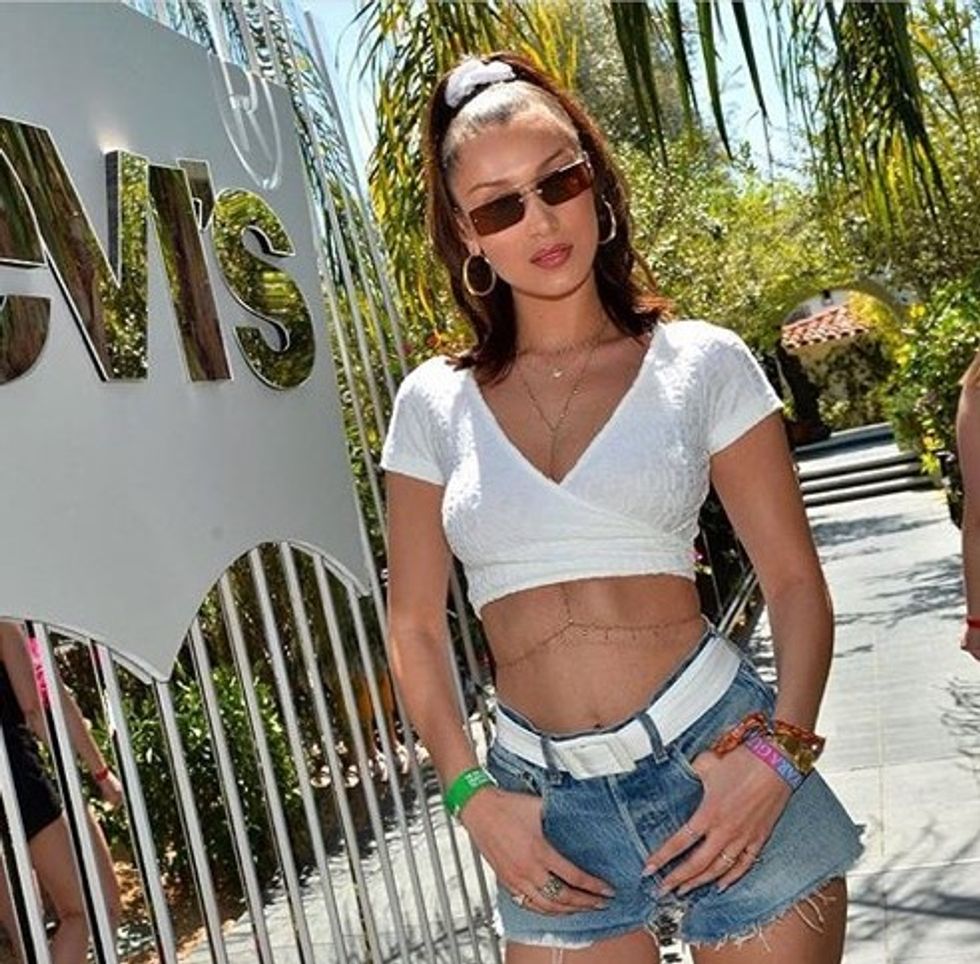 3. Nicki Minaj
Known for her outrageous outfits in her beginning years, Nicki Minaj always dresses to turn heads. In this instance, however, she turned heads away, rather than towards her. Like I said before, her early years were filled with shock-value styles, but lately, her style has gone to a minimalistic sophistication that I've come to love. However, this outfit did not follow the trend and she somewhat reverted back to her old ways. I'm always down for some sexy animal print, especially for festivals, but I think she wore one-too-many different animals, and the skins just don't sync.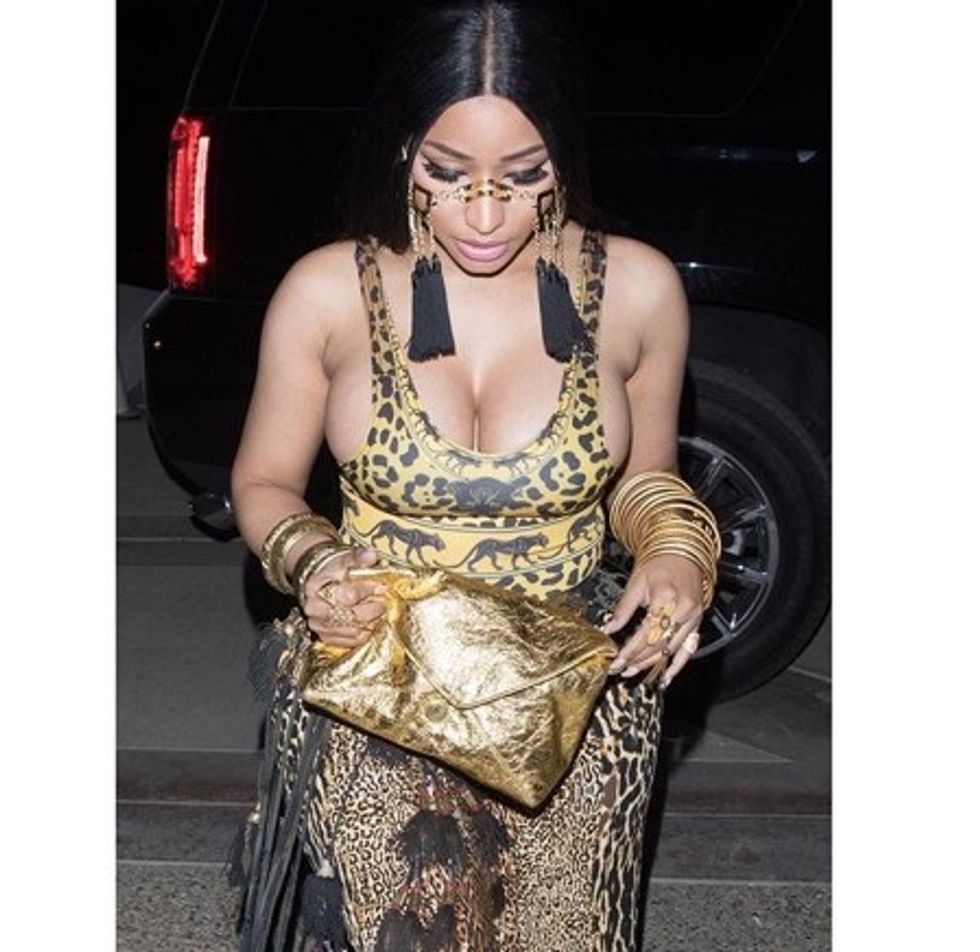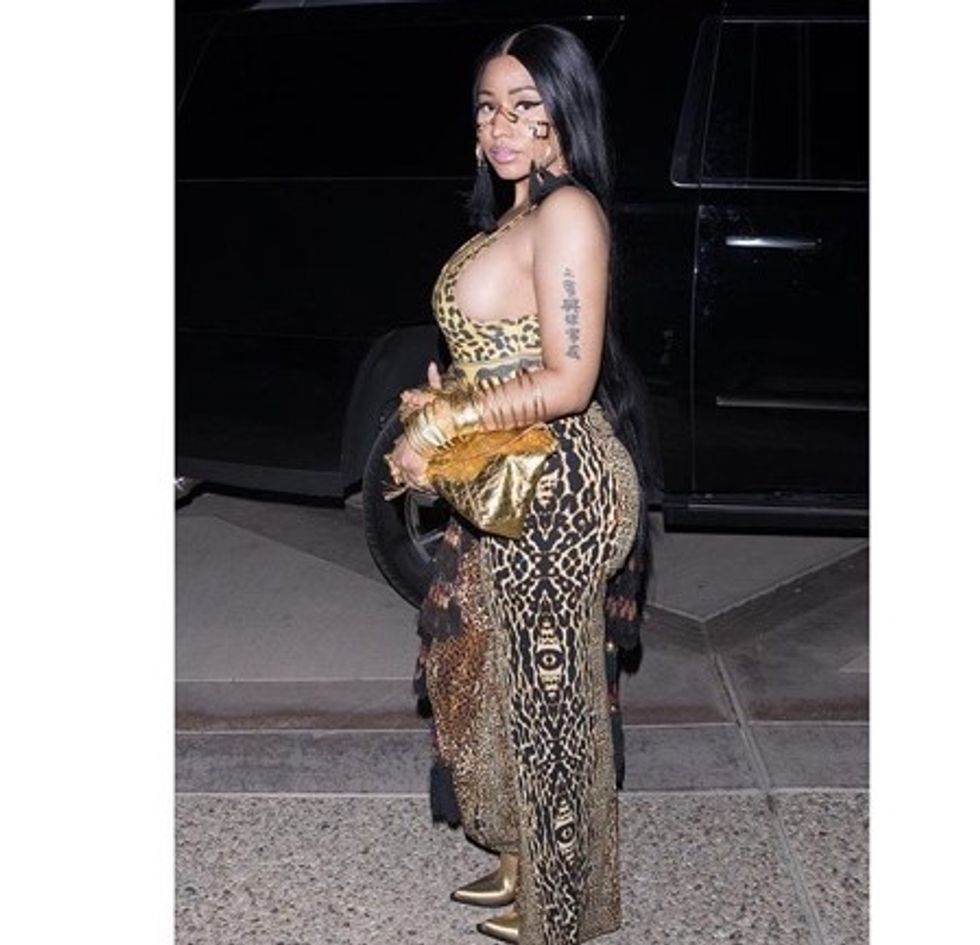 4. Justin Bieber
Also known for his iconic street styles, Justin went a different route at Coachella this year with more of a beach-boy vibe. Although I think his beachy decision somewhat embodies that of the festival, again, I just think his outfit could have been so much better. Justin showed up to Coachella with his bleached hair kept out of his face by a bandana paired with a tropical shirt and shorts suit, accompanied by a pair of white sneakers. Although he was seen prancing around enjoying his loose-fitting fit, I expected more from such a fashion icon.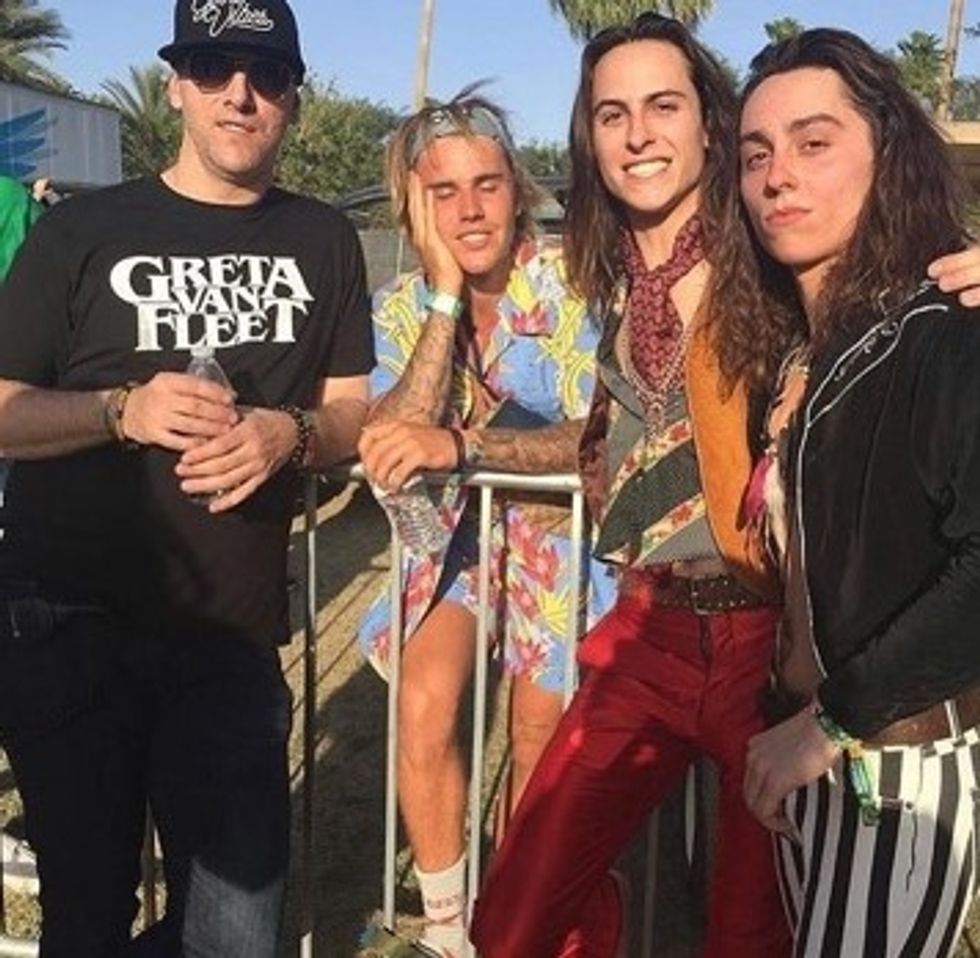 Best:
1. Also Rihanna
So, I know I tore her outfit apart on the "worst" list, but she also had a stunning outfit for one of the other days. Buckle up, buttercup, because her outfit was shining bright like a diamond. In an all-white outfit accented with belts all up and down her pants, she lived up to her fashion reputation. On top, she wore a jean jacket which she tied up to see her signature ribcage wing-tattoo. She then accessorized with a white mini-purse and icy-blue eyeshadow to give her monochrome outfit a colorful touch.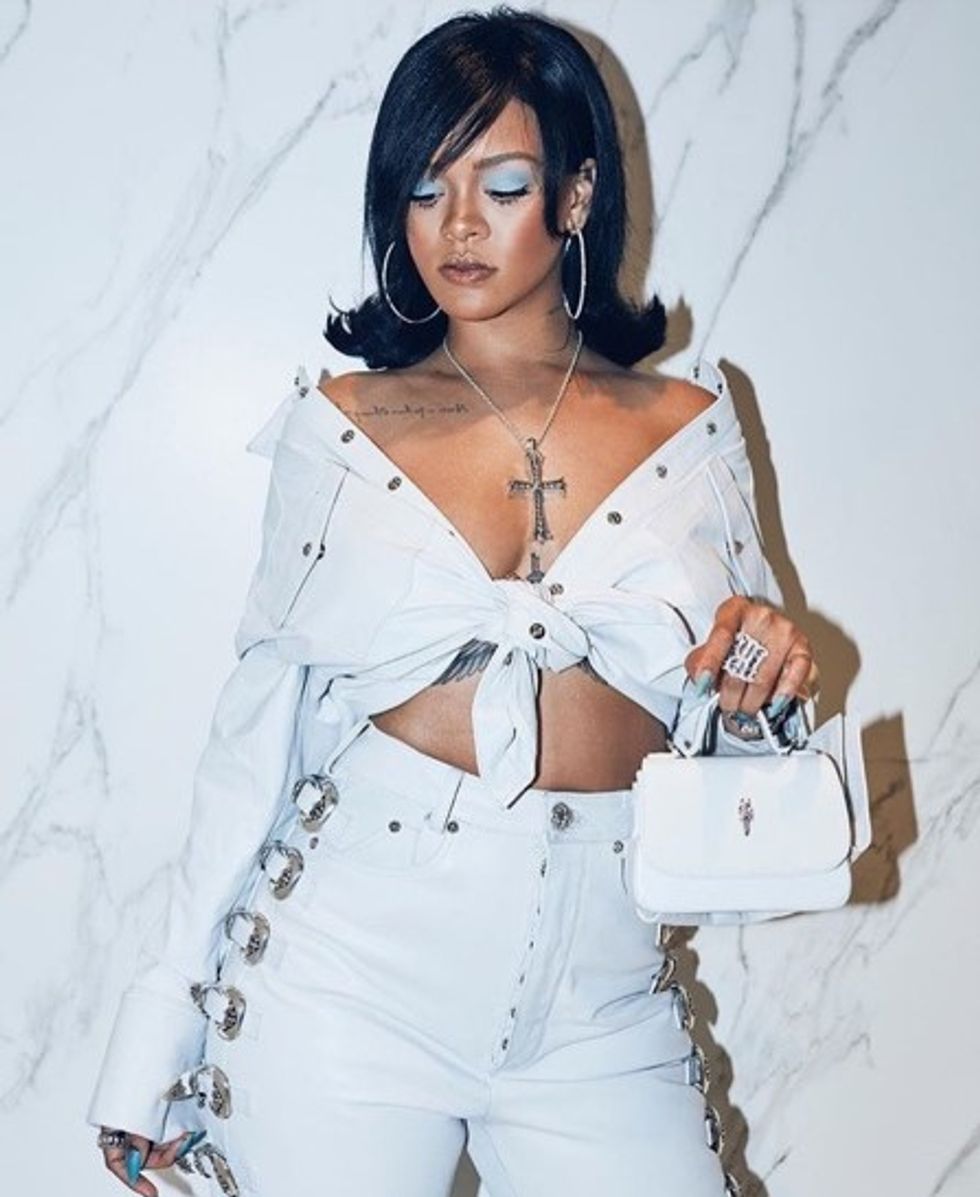 2. Camila Coelho
Not quite as famous as other celebrities I've reviewed, but I just had to put her on the "best" list. As a fashion connoisseur, and a widely-followed YouTuber, she was destined to have one of my favorite outfits at Coachella. She and her outfit embodied everything about Coachella: accessories, sparkles, and an Indie vibe. It was basic, yet beautiful. With a plain black crop top, a sequin skirt, and silver-tipped cowboy boots, she made sure she was comfortable, yet stylish to dance the whole night away. Along with the outfit she accessorized her hair with metal accents to match her over-the-top necklace, rings and topped it off with geometric shades.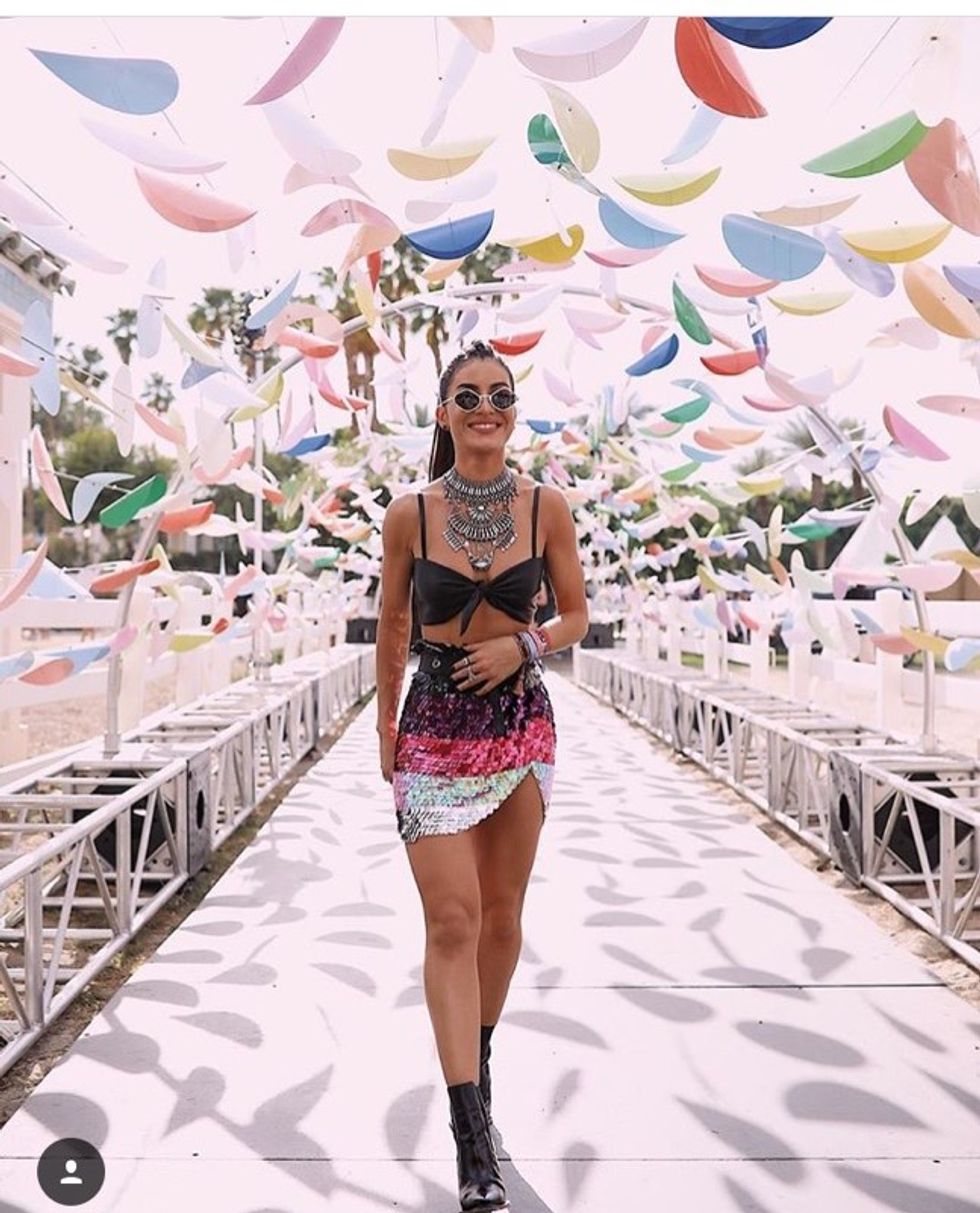 3. Millie Bobby Brown
I may be biased because I love Stranger Things as well as her everyday non-Coachella outfits, but she rocked her first big festival. Like Camila Coelho, Millie kept up with the hair accessories and (basically) pierced her French braids with some silver hoops. Along with that she had a rainbow sequined cardigan to match her pastel pants and scrunched tube top. Practical, cute, and comfy styles are the way to go for festivals.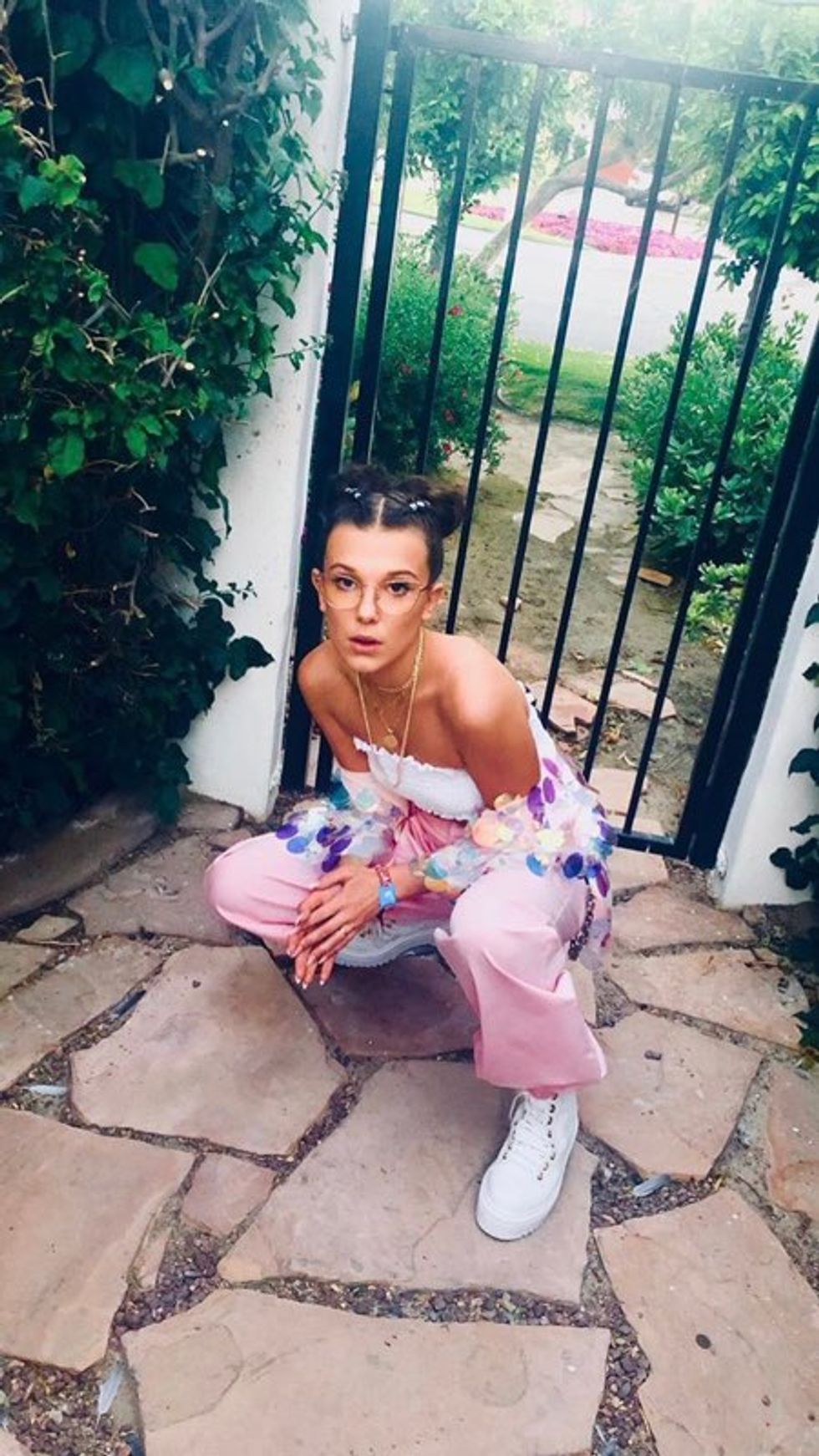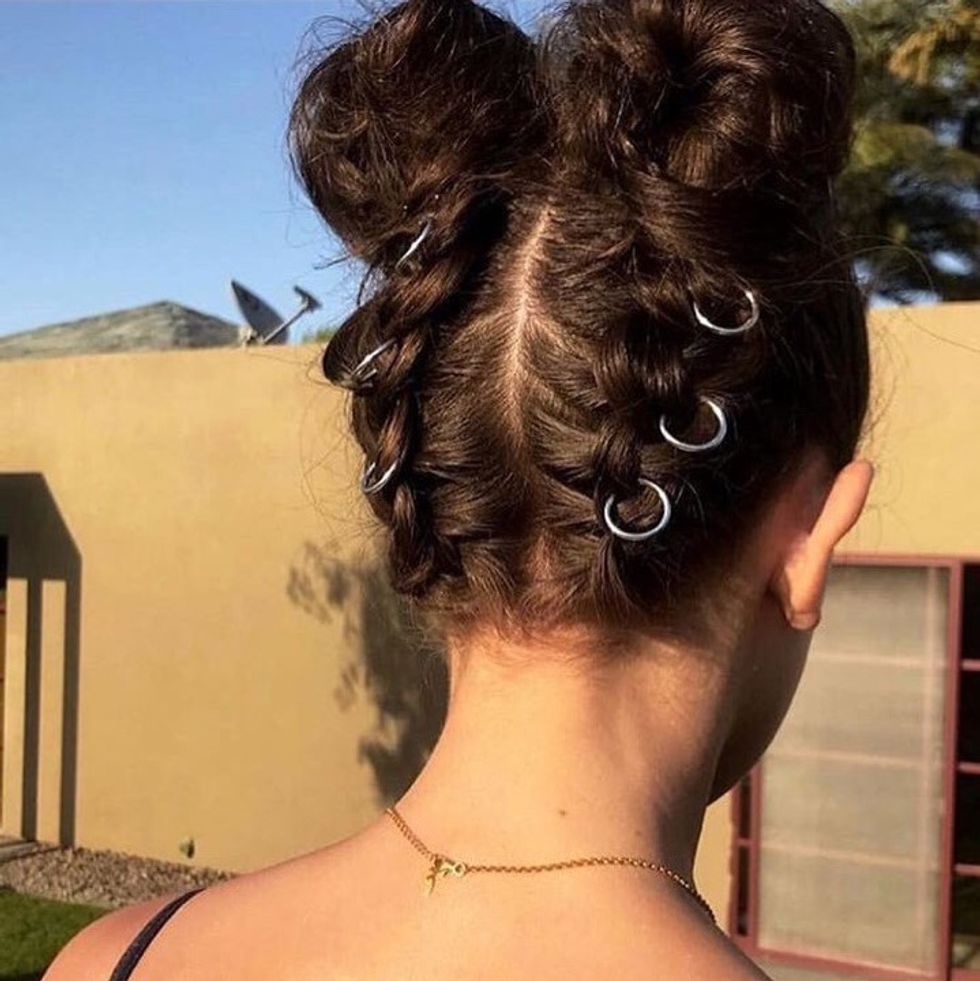 4. Vanessa Hudgens
If you're surprised by this, then you must not know that Vanessa Hudgens is the queen of Coachella. For the past four years, she has blessed us with Boho-Indie outfits that put all other outfits to shame. This year she struck us with classic elegance with her floral-printed deep-V dress, accessorized with an abundance of bracelets, necklaces, rings and a body chain. All of which are part of her signature styles.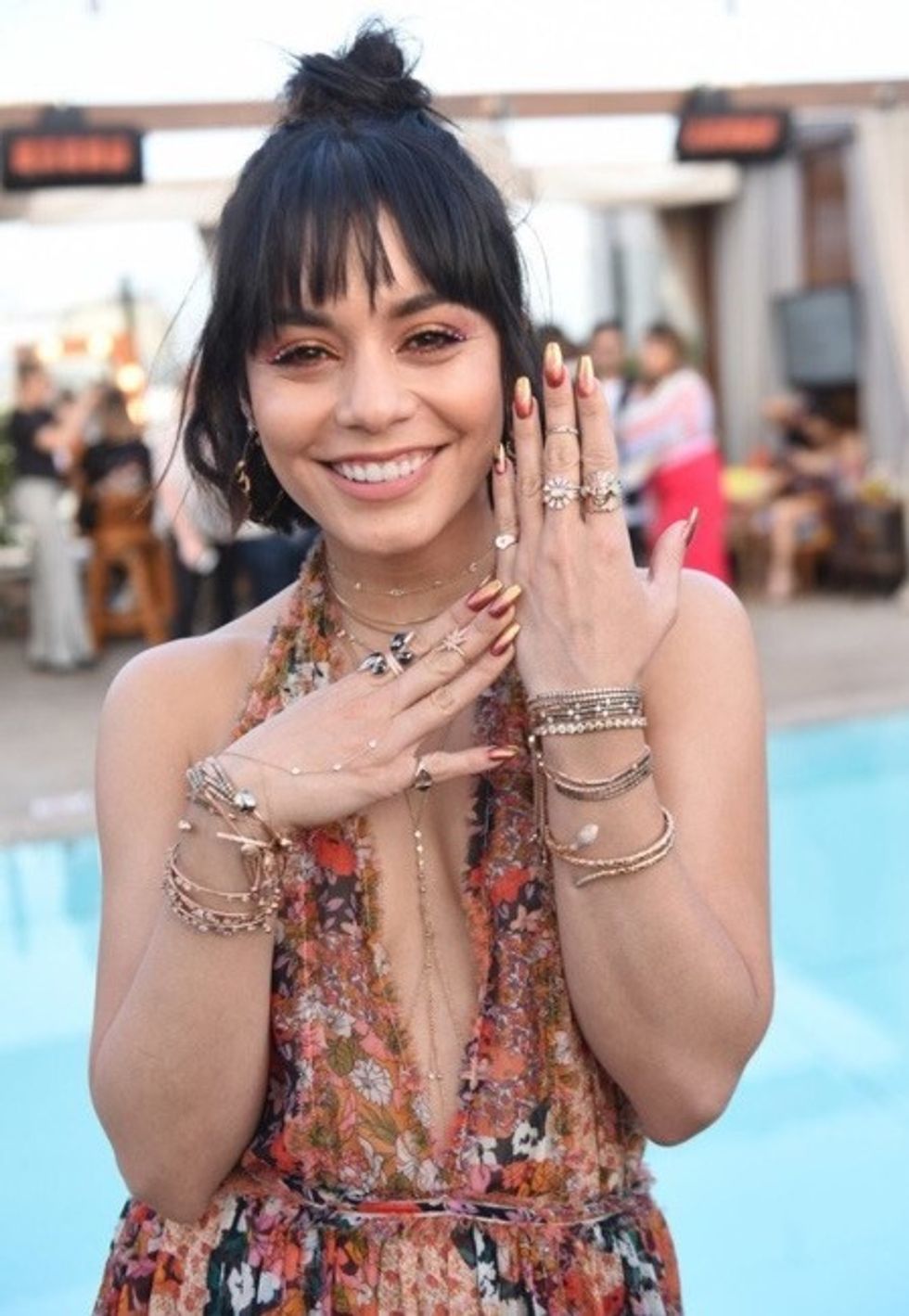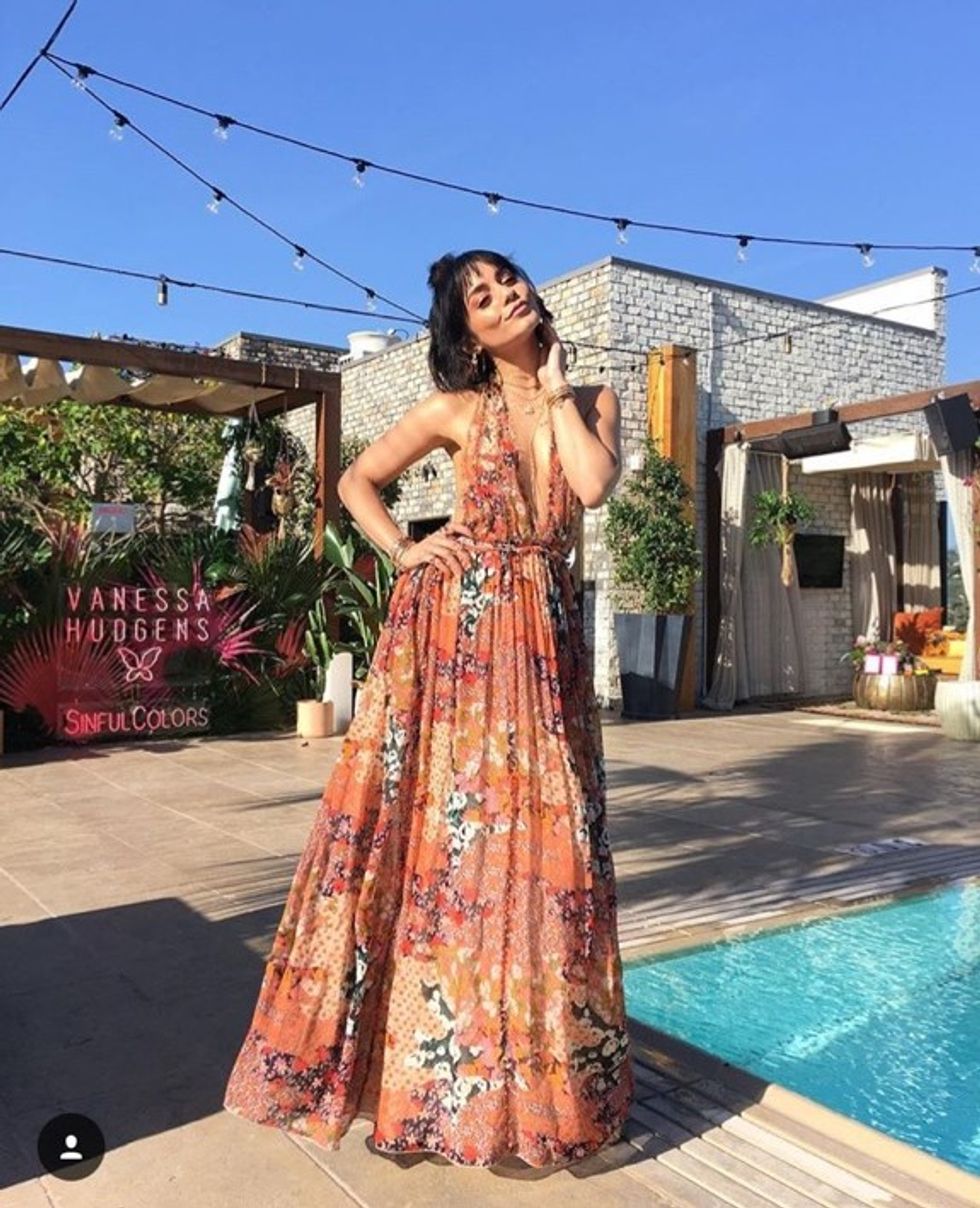 As a summary of the worst/best outfits of this year's Coachella, I've come up with some do's and don't's:

Do:
Wear something comfortable so you can dance until the break of dawn
Make a statement – it's Coachella!
You can never have too many accessories
Have glitter be your favorite color
Don't:
Be understated, turn heads!
Overdress/overcompensate – be comfy, casual, cute