Cardi B was under fire this week after an old Instagram live video resurfaced of her discussing her past of drugging and robbing men to get by. In the live stream, the rapper opened up about her past, admitting to the crimes she used to commit, saying "Oh yeah, you want to f–k me? Yeah, yeah, yeah, let's go back to this hotel,' and I drugged n—s up, and I robbed them. That's what I used to do."
Cardi posted an apology and explanation for the now viral video on March 26, captioning the tweet "All I can do now is be a better me for myself my family and my future."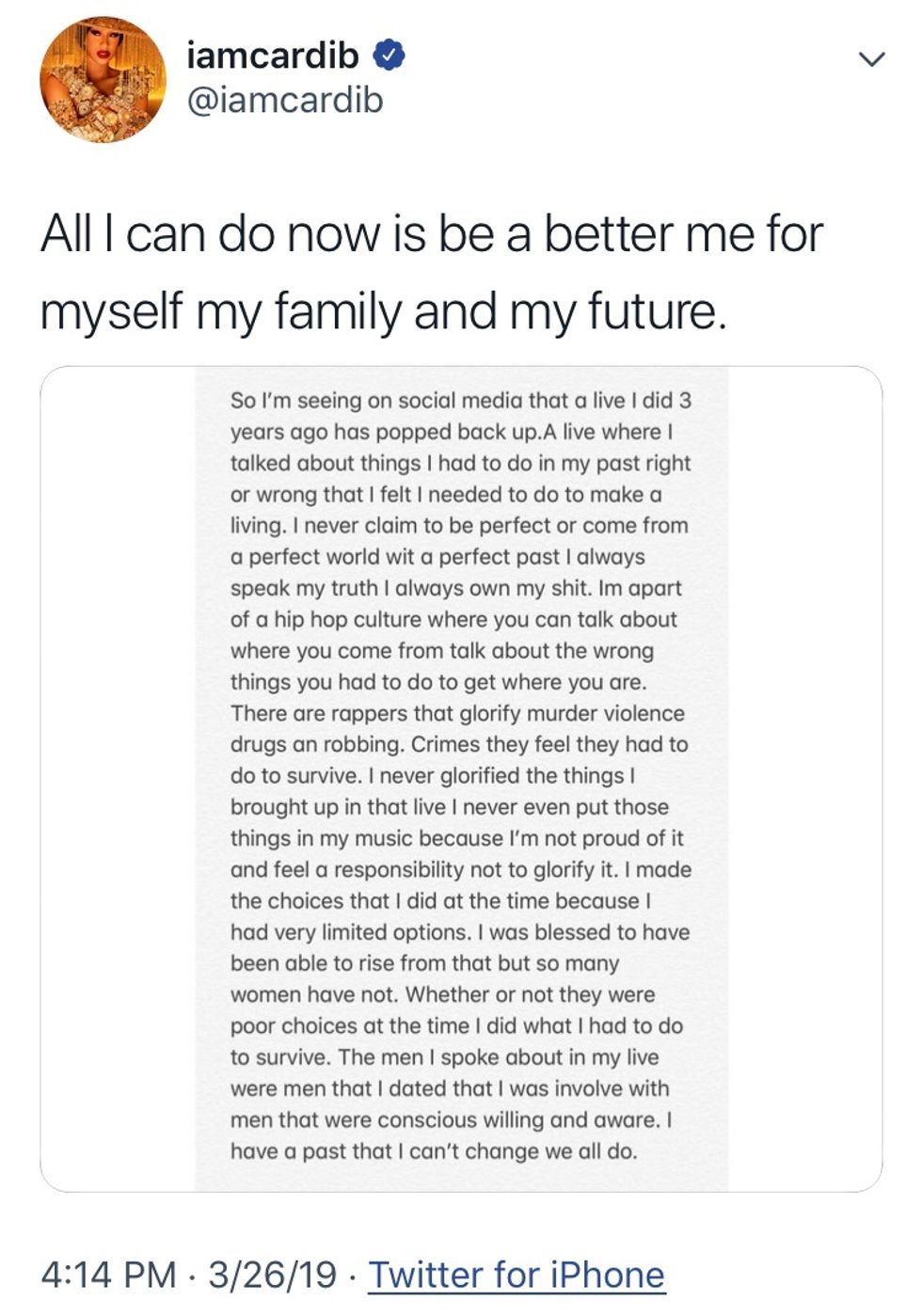 Admittedly, drugging and robbing people is a horrific act, and Cardi is not in the right for doing this. However, male rappers rap about the horrible things they do all the time. In the hit song "Murder On My Mind" by YNW Melly, he raps about shooting and killing his friend.
People love the song, and there is little to no condemnation of the rapper. A large percentage of male rappers are always rapping about misogynistic acts towards women, getting them drunk to engage in sexual intercourse, robbing, shooting, and killing people all the time. Nobody bats an eye.

Yet when Cardi B opens up about acts similar to the ones committed by male rappers, people took to social media to express their disgust in her actions, even comparing her to rapists like Bill Cosby and R. Kelly.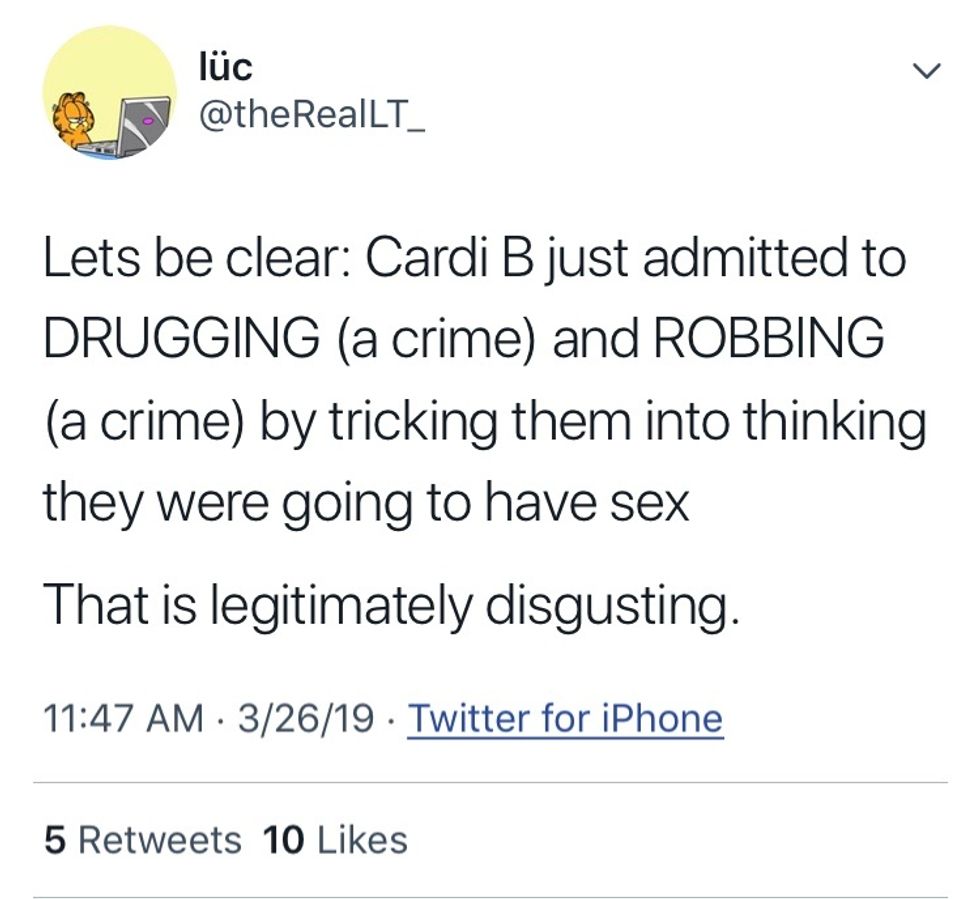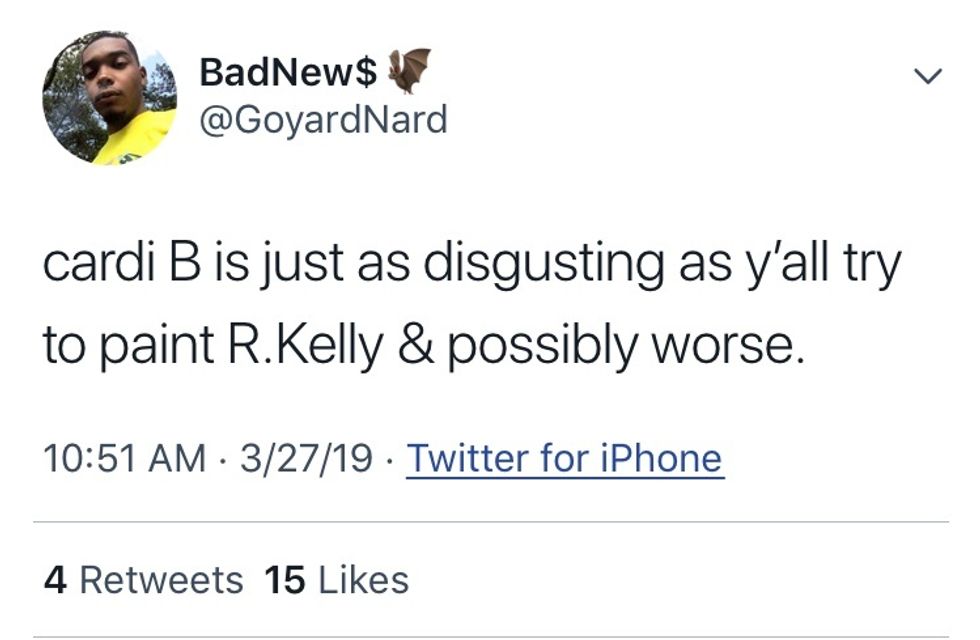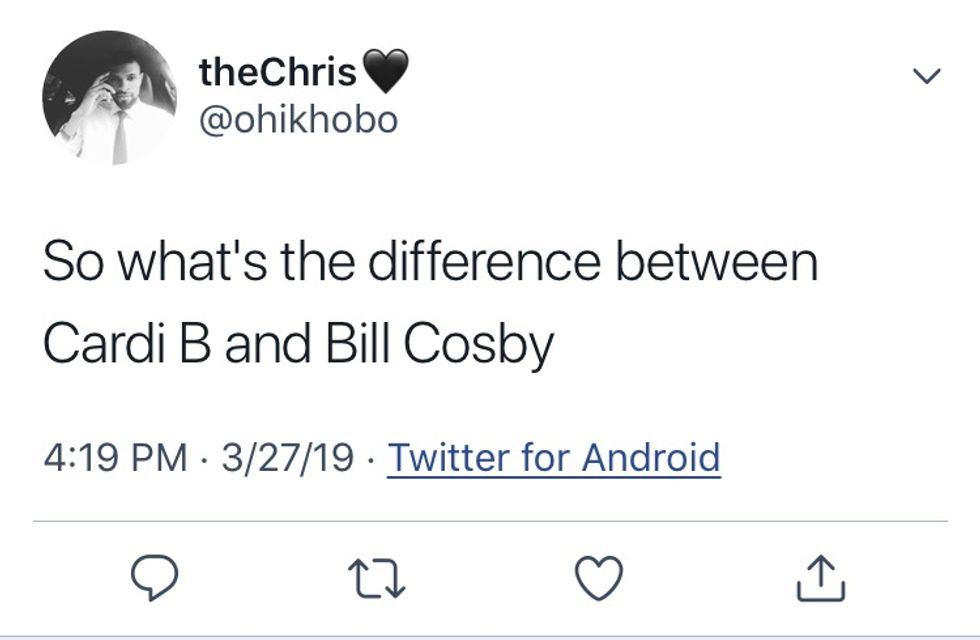 Cardi B is by no means innocent and her actions were completely wrong, but she is one of the hundreds of rappers who have opened up about the shameful acts they've committed pre-fame and fortune. Yet most of these rappers don't trend #1 on Twitter or have to publicly apologize for it. Not to mention that the backlash Cardi is facing for robbing people is significantly more than the backlash many other rappers face for being physically and sexually abusive and literally murdering people.
If we're going to hold Cardi B accountable, we must also hold her male colleagues accountable. Enough of the picking and choosing. If something is wrong, it's wrong, regardless of if it's your favorite male rapper.