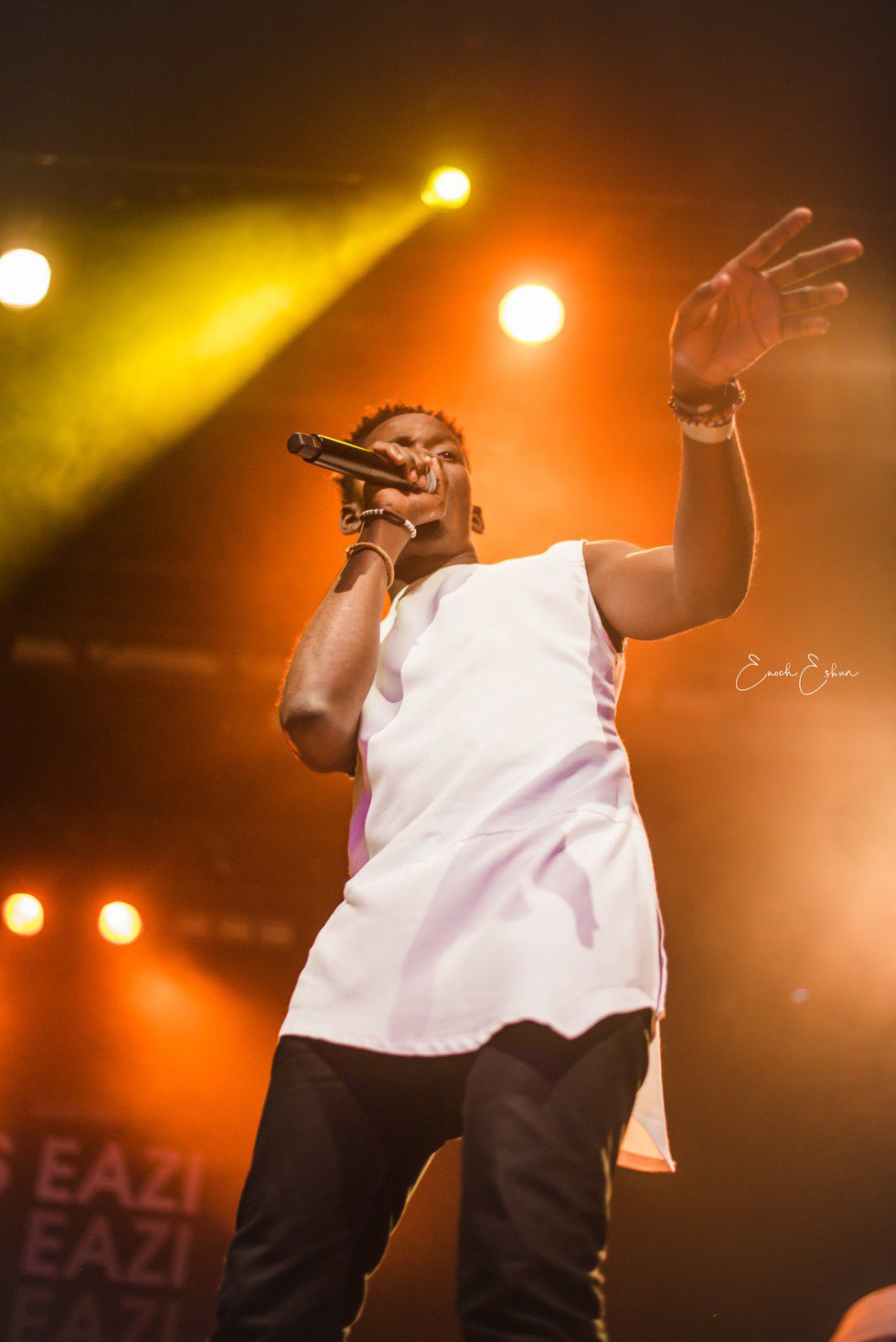 On December 5, 2016, Afro beats sensation Mr Eazi announced his Detty World Tour was coming to NYC on March 11, 2017. I don't know about everyone else but I was faithfully counting down the days until I could see Mr Eazi live in concert. Exactly one month before Life is Eazi: The Detty World Tour would hit Play Station theater, Mr Eazi dropped his mix tape- Life is Eazi: Accra to Lagos. It was highly anticipated and it most definitely did not disappoint.
Eazi has been on an upward progression and 2016 was an amazing year and starting 2017 riding the wave of his mixtape was a great way to start. On his rise to stardom, the young legend in the making has not forgotten the bigger picture. The goal is to bring Africa to the world!
Africa to the World is a mantra that not only Eazi, but many other African game changers have been pumping. Collectively, many can agree, it's time for the world to stop merely taking from Africa but to really appreciate Africa for all she has to offer. It is also imperative that African artists and individuals make a conscious effort to change the dynamics between Africa and the rest of the world.
I was curious as to how this would be possible. Africa is massive and there is so much greatness to be seen. Is it even plausible to bring Africa to the world? Well Tosin thinks so and he isn't the only one.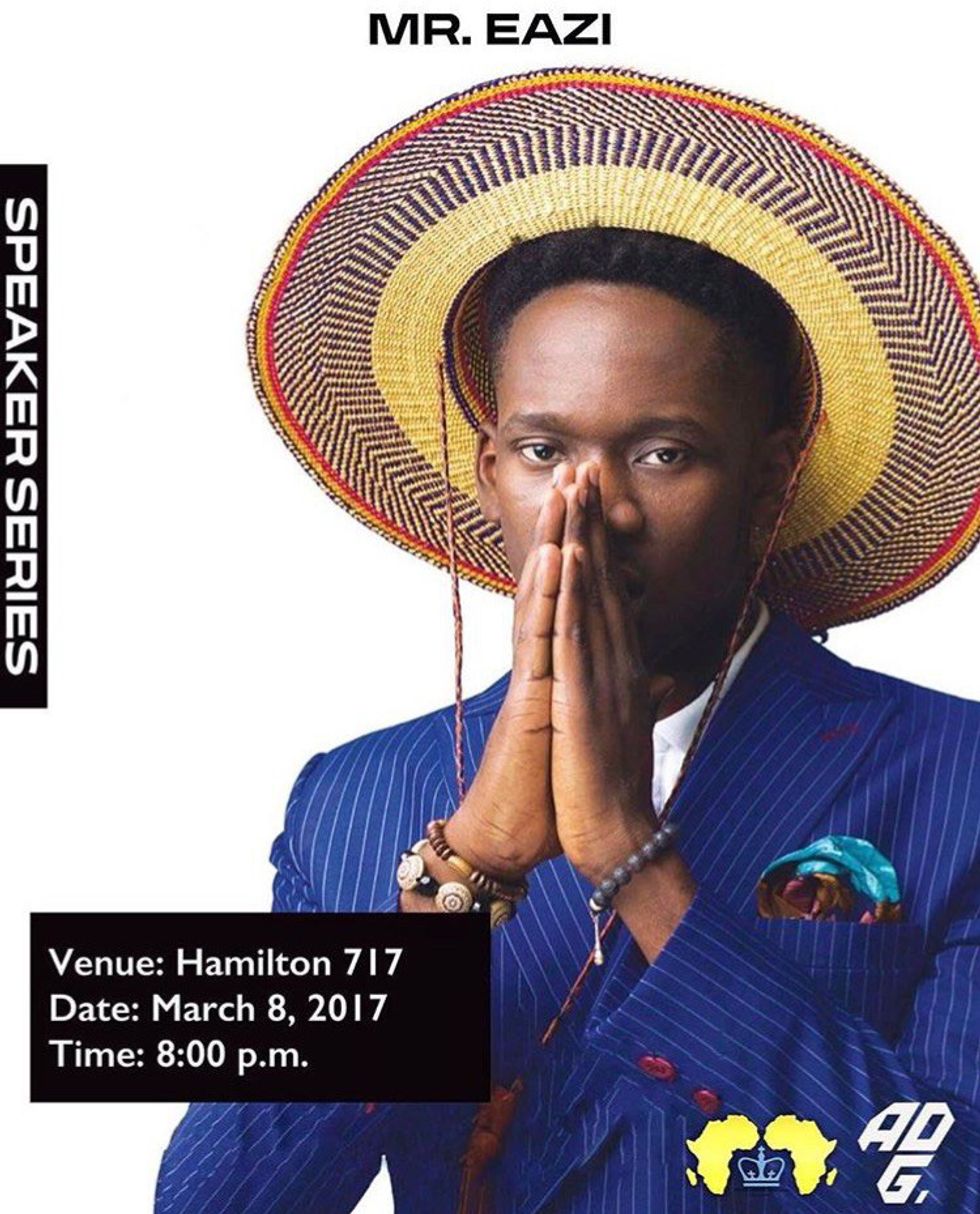 On 3/8 - a few days before his concert -I and about 40 students at Columbia University had the privilege of being able to hear him speak on this topic in an intimate discussion. Even though I fan-girled at first and was so hype that I was seeing him live and in action, I could not deny that he was speaking some real shit. He began with" you know, I don't really know how to talk to small crowds" but he was truly great.
The title of his talk was" Bridging Tech and Music on the African Continent". Eazi talked about his rise, fall and rise once again in the African Phone Trading Business. He put us on to the story behind his beloved straw hat. He squashed rumors that him and Julz were beefing. He broke hearts when he mentioned he had a girlfriend and mended them when he added the "ex". He made us laugh with stories about his mother and his noobish ways at the beginning of his musical career. We all definitely left with a better sense of who he was and who his team was. He got major cool points for beginning his talk by paying respects to his team. He's a star but his humility has obviously not abandoned him.
So. Africa to the World. How is that even possible. Tosin's game plan is quite Eazi. His plan is to " Fill up a stadium in every capital in Africa" and then " the world will know about me."
It starts with Africa and ends with Africa. One cannot expect recognition to come when your own people are not vybing with you. If everyone in Africa has access to the music, if everyone in Africa wants to come out to shows and concerts, then the rest of the world will have no choice but to stop and listen. Tosin understands that first Africa needs to have connection to the world on a cyber level. Once Africa is connected, everything will fall into place. African recognition and African connection to the the African world will force the rest of the world to give Africans their well earned respect.
Mr Eazi also had some advice for up and coming artists. " On a broad specter, I feel like the challenge from watching a lot of other artist, I feel like people get lost in the sauce because like there's a lot going on in America. And even though it's the dream for a lot of people to come to America it's not it. I feel like they must be established. They must be a story behind the music." It's truly dope that someone currently in the game and trying to make it understands the importance of remaining true to thyself.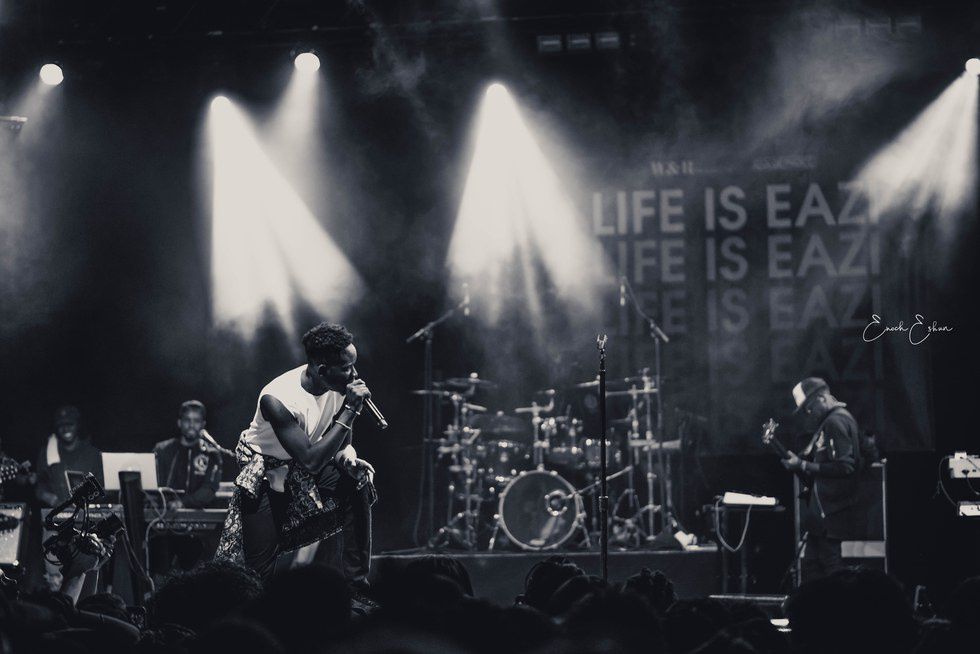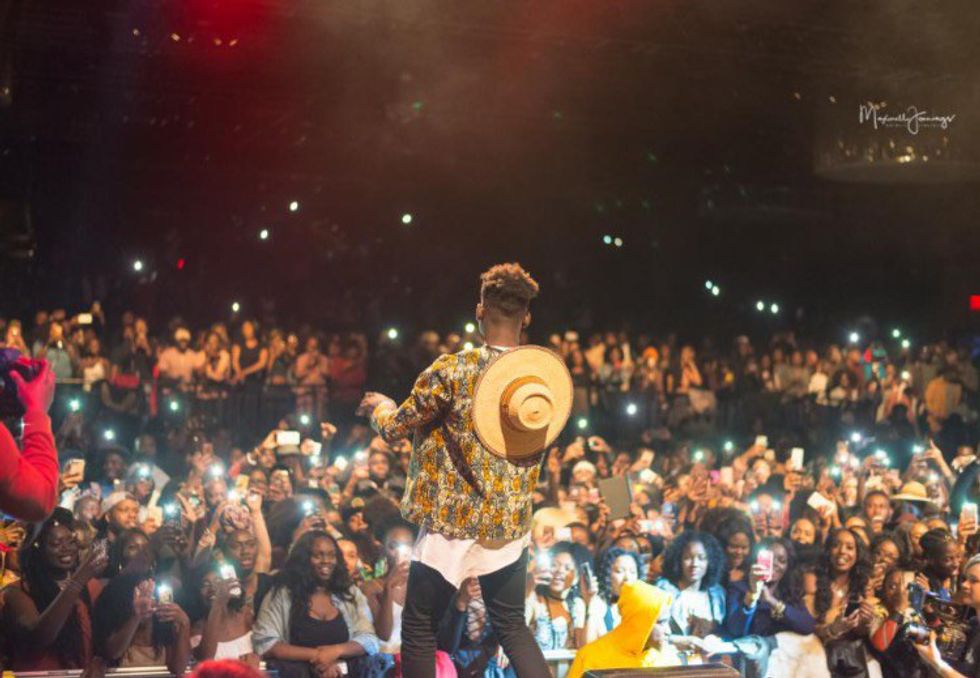 Now, yah knowww I can't end this piece without ravingggg about the concert.
(peep me and gang front and center fan girlinnggg like crazy!)
What's amazing to me is how quickly Mr Eazi is rising to stardom. Prior to August 5th, I never even knew him. I saw him perform at the Ataria NYC fashion show and ever since I've been a fan. That performance was in the basement of a church and less than a year later he's had show, after show, after show in bigger, better venues. There were 5,000+ individuals in attendance and us in the audience were so excited to be there. The show was marvelous. Its obvious that as he becomes more and more famous he is securing his sound and ensuring that he is staying true to himself as an artist while still experimenting.
He says " Me, I am being 100% organic. I feel like for the next 1 year I still need to keep it organic and see where I can take it.
" His organic sound is enough and it will be the key that catapaults him to legendary status- I think. His individuality is what makes him so popping. We have enough people talking about the same thing with the same wack ass flow. He brings something unique to the game that is all his own.
He says " The mixtape is just the mixtape. It's me just having fun, shouting Zagadat here and there" - but I'd have to disagree. Accra to Lagos is a game changer. It's well thought out. It's produced hits on top of hits that have crossed the intercontinental barrier. Stars on instagram in Jamaica are blasting his tunes. Girls all over the world idolize him. Men respect him. He is inspirational. I am absolutely confident that he will bring Africa to the world. He is obviously focused on his future moves, but he has definitely accomplished so much in such a short time and we are proud of him.
Continue to detty yourself & shine Tosin. The world is watching. The world is rooting for you. <3