I wasn't born in a hospital.

How is that for an attention getter?! Everyone dreads the "tell something interesting about yourself" icebreaker on the first day of school. All the sudden, you can't think of a single interesting thing about yourself. I, on the other hand, was confident that I had the best fun fact out of everyone in the class.
Some go-to icebreakers may include: "I like to sing, I've been out of the country, I have three dogs…."
I was born in a driveway. BAM! Beat that!
At one in the morning on August 7, 1997, my mom woke up. "I immediately knew that I was in labor when I woke up. I was having intense contractions." Everything was happening so quickly, something not so common in most labors.
(Me in the womb: "HELLO!! Mom and dad, I'm ready to PARRTAYY! Get me out of here! I'm ready to take on the world!")
My mom said she was most concerned about calling someone to come and watch my two older sisters, Allie who was four and Amy who was one, so she could head to the hospital.
While my dad helped my mom to the car, she "knew [she] wasn't going to make it when [she] felt the head emerge and then retract" (Not trying to be graphic, but holy cow can you imagine?).
Although I would be absolutely freaking out if I were in my mom's position, she said, "everything was actually pretty calm." This is so typical of my mom. She is always so calm and collected, even in the most chaotic situations.
My dad kept trying to get my mom in the car when finally, they both realized: the baby is coming… NOW. My mom laid down on towels on the driveway with car headlights for lighting. My dad, who is not a doctor by any means, was definitely not prepared for what was about to happen. After all, delivering a baby on the driveway doesn't really cross your mind when you say, "I do."
My aunt and uncle had arrived at the house. My aunt called 911 from the landline, since none of my family members had a cell phone at the time. She was stretching the cord as much as humanly possible, trying to direct my dad on what to do next. She could hear the lady on the other end of the line flipping through pages of a manual while my dad kept explaining "we're past that step!"
Suddenly, panic crossed his face. It was too late. What could've been one of the best days of his life was turning into a nightmare. "I thought you were dead," my dad explained to me. "You were purple" (Apparently, this is normal, as we found out much later, just an FYI if you ever have to deliver a baby on the driveway anytime soon.) Then, the sound everyone was waiting for. "That first cry from you was the best sound I had ever heard. After that, though, the middle-of-the-night cries got pretty old."
Thankfully, just 50 minutes after my mom woke up, I was held and loved by the most amazing parents on this planet – a brave mother who is quick to love and slow to anger, even in the toughest situations, and a father who always steps up to the plate and exceeds his comfort zone to help his loved ones.
Although, my mom never lets me forget that I was the most expensive baby. We were charged for two people to ride in the ambulance… seriously? AND, we were charged a delivery fee… I mean come on, now! My forever nickname: Asphalt… that is far from ordinary, in my opinion. But, all the chaos was all well worth it in the end, of course.
My birthday is always a dispute over who the day should revolve around – my sweet momma who carried me for 9 months and was forced to have a baby on the driveway, my heroic dad who courageously delivered a healthy baby, or ME!? (I think we all know the right answer.)
So, to say the least, I started living like no one else and continue to live life like no other. Life is too short to be ordinary. Be different, be bold, and be unique.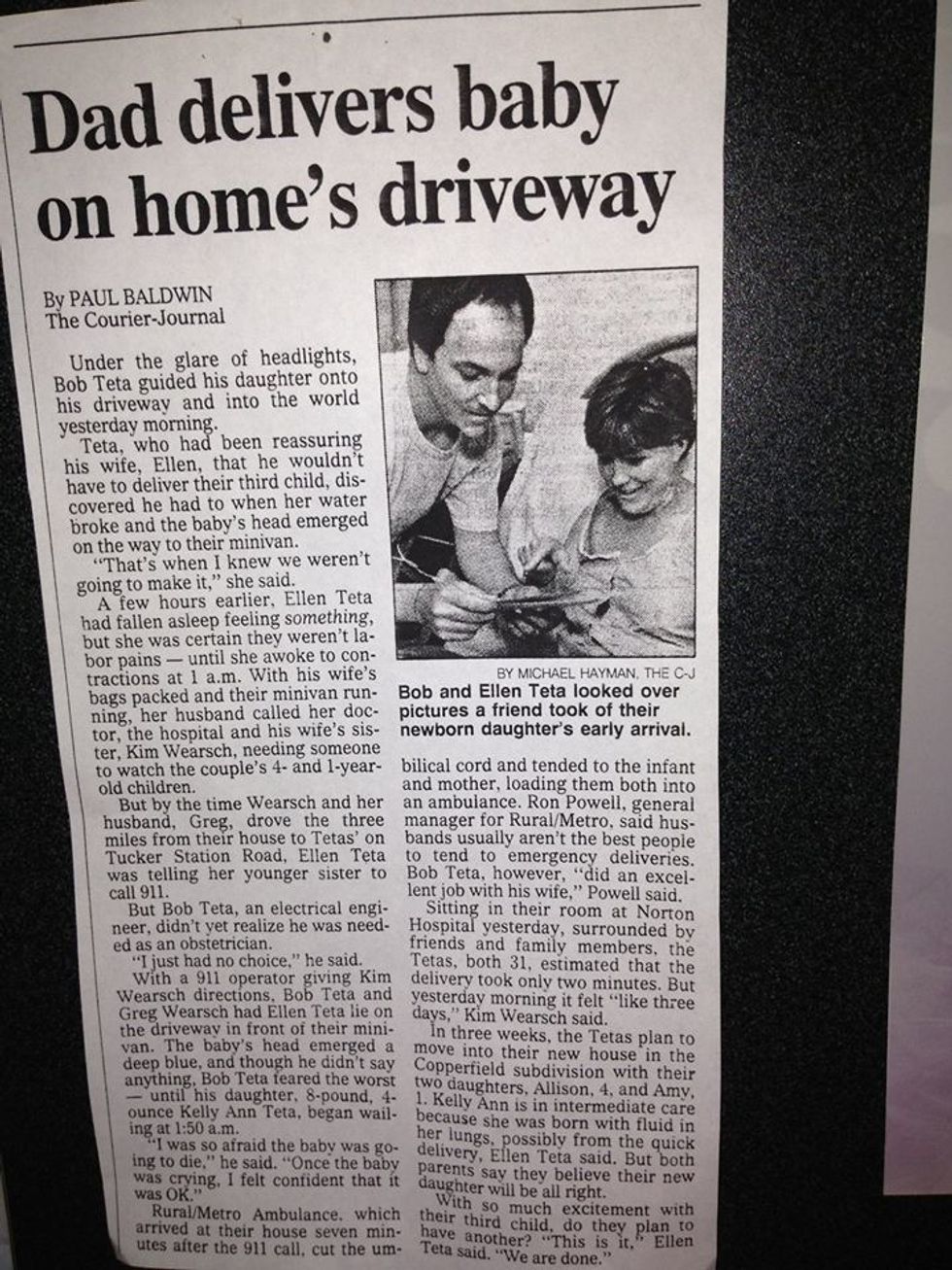 Kelly Teta