There are none.
All of you book lovers are probably very relieved now, I bet. Let's go ahead and get that straight: Books are always better than movies. I once set a goal for myself to always read the book before I watch the movie. For the most part, I have stayed true to it. I've only skipped reading a few of the Nicholas Sparks books that they turned into movies (let's be honest, those are depressing anyway). There are quite a few movies that have ruined a book or entire series. Yes, I do understand that every single thing from the book can't go into the movies, but why do they completely change them? Some movies have even gone so far as to change characters' names. Being the book lover that I am, I notice the small things, too.
When you read a book, it opens up a whole new world. You get to know the character's like they are your own friends. It feels like you are right there alongside of them throughout the entire book. You feel everything they feel. Books allow you to experience so many different places. Fiction or non-fiction there is a story that pulls you in and doesn't let go until the last page. Mason Cooley once said, "Reading gives us some place to go when we have to stay where we are." This is so true. You can sit right on your living room couch and be on the streets of Amsterdam, Paris or England at the same time. When I read a book, I will laugh out loud if it is funny, get angry when someone physically or mentally hurts my favorite character, and even cry my eyes out when a character dies. When I read a book, I am living in that book until I turn the last page.
Movies are like someone giving you an ice cream cone and telling you that you can only eat the cone; you miss the best part. In movies, they leave out parts they don't think are very important, but they are. They sometimes completely change the endings. If you don't read the book, you are missing out on all of these amazing things.
This is an accurate representation of a book versus a movie.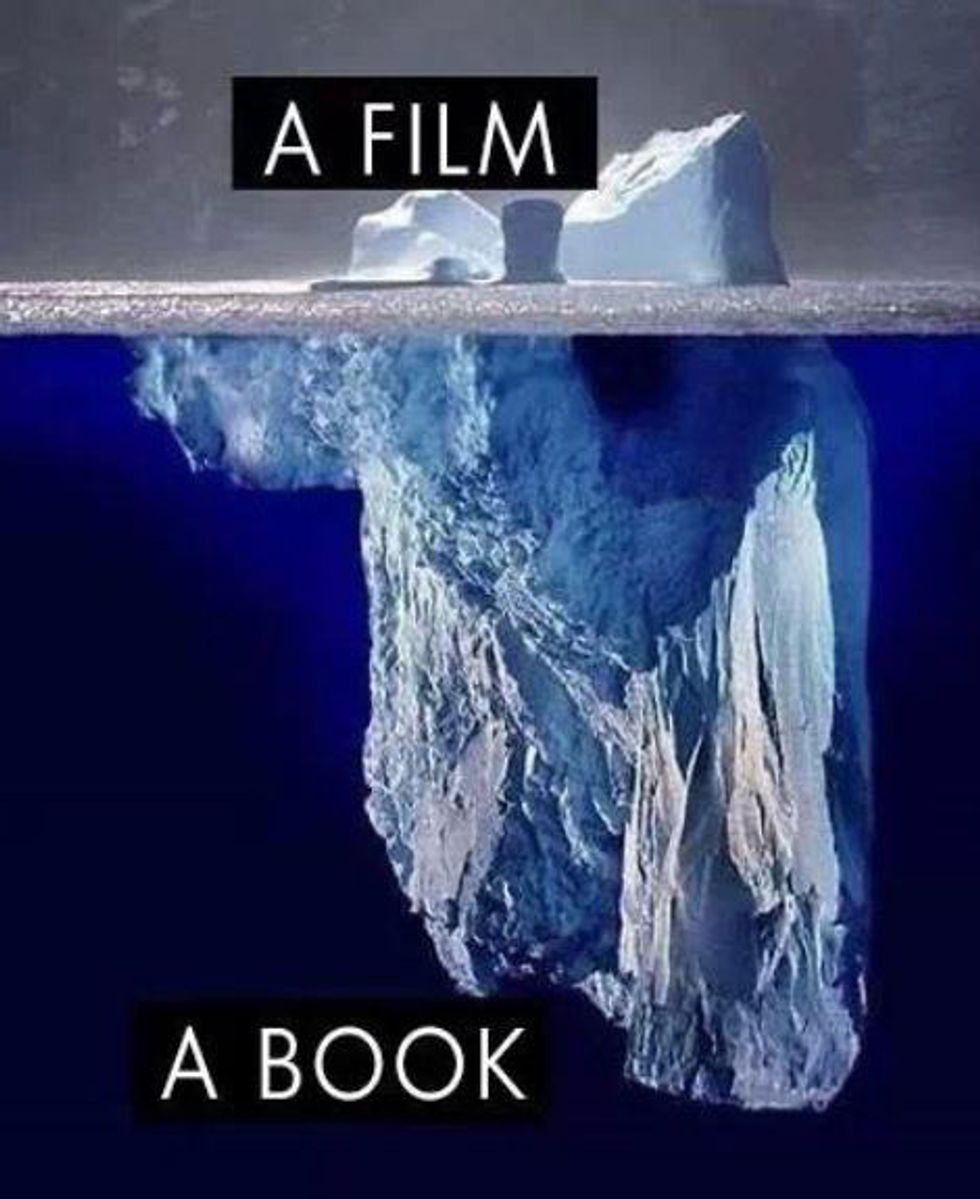 There are absolutely no reasons why a movie would ever be better than its book. So go out to your nearest Books-A-Million and get something to read!
I have compiled a list of some of the very interesting books that have a movie that has come out/will come out this year!
"The 5th Wave" (Jan. 22nd)
"The Finest Hours" (Jan. 29th)
"How to Be Single" (Feb. 12th)
"Through The Looking Glass" (sequel to "Alice's Adventures in Wonderland") (May 27th)
"Me Before You" (My personal favorite of these so far) (June 3rd)
"The Girl on the Train" (Oct. 7th)
"A Monster Calls" (Oct. 14th)
"Inferno" (Oct. 14th)
"Billy Lynn's Long Halftime Walk" (Nov. 11th)
"Fantastic Beasts and Where to Find Them" (Hey, all you Harry Potter fans!) (Nov. 28th)
"Miss Peregrine's Home for Peculiar Children" (Dec. 25th)