Rebecca Alvarez is many things: founder, sexologist, CEO, mentor, and more — as a Latina businesswoman, each of her endeavors is grounded in the strong principles of inclusivity and diversity, especially in sexual health and wellness. Bloomi is the product of her all of her shared passions, and with it she has fostered a community of like-minded, passionate women.
To talk to Rebecca Alvarez about her conception of Bloomi, an e-commerce platform built to provide healthy and organic intimate care products to women. The carefully-curated site features small businesses and businesses owned by women of color, built with consideration of women's health and happiness in intimacy at the forefront.
Alvarez is an entrepreneur, philanthropist, mother, and above all a champion of women. Her words were infectious, pure gold to any woman, aspiring entrepreneur, and Latina businesswoman.
What is the story you hope to tell with Bloomi?
Bloomi is really just a reflection of the things that are important to me in life. It fulfilled a need I had.
Intimacy impacts our quality of life, so for me, Bloomi is addressing that.
Intimacy can be complicated, so I want to take a thoughtful approach to it. For me, one of the biggest things is being inclusive. It's not just the terms we use or the messaging we have to customers.
One of our primary consumers is the millennial woman of color.
With everything going on with COVID, we did some internal soul searching and found what we could do. We are now launching exclusive women of color brands. We're helping them with business and strategy and branding. They have such great stories. I have a soft spot for these people.
I love knowing our team can help these brands who have really great brands and products.
What has been your biggest challenge and highlight as an entrepreneur?
In terms of highlight, I would say there are two. One of them is hearing from customers about how we're making their lives better. There's nothing better than to see we're making a positive impact on their health, relationships, and sex life. It drives us.
It's also been really nice to be a mentor to other entrepreneurs who are one step behind me.
I'm super grateful to entrepreneurs who are one step ahead of me, so working with other entrepreneurs who are starting to build businesses has been big for me.
It's super challenging to raise capital in this ecosystem. That's been the constant challenge for me. I want people to know. Sometimes when I meet with investors, people ask me why I'm having challenges raising capitals. That's a frustrating question for me because they're unaware of the disparities in the ecosystem.
If I don't look like someone you've invested in before, take a challenge and write a check.
The first challenge was that I didn't have a network.
My parents immigrated from Mexico so I didn't have generational wealth or access to tap in to so I made connections on my own.
That's a challenge a lot of entrepreneurs of color, especially women, have is lack of access. Now that I do have access the challenge is not being a traditional tech founder.
Being a woman of color has its own challenges. But, because its a sexual wellness company, most VCs tend to be kind of conservative.
So, I have to navigate the room. My fundraising strategy has morphed over the years and now I only pitch to women. I like to pitch to diverse women but I will take calls with men if they've reached out to me.
I don't do any more reach out to men anymore because they are primarily white men. They don't resonate with the product.
Our target is millennial women, and primarily millennial women of color so it's not what they're used to.
How much does coming from a marginalized community play into the way you conduct business on a day-to-day basis?
I don't necessarily feel marginalized on a day to day basis. I don't feel like me being Latina is a day-to-day racial issue. It's more like I feel it's just a repetitive issue in which I see that I am underserved.
It's a constant issue of basically being the first to do something, but I've become very comfortable with being uncomfortable.
I rarely see Latina founders or VCs in a room. I've pitched all the Latina VCs.
I'm constantly pushing boundaries being the first. I feel like I shouldn't necessarily still be doing that.
From the opposite viewpoint, being a woman and a mom a little older than traditional founders makes me more empathetic and aware as a founder. That makes me super aware of do-good missions.
Our business is very inclusive and we speak to moms about sexual health and that creates a lot of our core values for Bloomi that I'm really proud of.
How do you feel social media and community building within it has changed the way you do business?
Social media, specifically Instagram, is a primary communication channel from us to our customers. We have a lot of engagement there. Some people only follow us on Instagram. My co-founder, Julie, really understands community dynamics. I'm really thankful for her.
She recently came on as a co-founder even though I've been working with her for like a year. She is a community-building guru.
We're not just a marketplace, we're actually a community-based business. The way we think about growth in the future is thinking about what our community wants next.
It's been tough to raise the fundraising, but we're doing a crowd equity raise. The public can invest in Bloomi for a much affordable rate. It's just $100.
We've raised $60,000 so it's been really fun to see the community engaged and if people see value in us, they can invest.
It's a non-traditional way to raise but we're excited and think it's going to work. There are also challenges. For a sexual wellness company, we can't advertise on social.
Social media still hasn't moved the needle on openness to advertising sexual wellness products. It's limiting in a lot of ways.
We've gone to Facebook and talked to them about this topic. You can tell they're really just following policy and that it's going to take a lot to move a lot of these big social media giants.
What advice would you give to the upcoming generation of entrepreneurs coming from marginalized communities?
It's funny because I would normally say reach out to other founders who are one stage ahead whether that's seed or series A, somebody who has gone through something you're trying to accomplish. I would say that's my go-to though I know they're busy and don't always respond.
Build your network early on. I do think that's important in whatever you decide to do in building capital or fellow entrepreneurs. Consider educating yourself in creative ways.
I am super well-versed in sex and sexology. I know the space and trends well. But I didn't always know business well.
I didn't really feel I could go out and pitch and really know my numbers and there have been so many changes in the way people learn. You can listen to podcasts and listen to books.
I took classes at Stanford Business School for a couple of semesters and it was a continuing ed thing, and they were the same classes the MBA students were taking. Ultimately you need to know essentials like business models.
I would get really good at knowing the business side of your company.
What can we expect from the future of Bloomi?
So, big picture, I'm excited to make Bloomi a destination for all things intimacy. In the next couple of years, we're excited to offer a more robust offering of products and sessions. We're launching our CBD category.
We're going to be launching more products manufactured by Bloomi.
We're working with more women of color founders to elevate their brands on our platform.
The virtual sessions coming up are made to help women level up from the comfort of their home.
We have everything from sexologists like myself and others talk about how to increase your libido naturally or increase your sex life in relationships all the way to how to feng shui your bedroom for sexual intimacy in your bedroom or tantra and holistic sex. I feel like I learn a lot from them too.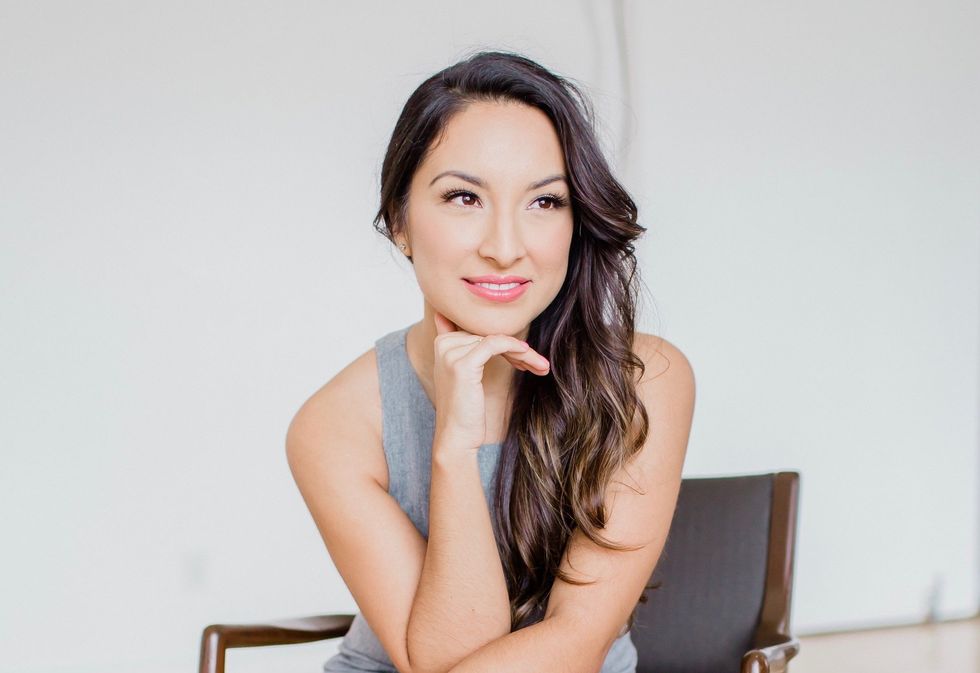 Rebecca Alvarez
Rapid Fire:

What are your favorite accounts to follow on social media?
@weallgrowlatina is an incredible community and @shoplatinx is like an Etsy for Latin-owned businesses.
Tell us a book you'd recommend.
I think an essential you must read if you're a business owner is "The Lean Startup."

I also really like "Leapfrog." That's a great one for underrepresented founders on how to hack your way into the system.

What charities do you support?
Girls Incorporated — I was in it. It helps girls in youth have access to summer programs and scholarships and stuff like that so when I was in third grade I started being at that and when I was in college, I went back to be a sex-ed teacher.
Before I started Bloomi, I was invited to be on the board. They changed my life and I can see them doing that for other girls all the time. Girls in it benefit so much from being a part of it.
What is on your nightstand?
It always changes because I think that's important. It's important to try new products and things that make you feel good.
I have a couple of fresh flowers, I have a new toy I'd like to try with my husband and some arousal oil I use on myself. I can't lie, there's also a baby monitor.