Ah, Black Friday. The day where everyone's thanks turns into greed for "the out of this world savings." This year, I agreed to go Black Friday shopping with my boyfriend's mother. We began at one in the morning and went all night until I had to go into work at nine that morning. Yes, that means I was awake for well over 24 hours. Throughout all of this, I got the perspective of both the shopper and the worker of Black Friday, so I decided to document.
Hour 1. 1:07am. Kohl's. "If something's originally $60 and it's now $10, do you think something's wrong with it?" I overhear the lady ask her friend. I shake my head to myself. "No, dear, that would be one of the sales that today is all about," I think to myself.

Hour 1. 1:10am. Personal space is no longer a thing. My bubble is no longer my bubble. My space is everyone else's. *shivers*

Hour 2. 3:07am. iHop. Always a fantastic idea no matter the time of day. Not very busy, however the waiter will not stop talking. He is lingering too much. Let me eat in peace.

Hour 2. 3:28am. He is still lingering and talking too much.

Hour 2. 3:57am. He is STILL talking and I'm getting cranky.

Hour 3. 4:02am. Free of the talkative waiter. Target bound.

Hour 3. 4:33am. Target. I overheard high schoolers who were very excited to be out past their bedtime. They were screaming and blocking an entire aisle. Move children, myself and others are on a mission here. Starbucks is at the front. That's what you high schoolers love at 4:30am. Instagram it.

Hour 3. 4:47am. I bought a mini Christmas tree topper for my mini Christmas tree. I'm very excited about this.

Hour 4. 5:07am JCPenny's is open. We must kill 57 minutes before the mall opens. Everything is peaceful until closer to six. The mall is becoming hectic.

Hour 5. 6:00am. The mall is open. Let the madness begin.

Hour 6. 7:09am. Update: mall is indeed madness. People everywhere. My eyes are burning. I still have to survive nine hours. SOS.

Hour 7. 8:09am. I've been awake for 24 hours. Where am I?

Hour 8. 9:00am. I have clocked in for work. We have a line of people ready to come in. They won't stop looking at us. I feel like a puppy in the pet store.

Hour 8. 9:38am. The people are still watching. The first lady won't leave us alone. We will not be opening the doors before 10. Stop freaking out whenever I walk over there.

Hour 8: 9:46am. Please stop calling the store. I can see you on your phone as I'm talking to you. Yes, you will get your coupon. I KNOW you're the first in line, please stop telling me like I can't see that.

Hour 9. 10:00am. The doors are open. The people have swarmed inside. The obnoxious lady (you know, the one who kept calling and was first in line) and her 20 children have cleared the entire Black Friday section. It was like Santa and all of the elves.

Hour 9. 10:04am. The lady has now treated herself to coming behind our counter, running over me, yelling at us, grabbing her own tote, and creating her own hold. Do you want a name tag too? Note: all of the above behavior is not allowed by customers.

Hour 9. 10:07am. She has now come behind the counter again. We yelled at her. I have officially realized Black Friday creates monsters.

Hour 9. 10:26am. The line is to our back room. I'm still new and struggling to check people out quickly. I've also been awake for 26 hours now.

Hour 14. 3:09pm. My lack of sleep is catching up to me. I am functioning slowly. One hour to go.

Hour 15. 4:00pm. I have officially clocked out of work. Sleeping is all I can think about.

Hour 15. 4:09pm. I'm cranky. I'm tired. My eyes are heavy as I drive and the road is full of people who cannot drive. My road rage is taking over.

Hour 15. 4:23pm. Finally, my bed.

As soon as I touched my bed, everything else is a blur. Out of this experience I have learned a handful of things. Staying awake for over 24 hours sucks. Never work Black Friday if at all possible. If you dislike large amounts people and psycho people, don't go shopping either. Overall, my Black Friday experience was both a really good time as well as a super stressful, chaotic time.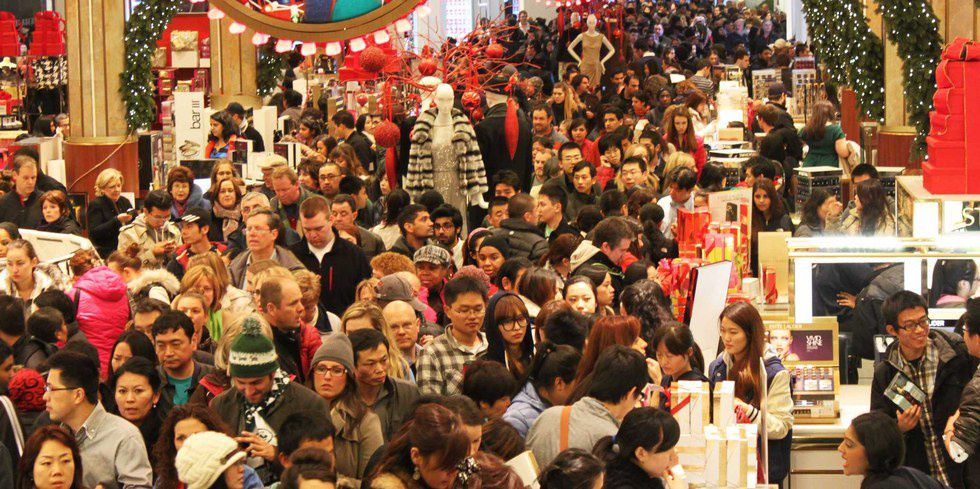 P.S. I will forget all about this next Black Friday and do it all over again.