If you're an anime fan like me, you'd know it's hard to come by a decent horror anime. It's really a hit-or-miss process. Either there will be excessive gore and no plot, or there's a lack of atmosphere and scariness in general. It's hard to know what to watch and what shows are good versus disappointing.
So being the horror fanatic I am, I had to find at least 3 decent horror anime I could watch without being bored halfway through the first episode.
1. "Magical Girl Apocalypse" / "Magical Girl Site"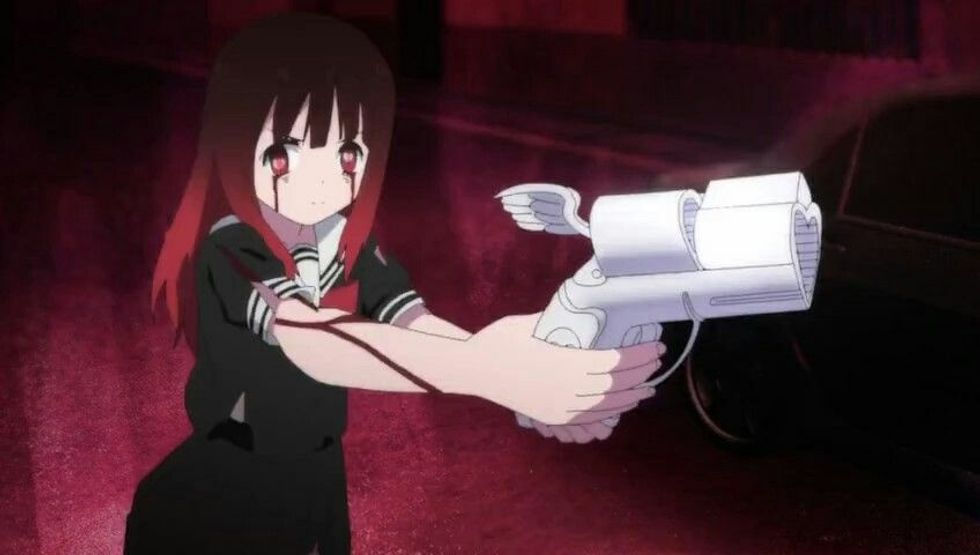 Okay, okay, I know Magical Girl Apocalypse is a manga, but you CAN watch the off-brand show Magical Girl Site which is amazing. Although I find it a bit more tame than Magical Girl Apocalypse, it's still an amazing horror anime that'll give you shivers.
Aya Asagiri is a tortured young girl who gets bullied and beaten by her brother every day. It doesn't help that her parents don't seem to care about what she's going through either. One day, she finds herself on a whack website with a creepy "girl" that offers her a magical weapon to save her from her suffering. But what's behind this mysterious website and what are its' real intentions?
Personally, these series are my favorite horror anime/manga ever. It relies heavily on atmosphere and psychological thrills that'll make you hate the world and want to save it at the same time. It's pretty messed up. The gore is a bit crazy, but it adds such a good element to the story that I can forgive the mild exaggerations. But this show and manga are a solid 9.9/10 and deserve so much more attention than people give it credit for.
2. "Higurashi When They Cry"
If you haven't heard of this anime, then welcome to the show that made the internet freak out because of its' gore. It's pretty messed up and is NOT a show you should watch in front of parents/children.
Example: A chick ripped her fingernails out by using a contraption in which you place a fingernail into it and smack the lever until the nail is pulled off. You've probably seen that scene somewhere on the internet.
Maebara Keiichi and his group of friends live in Hinamizawa, a small rural village, that is held captive by a cruel and bloody curse. For the past four years during the Cotton Drifting Festival, there has been a series of mysterious deaths that occur. However, in every case, one person is murdered and one disappears without a trace. The villagers blame their god known as Oyashiro, but is that what's really going on? And how can Keiichi and friends stop this from happening anymore?
If you like messed up, nightmare-inducing scenes, then this show is for you. It's a show that relies on its' mystery and gore to set the chilly atmosphere that will make you want to keep watching and figure out what's actually happening. I would give it a solid 8/10.
3. "Another"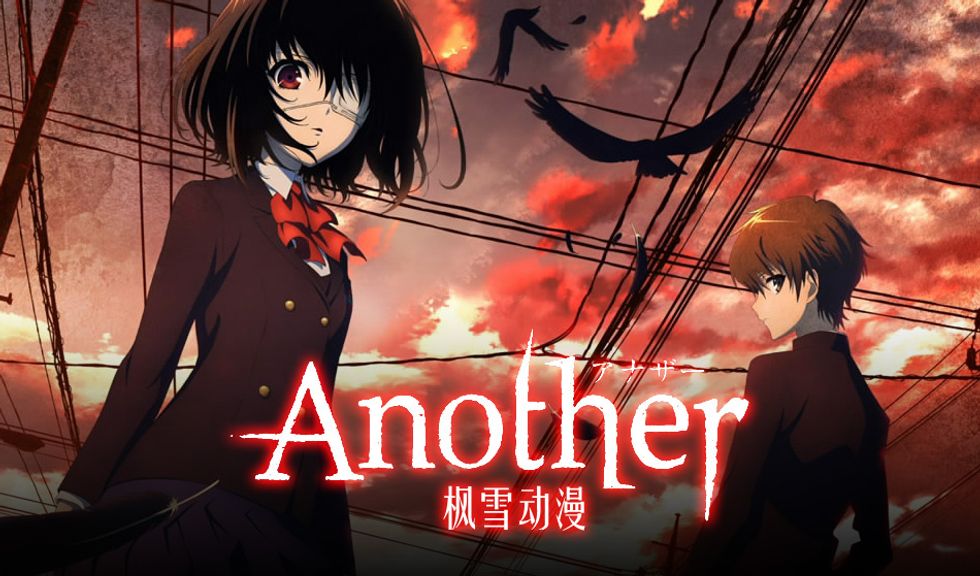 Another is an anime based on creepy atmospheres and curses. In 1972, a popular student died and instead of dealing with their grief and moving on, the class of 3-3 students of Yomiyama North Middle School pretend that the student never died in the first place. They just act like he's still alive and participating in class. Even going as far as to bring the dead student's desk to graduation. However, even though the student is dead, they still showed up in the graduation picture as if they were still alive. Smiling, pale, and haunting. Now, 26 years later, the class of 3-3 is notably cursed. Accidents keep happening to the students and their families. And it's up to Kouichi Sakakibara to figure out the reason why his classmates are dying like flies, as well as figure out what this mysterious girl, who everyone keeps ignoring, is.
Overall, pretty decent anime. It's not my number 1 because I think there are other anime's that are just better in general. The animation is pretty good and I think it's an interesting plot. This anime relies heavily on its' mystery though.
Why are these deaths happening? What is causing it?
Which can be chilling, except for the fact that the characters are excessively infuriating. The stupidity of some of these people makes me want to smack my head on a desk. Because this entire situation could be avoided if the students just dropped out of that school and moved to another.
However, the gore is pretty creative. All the deaths are different and each one will definitely find a way to make your skin crawl. Overall, I give this anime a 7/10