For every Irish-American, St. Patrick's Day is the chance to dig into the roots of our Irish heritage (or shamelessly indulge in alcohol a-plenty) and eat good food with friends and family. In my hometown, the local Irish pub even cordons off a side street so that there's more room for the dozens of partiers. It also provides a safe area for the many who quickly surpass tipsy as night carries into the morning. I love the corned beef and cabbage that we cook all day, the buttery, creamy potatoes, and the traditional soda bread. I especially love the desserts and how bright people can make the color green on cookies and cupcakes.
Certainly, St. Patrick's Day is a lot of fun when it comes to food and parties. The parades are always phenomenal as well, with beaded necklaces, funky hats and glasses, and the chocolate coins. The leprechaun get-ups take a certain kind of spirit to pull off for sure. However, as we saturate St. Patrick's Day with the color green, why not really celebrate by going green?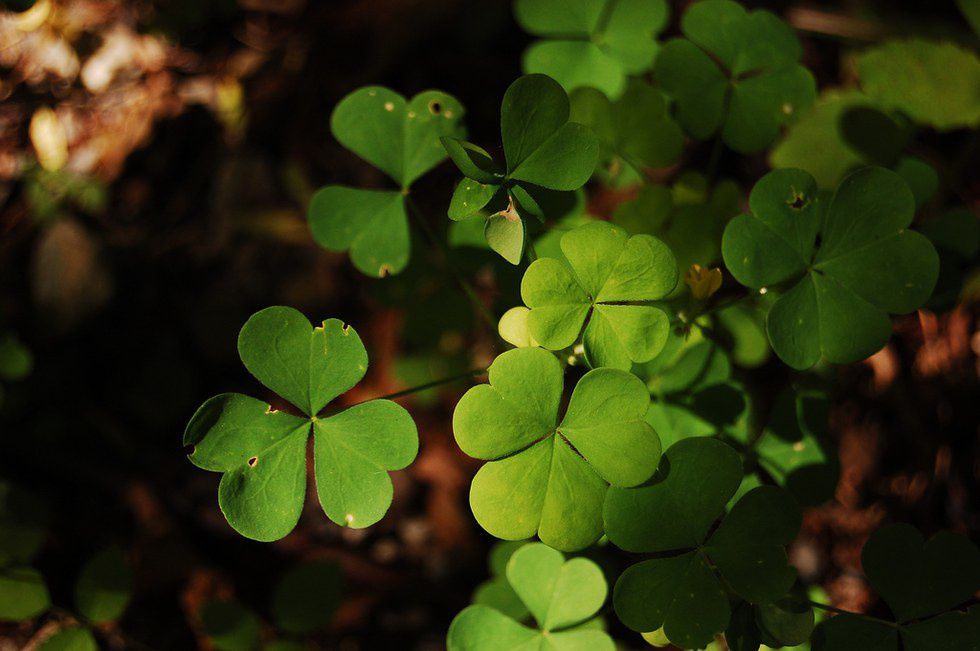 The shamrock is an icon of not only the holiday but the saint it's named after. Saint Patrick used the three-leafed clover as a symbol of the holy trinity, an integral belief of Catholicism that dictates that God, the Father, God, the Son, and God, the Holy Spirit, are all the same person. Finding a four-leafed shamrock will also, supposedly, bring you good luck. The use of nature for religious symbolism also speaks to the Irish culture, history, and literature.
So, why not start there? The vibrant greens on our desserts (and the Chicago River every year) should spread itself throughout our backyards, forests, and entire landscapes. Shamrocks aren't too great for cats and dogs, but clovers (those little white, weed-like looking plants) enrich our soil through nitrogen fixation and provide nutrients to a variety of butterflies and other insects. Honey bees love the white flowers for pollination in particular.
Bring even more color to your gardens with a multitude of flowers, especially blues and yellows, as these colors attract our pollinators. The fragrances of cosmos, lavender, bluebells, poppies, snapdragons, sunflowers, and so much more are what keep our natural world so beautiful and so bountiful. Biodiversity is integral for our green earth to flourish, and we must nurture our plants and animals for what they provide.
This reverence for Mother Earth also has its ties in Irish history, back when the paganism of Celtic culture was unhindered by Christianity. There is evidence that tribes ritually sacrificed their members for fertile crops and healthy livestock, their bodies buried within the peat bogs. Today, hundreds of years later, we analyze these bodies (such as the Old Croghan man's or the Clonycavan man's), and the details of their lives are so impeccably illustrated because the bogs preserve even the hair on their heads. That in itself is another miracle of nature.
Of course, we no longer ritually sacrifice our fellow men to the gods or God we may or may not believe in. We do, however, depend on the earth to provide for us, and whether you indulge in some great whiskey or dig into a delicious meal this St. Patrick's Day, be mindful of the world around you. Go out and look for a healthy, four-leafed clover every day instead of just the 17th. Make a bed of clovers in your own backyard. Don't take nature for granted, because historically, it's sacred.
(On a side note, did you know that 'whiskey' is the Anglicization of the Gaelic word 'uisce,' which means water? Just a bit more insight into old Irish culture for you.)