Working at a speakeasy, I have seen a lot more than I first anticipated. From drunken, misbehaving groups of prestigious business people to PDA abusing swinger couples, a night in this type of bar is full of surprises.
Anyone who's seen The Great Gatsby can tell you how exciting, wild and glamorous the environment was for partiers during the early 1900s. Parties typically took place in mansions, boats and little secret bars called speakeasies. From sparkling dresses to impressive cocktails, speakeasies had it all.
A "speakeasy" is a bar during prohibition that was located in a discreet area in order for patrons to enjoy illegal alcoholic beverages without the fear of getting into legal trouble.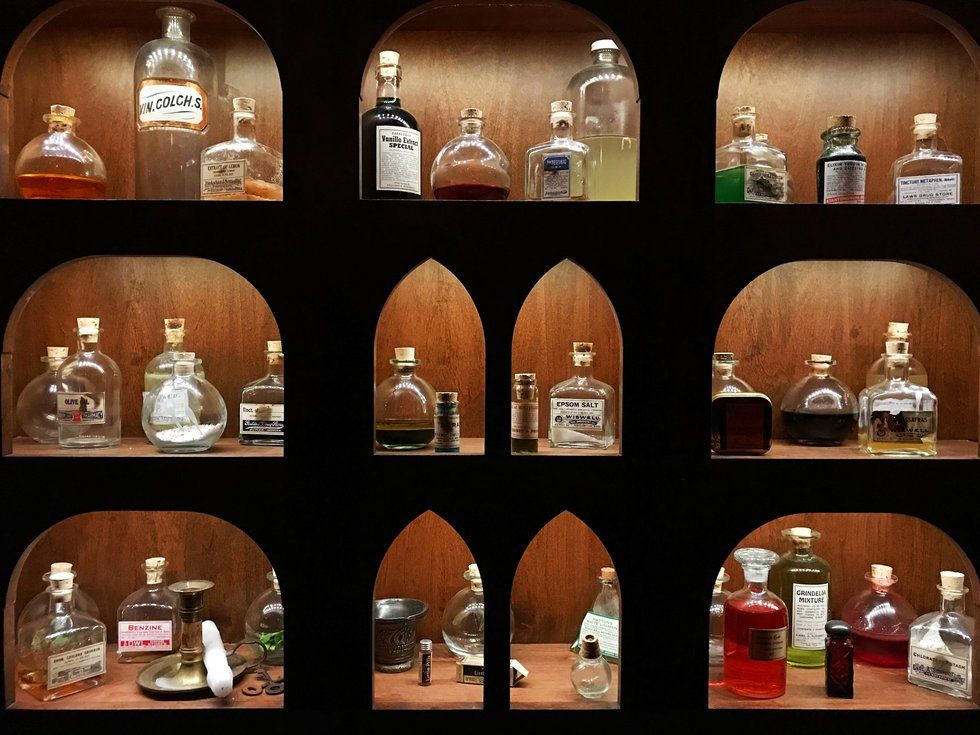 The White Rabbit, a new speakeasy in Gilbert, Arizona, is disguised as an apothecary. Above are some medicines and items one might've found in a 1920s facility. Photo by Amanda Marvin
While prohibition ended about 86 years ago on Dec. 5, 1933, we still see speakeasies in the news, on social media and in our communities. So, what's the reason for the popularity of these hidden bars when they are no longer necessary?
Some say it's the adventure of the secrecy of a hidden bar. Others say it's the fun, back-in-time vibe that these businesses have. From my experience, I say it's the illusion that there are no rules once you enter the underground, dark room.
As soon as guests push open the bookcase door and step into the classically decorated bar, their eyes double in size and their mouths drop. Like a kid in a candy shop, I have seen full-grown adults giggle –and even jump- with excitement upon entering the speakeasy.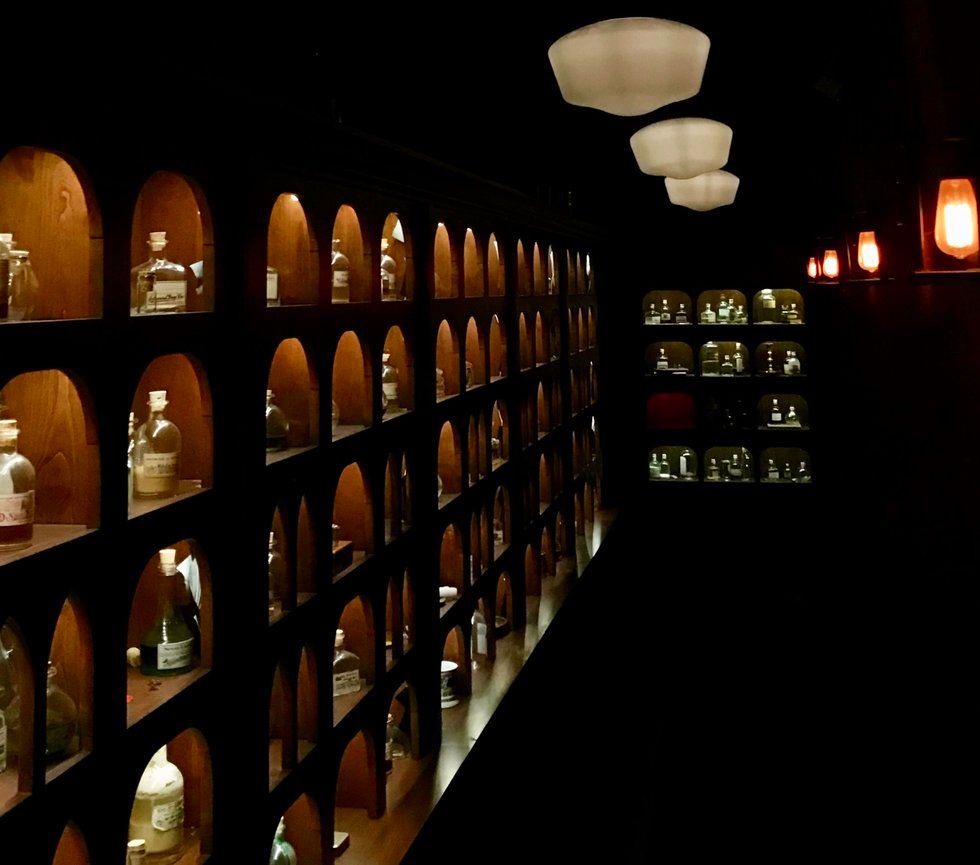 Hallway in The White Rabbit, a new speakeasy-themed bar in Gilbert, Arizona.Photo by Amanda Marvin
Not only are they dazzled by the secret hallway and beautiful décor of the facility, but they are thrilled to be in such a place historically known for bad behavior and a lawless policy.
As I look around the room at the guests, I notice small details. A young woman with red lipstick in the corner shares top-shelf drinks with a white-haired man. A double date in the VIP room turns into a partner-sharing make-out fest. A loud group of well-dressed people knock over their third wine glass and erupt in laughter. The drunk man near the bar falls over with his seat tumbling on top of him as he struggles to save his beer.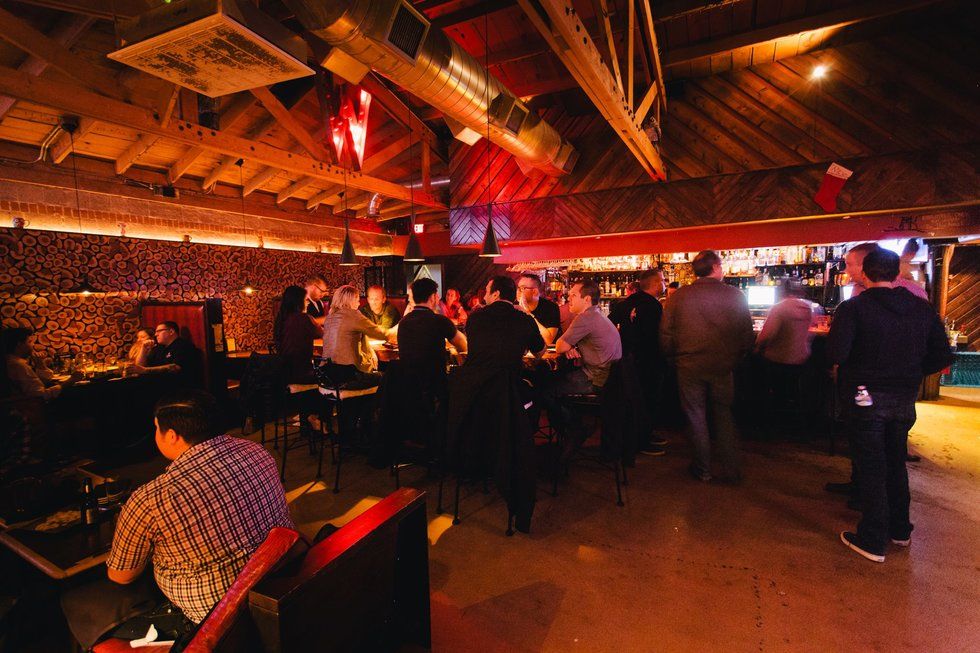 The Little Woody, a speakeasy located in Phoenix, Arizona. The Little Woody / Facebook
The dark ambiance and comfortable seating of a speakeasy bar create feelings of secrecy and freedom, and mixing this with alcohol is a perfect recipe for an interesting experience, especially for those that work there.

"Working at a speakeasy is fun because it gives patrons an experience that can't be replicated at just any bar or restaurant," says Sydney Alberda, hostess at the new speakeasy-themed bar, The White Rabbit in Gilbert, Arizona.
The White Rabbit is known for its classically styled space, artful cocktails and delectable side dishes. It's more upscale than other existing speakeasy bars in the region, and the first of its kind in the developing town.
"The most exciting part about The White Rabbit Bar is introducing the town of Gilbert to our passion for craft cocktails," says Sara Medina, co-owner of the bar.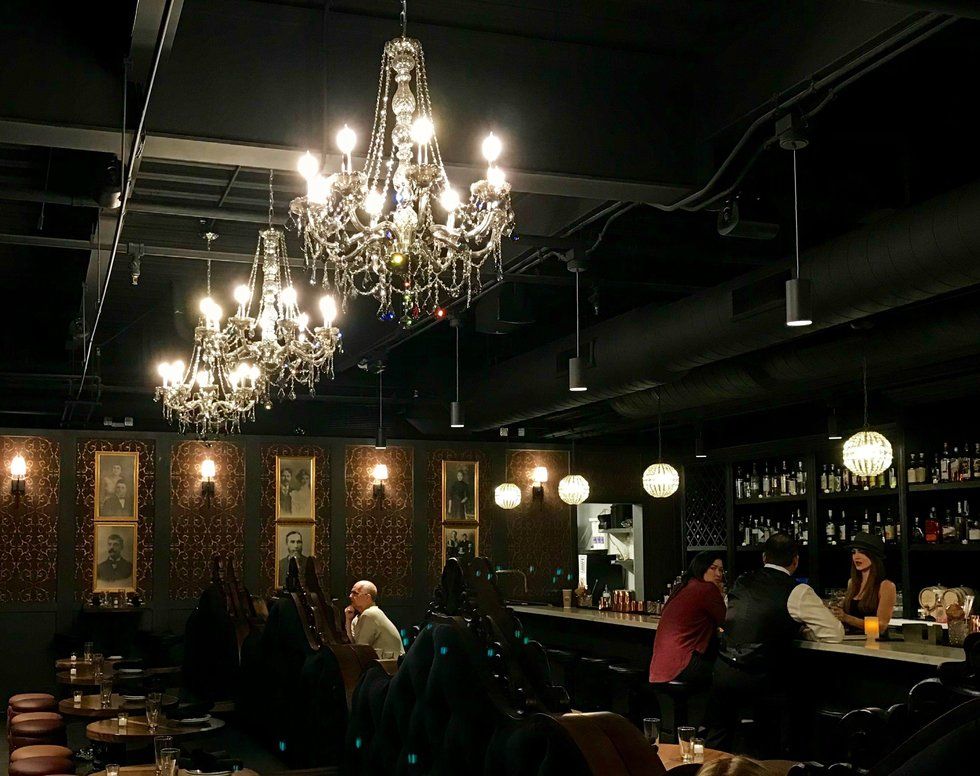 The chandeliers and low lighting create a classic 1920s vibe. Photo by Amanda Marvin
"We really wanted to capture the experience of a large city cocktail lounge and open it in our hometown. Not only did we want amazing drinks, but also wanted to create an unforgettable environment that would capture the look and feel of a true Prohibition-era lounge," Medina continues.

"There's a theme and an aura in that place that makes people feel differently than when they go to other places," says Sydney, 19.

Even though the events that happen underground are extravagant and unexpected, it's what makes speakeasies worth going to. The experience is guaranteed to be unlike any other.
For more information on The White Rabbit, visit https://www.twr.bar/
Other speakeasies in Phoenix and the surrounding area include: