If you are currently reading this article, I bet you are avoiding doing something else. That's OK! That is one of the first steps to becoming a skilled procrastinator. If you are anything like me, you probably attended the job fair searching for wannabe procrastinators back in middle school. You have probably been harnessing your ability to avoid the important tasks awaiting completion. Most often, those tasks tend to be homework.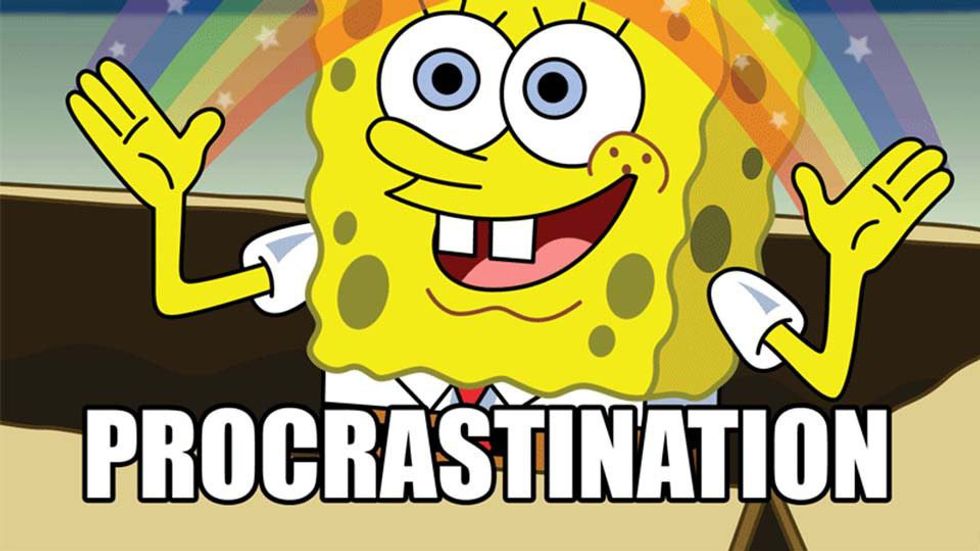 But if you are not, I am going to help you on this path of enlightenment. Let me inform you now - the possibilities are endless when you become dedicated to the life of a procrastinator. First off, you probably shouldn't finish reading this article. Put it off for another day - when you need to remember how to procrastinate. You know that artist that you've been thinking about all day? Now is a good time to spend about 30 minutes racking your brain trying to figure out their name and listening to some songs. Or that recipe you have been dying to try? Yeah, do it now.

You know that paper you have to write that is due in two weeks? Someone not as skilled as you might start gathering sources and putting together a draft. But you on the other hand, you know it is not urgent until the day before it is due. Or that book you have to read for class - a pro procrastinator knows how to SparkNotes the whole book to sound like an expert.
What makes a true procrastinator is the willingness to put aside important tasks and instead, waste time doing all the little things that do not matter. You finally take notice of how "messy" your desk is and feel the urge to clean it out right in the middle of your online homework.
Procrastinators take pride in the distractions surrounding them. They sit in the middle of Starbucks and take notice of every blender switch, every name called out, every card swipe, every latte ordered, and every reusable Starbucks cup bought.
Now, if you really want to take it to the next level, you must learn how avoid multiple tasks all at once - especially assignments due around the same time. Once you have mastered that final step, you will have become a professional procrastinator.
The great thing about procrastinators is their ability to create amazing work under high levels of pressure and stress. This will be your saving grace as you take on the role of a full fledged procrastinator. Before you start, take some time to procrastinate procrastinating. Enjoy your new lifestyle!