I have only taken one math class in college, which was absolutely terrible. There are just some people who need to discreetly use the calculator on their phone to do simple math. If you even ask me about fractions I swear my brain just shuts off.
1. When I even hear that math is involved
It's just like that feeling of really trying to download an image but you don't have wifi.
2. You really thought I could do 4*6 in my head and not check myself
I mean who knows. Maybe I also like knowing I can do some math in my head correctly.
3. I really thought I had it that time
Me: wow i finally understand math *moves on to next question* Me: what the hell is this 😂😂😂😂😂😂😂😂😂

— PENCINTA KUCING 😽 (@PENCINTA KUCING 😽) 1462120565.0
You get so pumped because you know you got the one answer correct and then you move on only to discover everything you knew in the world is just untrue. Makes me question my sanity.
4. Close enough, right?
I mean it's most likely, probably not, but maybe correct. I'd try to rework the problem but I'd run out of time on the test, 170 will have to do.
5. The calculator got more sophisticated, but I did not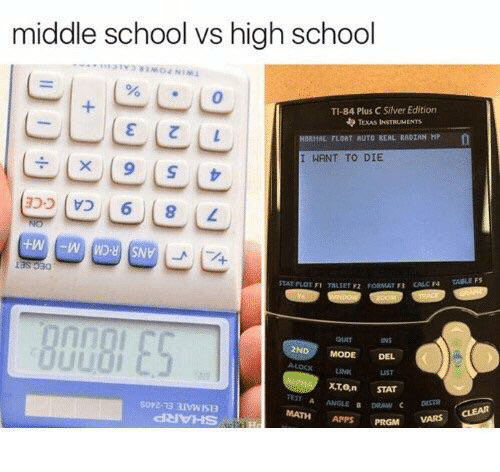 Middle School vs High School TI-84 Plus C Silver Edition EXAS STREMENTS I WANT TO DIE TABLE F E5 2NDMODE DEL LIST MATH APPSPRGM | Dank Meme on ME.ME
Graphing calculators are more fun because you actually get to type a whole sentence to describe your dislike for math, but non-graphing calculators are the day ones.
6. This is what they mean by go to school so you're prepared to take on life
Nerd humor. 😂 sohcahtoa http://t.co/Bd8eGLJk3w

— Nathalie Cardona (@Nathalie Cardona) 1437761365.0
No, I don't know what taxes are or how to do them. Ask me to find the square root of 144 and I can do that instead.
7. If you don't have a calculator, how do they expect you to solve anything?
When the math teacher says you can't use a calculator on the final http://t.co/9eeqIBwf5t

— Jeff Crowell (@Jeff Crowell) 1433817230.0
The panic. You start sweating. Dreaded words...no calculator. If there's a fraction on that test, you best believe I'm getting that question wrong.
8. This is when you introduce our savior, the ~calculator~
This is a turning point. This is when you hire a tutor. Not because you don't want to help, but because you can't. Unless you're going to re-learn math along with your child. No, I didn't think so.