"Avengers: Infinity War" will be released on DVD, digital, Blu-Ray and Ultra 4K HD! As for the dates, it is said that the digital HD will come out on July 31st and the Blu-Ray will come out on August 14th! Get ready to keep your own copy just like Thanos gets to keep the jewels! (The only difference is that his way is unfortunate.)
According to Express, The Marvel man who created Thanos, Jim Starlin, told a panel at the Las Vegas Comic Con that there is an extra 30 minutes of footage centered on Thanos' backstory, but there is no evidence that the extra footage was ever filmed. Even the one Thanos deleted scene listed doesn't concern his own backstory.

Here's a list of deleted scenes with descriptions!
1. Hunt for the Mind Stone (1.24 minutes): On a darkened street, Wanda Maximoff and the wounded Vision attempt to hide from Thanos' brutal allies.
2. Happy Knows Best (1.23 minutes): Tony and Pepper spar over the details of their upcoming wedding – until a hassled Happy Hogan pulls up with an urgent request.
3. The Guardians Get Their Groove Back (3.20 minutes): Official Description: As Peter Quill and Drax quarrel over their failed mission to Knowhere, Mantis interrupts with news.
4. A Father's Choice (4 minutes): Thanos confronts Gamora with a vision from her past – and with lying to him about the Soul Stone.
But that's not all! There will be deleted scenes highlighting the various heroes, and features giving an inside look on some of the climactic battle scenes and a glimpse into Thanos' past!
Of course, Thanos is most likely to be the worst villain ever as we wait for what will happen in Infinity War part 2, however it will be awesome to look behind the scenes of what is going on while Infinity War is being filmed!
Set your dates to get your copy of Infinity War because I'm sure that Thanos will be collecting it too!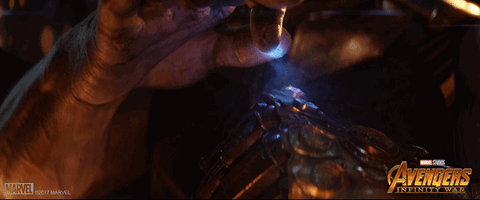 GIPHY