For many of us, going to see a theater production can be a fun weekend outing. It's a wonderful opportunity to explore the arts and appreciate a hilarious comedy, an exciting drama, or a fun musical. It's something that we don't think twice about, in which our biggest worry is whether or not you will be sat behind someone tall that might block your view. For others, a theatrical performance is not so easily accessible.
In the United States, the prevalence of diagnosed autism has increased substantially, by 6 to 15 percent each year since 2002. Now, every 1 in 68 children will be born with autism spectrum disorder. Because autism affects everyone differently, there is a wide range of neurodiversity someone may experience, but many of us overlook how people living with autism may go about their daily life. One aspect that some people on the spectrum may need to be careful with is sensory processing especially in new environments. Because of this, planning to see a theater production along with their families every so often may not even be an option for people with autism.*
Ana Mendelson, a current fourth-year student at UVA, started the Autism Theatre Project when she "found out about great autism-friendly performances going on across the country, like on Broadway through the Theatre Development Fun's Autism Theatre Initiative."
After discovering these opportunities, she thought, "Why not make Charlottesville theatre accessible as well?" As someone who has been very involved with theatre, she explains, "I am very passionate about the arts as well as inclusion, and it was the first project I've embarked on that I felt fully encompassed both these passions."
Working along with DMR Adventures, the local children's theatre organization in Charlottesville, the Autism Theatre Project aims to make the theatre a welcoming and judgement-free space for those with autism and for their families. For those who may have never been able to see a theatrical performance before, this could be a truly fulfilling and amazing experience.
Mendelson continues, "the project at its simplest form is an invitation — an invitation to families who may have felt stigmatized in public spaces to come out and participate in community arts events."
The Autism Theatre Project is offering their first and free autism-friendly performance of "Captain Louie Jr." In order to allow this performance to be a safe and positive experience for children and families with autism, there will be special accommodations in regards to sensory adjustments, such as lowered sound levels and adjustments to bright and sudden lighting effects. For example, students from UVA's chapter of Autism Speaks, along with Speech Pathology graduate and undergraduate students volunteer to hold glow sticks to warn the audience about sensory surprises throughout the show. These volunteers also staff quiet rooms that are provided in case an audience member needs to take a break from the show to relax. Resources are also provided to the families to help prepare their children for this outing, such as written plot synopses and videos. With such accommodations, the Autism Theatre Project hopes to "make the experience more enjoyable for families," according to Mendelson.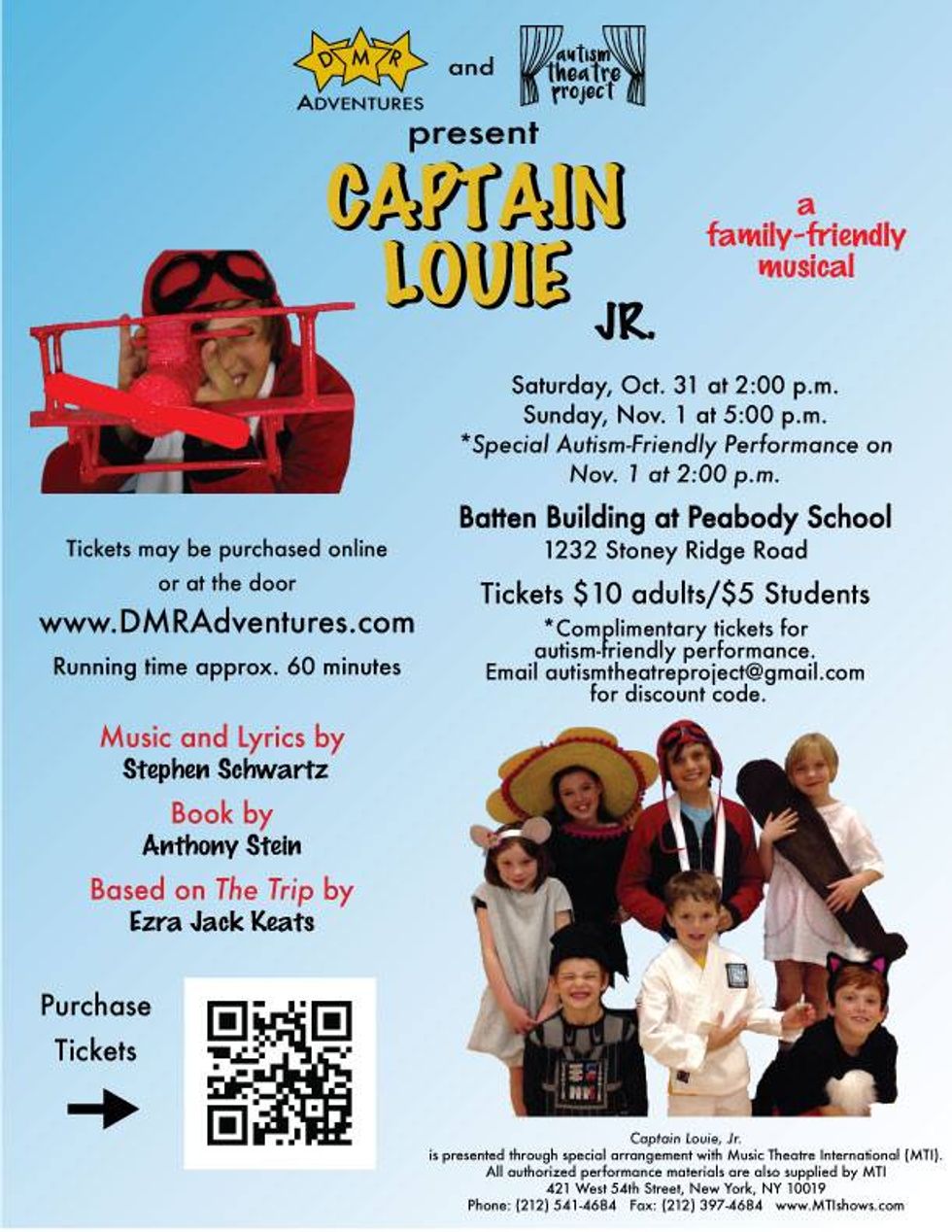 Mendelson first came up with the idea for this project her second year of college and has finally been able to make this initiative come to life after receiving a grant through the Coffelt Public Service Award. Along with her faculty advisor, Dr. Jane Hilton, she recruited a team of research assistants including fourth-year Ashley Houze, third-year Madi Lahey, and second-years Jaclyn Lund, Olivia Cosby, and Annie Frazier. All of them work together to seek out various resources regarding theater for those with sensory disorders, different areas of the community to target, and ways to further and better this project.
One of the members of the research team, Ashley Houze, mentions that she has been "working alongside the awesome research team to bring together resources and to reach out to the community to make this event possible. At the end of the event, we will be administering surveys to the audience members to improve future projects."
This project began with a small idea and has grown to encompass service and research, in which the team of research assistants meet up weekly to discuss how to make this event possible. Second-year Olivia Cosby explains that it has been "a roller-coaster ride of amazing teamwork and concentration to bring together both the university and the community for the sake of accessible theater."
"After spending my childhood with a close family friend who is on the [autism] spectrum, and recognizing the difficulties he had in many aspects of his life, I became fascinated by the condition and determined to make a difference," explains Jaclyn Lund, another second-year student on the research team. "When Ana proposed the Autism Theatre Project in the spring, I was so excited at the prospect of bringing theatre, one of my favorite pastimes, and autism research together."
After about three months of hard work by the team of research assistants, along with years of thought by Mendelson herself, the Autism Theater Project is finally being brought to Peabody School in Charlottesville on Sunday, Nov. 1, at 2 p.m. Lund reminisces, "Though there have been moments over the last few months of work that have been frustrating or exhausting, I am so incredibly glad to have accomplished all we have with such an amazing team. … I can't wait to see where we take this project in the future."
The autism friendly performance of "Captain Louie Jr." will be the first of many. The Autism Theatre Project hopes to build off of this experience and continue to expand this to more communities, in order to promote an inclusive, safe, and comfortable environment for families with sensory needs. The show will be this upcoming weekend, and tickets are free for children with sensory-related disabilities and their families. More information on this performance can be found here.
*Note: the phrasing, "person(s) with autism," as a person-first method, instead of an identity-first is used to dictate that each person is not defined by their neurological condition.