In the previous article, we discussed the American response to the Japanese attack on Pearl Harbor on December 7, 1941. We discussed how they rounded up Japanese Americans and interned them, and how they treated anyone else of Asian descent. Part II will discuss not only how this treatment affected the Japanese Americans who were arrested, but also those Asian Americans--Chinese, Korean, Filipino, etc.--who were allowed to walk freely in the states but also experienced discrimination.
Japanese Americans and Internment

Life for Japanese Americans in internment varied per camp. The federal government kept families together and tried to make conditions humane for its prisoners. But the Japanese Americans were nonetheless resentful: they were, after all, American citizens with constitutional rights, rights which had been taken away based solely on paranoia.They had been taken from their homes, watched powerlessly as the government sworn to protect them took away everything they'd ever worked for. Their life in camps was defined by their treatment by the guards, the communities around them, and how they coped with the knowledge that they were looked at with misplaced suspicion.
Camp Amache in southeast Colorado was an example of the interns making the best with what they had. When the camp opened in August of 1942, the new interns took the available jobs and even shared a fair relationship with the inhabitants of the nearby town of Grenada, who even traded goods with them. The camp itself was surrounded by barbed wire and eight machine gun towers. The interns, who at the highest rate only numbered 7,318--the smallest WRA camp--were so very well behaved that it was rare to see guards in all towers at a time, and never once were the machine guns put to use. The Japanese Americans tried to make life as normal as before imprisonment, working and sending their children to schools set up in some of the housing shelters. They had a high school football team, and had a Boy Scouts chapter which flew the American flag and celebrated Memorial Day despite the suspicious attitude the United States government had towards them.
There were, however, two notable moments of tension: in 1943, the Colorado state government built a high school for the interns, but the generally sympathetic Coloradans who were not supportive of their legislature's move. The effects of the Great Depression were still felt in the state, and the population wanted their tax dollars to be spent on relief, not schools for the interns. Elementary and middle school buildings had also been planned, but the plans were abandoned due to public outcry. A more serious falling out occurred in 1944 when the federal government created all-Asian regiments in the Army, which included drafting interns. At Camp Amache, some viewed the draft as a way to prove their patriotism. Others were incensed: the government arrested them, took their property, and imprisoned them, claiming that they were a threat to national security. Now, their young men were being drafted to fight a war for the United States. 36 interns were sent to a federal prison for resisting the draft, while 31 served in the military and died.
Other camps, however, were not remotely congenial. Camp Tulelake in California had many of the most violent outbreaks of any WRA camp in the war. This location was marked by protests and riots and was run more like a prison than any other camp. Over 18,000 Japanese Americans were sent here when they refused to be coerced into labor providing food for the war effort. Questioned over their loyalty to the United States, these inmates either refused to answer or replied, "no," angry over their incarceration. Tulelake was surrounded by barbed wire supported by 28 gun towers, 1,200 guards, and as an added security measure, 8 tanks. Worse, while the inmates were given strict schedules, often lacked proper medical care, and put to hard labor, the United States government began imprisoning German and Italian prisoners of war in a segregated area of the camp, allowing them more freedom than the interns who had citizenship.
In 1943, a riot supposedly broke out that was put down, with several Japanese Americans beaten or shot, though no killings were recorded. At least one murder was recorded at Tulelake: allowed passes and vehicles to carry out tasks in the camp, and on May 24, 1944, one intern named Shoichi James Okamoto was on an errand on for a construction site in which he had to drive from the site to the camp several times. Noticing this, a guard stopped him, asking to see Okamoto's pass. When Okamoto refused, the guard hit him, and after an argument, shot him, and Okamoto died the next day. The guard was acquitted.
In all camps, regardless of how strict they were, lacked proper medicine for the interns. Such diseases as tuberculosis, cancer, heart and vascular diseases were rampant. The interns themselves provided treatment, living in the same quarters as those who were sick. Most children did not have the proper vaccinations, like small pox and diphtheria. To make matters worse, the living quarters were often left unsanitary. As a result, 1,862 Japanese Americans succumbed to death while interned in WRA camps.
Asian Americans Outside the Camps

Life for Asian Americans outside the camps, while not near the treatment of those who were interned, was nonetheless frightening. The federal government had attempted to distinguish the Japanese Americans from the rest of the "good" Asian American community, including the Chinese, Korean, and Filipino population. Regardless, many white Americans looked down on them, and took it upon themselves to make life as difficult as possible for Asian Americans. Koreans were often mistreated in Hawaii, where authorities mistook them for Japanese and beat them. Asian Americans lived in constant fear of being mistaken for Japanese, seized and sent to relocation centers, leading the Chinese and Korean population to wear badges reading "I am Chinese" or "Korean American." Filipinos, though sometimes mistaken, lived perhaps more freely than did their Chinese and Korean counterparts. The Philippines had been under United States authority since 1899 until the Japanese takeover in 1941, and Filipinos were generally considered by the American government and public as allies, and therefore did not receive quite as much trouble. Nonetheless, they went to great lengths to prove their loyalty after the Japanese took the Philippines, and in Los Angeles, they engaged in vigilante attacks on Chinese Americans who they mistook for Japanese.
Chinese and Korean Americans, however, went to great lengths to maintain a faithful image among the American population, to the point that they felt the need to keep silent about the Japanese American incarceration, fearing that decrying it would make the public question their own loyalty. In some ways, Chinese Americans benefited, as they took over the businesses the Japanese American interns had before the war.
Chinese, Korean, and Filipino Americans all served in the United States Army as well, notably in the 100th Infantry Battalion. When Japanese Americans were drafted, the other Asian American troops were not keen on serving with them, for the same reason that they said nothing about Japanese American internment. Some Chinese refused outright. Korean Americans such as famed nationalist Kilsoo Haan were so outspoken against the Japanese because of the Japanese nation-state's attempts to colonize Korea, citing years of Korean resistance.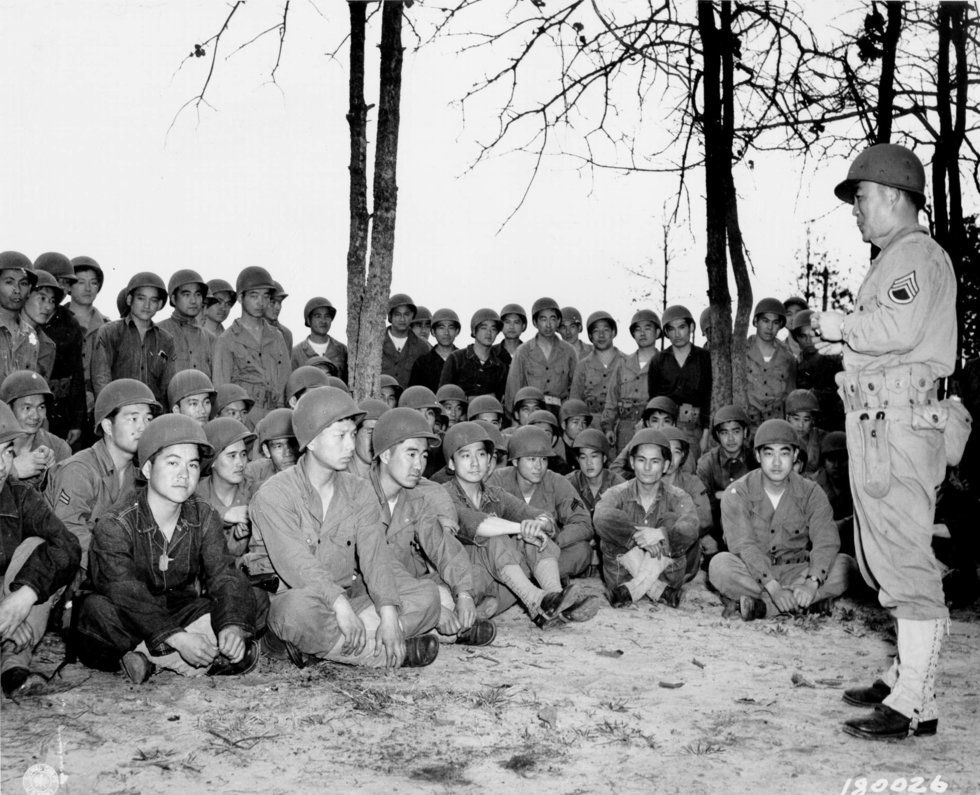 Asian American 100th Infantry Battalion upload.wikimedia.org
That the Asian American population rejected any connection to Japanese Americans is representative of the situation most Asians found themselves in as citizens of America during World War II. They lived in constant fear. Japanese Americans lost their constitutional rights, and other Asian Americans lost their security. For that, the latter was compelled to say or do anything protect themselves.
Conclusion

In 1976, President Gerald Ford issued an apology to the Japanese Americans who had been imprisoned, saying that he hoped "...that kind of action shall never again be repeated." In 1988, President Ronald Reagan passed the Civil Liberties Act, an act that gave some 80,000 former interns $20,000 apiece to repay them for their treatment. Although this couldn't take away their experiences, it was a genuine attempt by the United States government to recognize its wrongdoings and repent of them.
The treatment of Asians in America exemplifies what can happen when widespread fear replaces rational thought when making critical decisions. Because of the panic of the American people and the government, the United States turned against members of its own citizenry, committing inexcusable crimes against a minority unable to protect itself.