The other day, I was sitting at lunch with my friend. As she looked down at her phone, she started to laugh at a Snapchat she received. Curiously, I peeked my head over her phone to see that the picture was a poster a student had seen on her college campus. It read "Birds Aren't Real."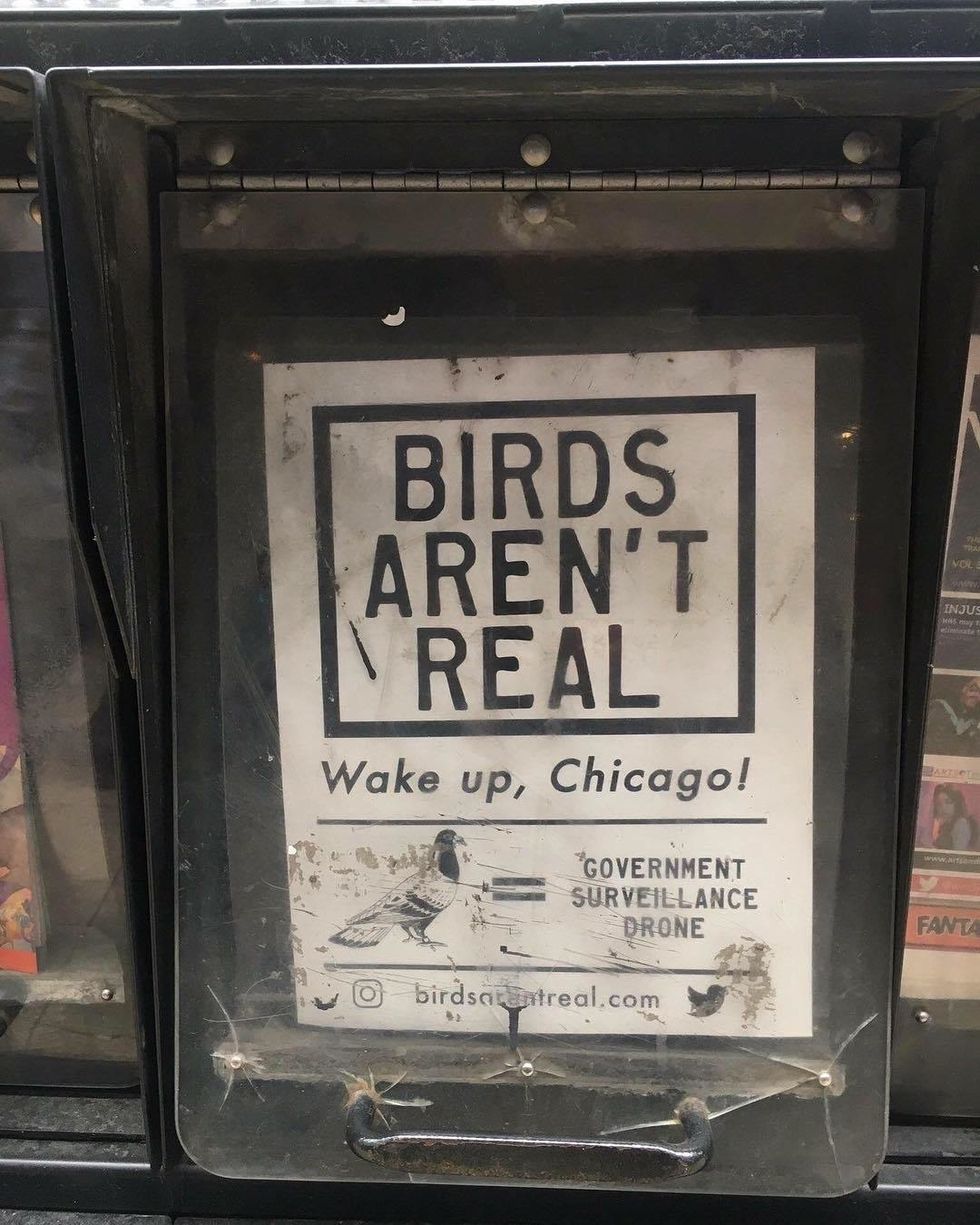 https://urbanmatter.com/chicago/birds-arent-real/
Utterly confused and puzzled, I did some research.
After typing "Birds Aren't Real" into my search browser, a slew of links popped up; I clicked the first one. I found myself scrolling through a variation of apparel, video content and history, all explaining and stating why those flying animals we see in the sky are not what we think. Now, having been enlightened by this movement that is taking over social media platforms, it is clear to me that some people definitely have some crazy imaginations. Let me explain...
This group of adamant believers (or "Bird Truthers") preaches on the basis that from 1959 to 1971, the government executed 12 billion birds and replaced them with government-issued drones made to protect and watch the American people.
BIRDS AREN'T REAL www.youtube.com
I swear, I'm not making this up.
People have flocked the streets, rallying with posters and chants basically insisting everything we know about birds is a hoax.
As much as this is crazy and as much as the movement leaders have made a quite interesting image for themselves, if you analyze their arguments, the idea sounds a little less crazy. These "Bird Truthers" are rallying with the support of the wildly unconventional and fired up youth of our generation. In their extensive historical background of the movement, they begin explaining a long chain of events that starts to connect the CIA to the implementation of these "birds." As they continue to create more and more links between events, they go to extremes.
Supposedly, after John F. Kennedy was introduced to a prototype of a device used to execute birds, he expressed an opposing opinion towards it. This occurred a month before his assassination. The leaders of this movement suggest there is a direct link to the reasoning for his death.
"Now I'm not saying that these events are correlated, but I am. JFK was murdered by the CIA because he was against the mass murder of every feathered flying creature in the United States. He was to be the first and only President to stand against the murder of the birds" - Birds Aren't Real
Their conclusions are definitely outlandish but the way they piece their arguments together is impressive. They even go to the extent of suggesting the CIA has rigged every election since Kennedy to assure an "anti-bird and pro citizen surveillance" candidate. Additionally, they have an alleged quote from president Nixon explain the need for these surveillance drones.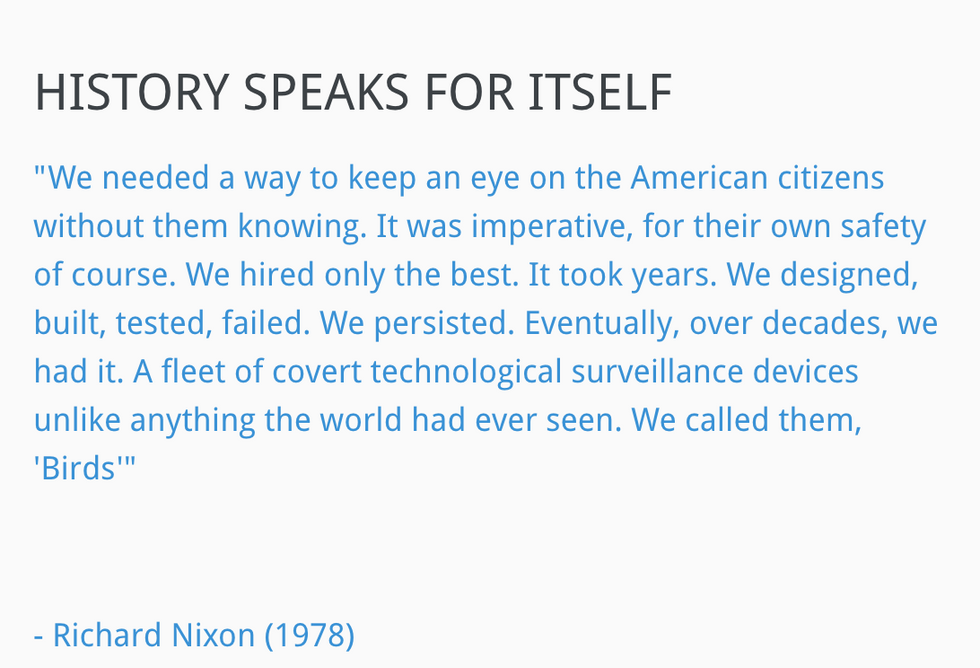 In our wild, unpredictable political and social climate who knows what our leaders could be planning. Next time you see a flying creature in the sky, will you look at it the same?