Dear Graduating Sorority Sisters,
From a college sophomore with three more years ahead of me, I can't imagine the feelings you must be going through now as a senior: about to leave undergraduate school forever, moving onto the real world, leaving your sisters and everything you've known for four years behind. You're starting a new chapter of your life as Kappa Delta alums, with new opportunities and new people. I know you won't forget us, and I trust that you'll keep in touch. I want to thank you for everything you have done for us, from inviting us into the sisterhood and making us feel welcome to inspiring us each day to strive for that which is honorable, beautiful and highest.
Thank you for making me and my pledge class feel welcome and showing us what true sisterhood is. You taught me how to be a better sister and a better friend. Being there for each other through hard times and good times has created a precious bond that I will cherish forever. You have made my first few years in college ones to remember, and it's been so worth it. I'll never forget that first time we went out to Andy's Ice Cream after our first initiation and we got to spend time together as a huge group outside of the chapter room.
All of our sisterhoods and rituals since then have been so fun with your humor, optimism, and wisdom. Of course, I was a little nervous when I first joined as a freshman, but you have made the sorority feel like home, and I stayed because of you and your everlasting love for me and your other sisters. This was a place I wanted to be a part of, all because you so obviously enjoyed being a part of it too. Now it has become a part of me that I wouldn't trade for the world.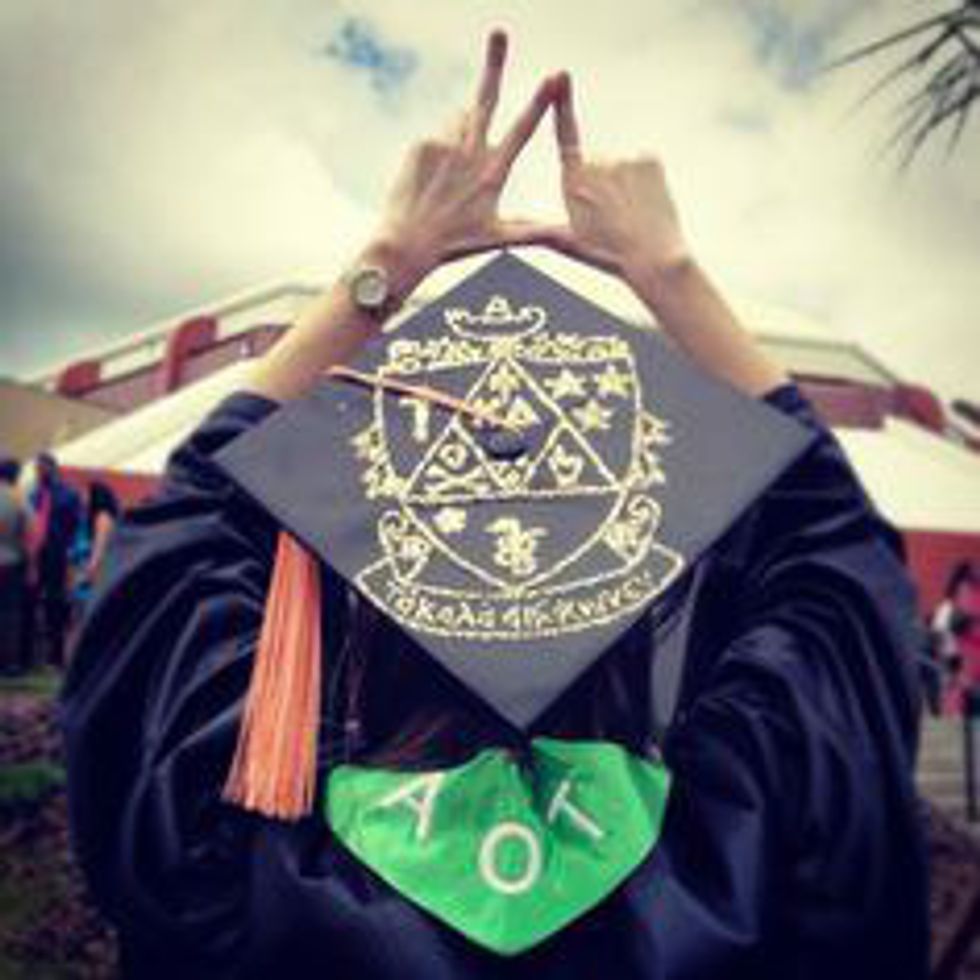 Thank you for all the fun times. You are hilarious, energetic, and so much fun to be with. Hearing your crazy stories from your earlier years in college to seeing the amazing ladies you are today, I just hope I can come that far by the time I graduate. The sorority has helped you grow and discover the person you were meant to be, and I can already feel that happening for me. Thank you for being up for anything. From going to lunch together, to coffeehouse study breaks late at night, and everything in between. You were there for me when I needed you.
Those little moments that we can spend together in between the bustle of school and responsibilities are where the real connections happen. Just talking about your day in passing even is something that I enjoy when I see you around campus. I wish I had been able to spend even more time with you before you graduated, but life gets in the way sometimes. Making you a priority is when our sisterhood shows itself, and I'm glad for the times we did get to spend together. I look forward to all the adventures ahead for me and my pledge class and future sisters.
You are women I look up to and I hope to live up to the legacy you have left behind. Your strength in adversity and constant loving support is a character trait that I aspire to and know I can do with your examples. I want to carry on the strong tradition of integrity, loyalty, and scholarship that you have carried on from your sisters before you. Your advice and guidance is so appreciated. I am so excited to be that person for my younger sisters, especially my precious little! Sometimes, I worry how we're going to go on without you, but I know you've prepared us for anything and everything. We have become strong and confident women with a positive outlook on the world, thanks to you. We can continue to learn and grow, and I know you'll be proud of us.

Love and AOT,
Your sister