Dear Ivan Moody,
I have so much to say to you that I don't even know where to begin. I wanted to start off by saying that I hope you are doing well, but I'm not so sure if I can say that with confidence. It's not that I don't want you to be well - I would never wish that upon anyone - but I'm just not sure if I can trust that you're getting it together.
You see, Ivan, I attended the Shinedown and Five Finger Death Punch concert in Worcester, Massachusetts at the DCU Center last Friday. Your band is the primary reason why I attended. Your band has been my favorite for quite a few years now; I can say that I know just about every song of yours by heart. I was really looking forward to finally being able to see you live. I bought floor seat tickets and waited at the door for three hours just so I could get as close to the stage as I possibly could. I managed to stand in the second row, and when I was finally in the concert setting, I was beyond ecstatic.
As Lions, Sixx:A.M. and Shinedown were all amazing in their performances, but I was thinking that there was no way their performances could top off that of your band.
Boy, was I wrong?
When your band finally got on stage and began the set by playing "Lift Me Up", I was jumping up and down and headbanging like there was no tomorrow. But about a minute or so into the song, I noticed that you were missing from the stage. I could not see you anywhere on said stage, and when I saw and heard your bandmate Chris Kael singing portions of the song, I was absolutely puzzled. I yelled to my friend right next to me, asking him what was going on and he told me you came off the stage crying (I did not notice you were crying). I was thinking maybe you hurt yourself badly and I just happened to miss whatever you did to yourself. Okay, I hope you're okay, my next thought was.
After the first song, your entire band walked off stage, and like the entire crowd, I was still trying to figure out what the fuck was going on. I was getting the nasty feeling that something just wasn't right.
Eventually, you came back on stage, and you didn't appear to be physically injured (thank god). You then went on to explain that your mother was passing along and you may have to jump on an airplane to go see her. As disappointed as I was to hear that the concert for my favorite band may have to be cut short, I could understand with reasoning like that. You even said that you would refund every single ticket should this have to be the case, which gave me some reassurance and hope.
I will say, Ivan, that the songs you did play with your band were still amazing performances, even when you were missing lyrics and walking off stage (again, totally understandable with the reasoning you gave us). You did appear to be drunk, but after hearing your story, I wasn't going to make a fuss about it; I was satisfied enough. The hype I had at the beginning of the show remained. Plus, I was giving you nothing but praise for choosing to perform for us in Worcester despite what you said you were going through. It made me believe you cared deeply about your fans and you did not want to disappoint them.
So, as you know, all of us in Worcester, Massachusetts started venturing home earlier than intended. My heart went out to you and your family that night.
Now, here's where things aren't so positive, Ivan.
The next day, I was feeling the post concert depression as concertgoers typically feel; I was extremely sad the day after the concert. For this occasion, it was much more depressing. My favorite band didn't get to play a full effort of a show and your mother is supposedly on her death bed. I was expressing my disappointment with people over a Facebook page. I kept on telling people that my thoughts are with you and I have nothing but respect for you.
But Ivan, there was a lot more to it, and I hope you understand what you've really done.
Later on in the day, I learned a few things.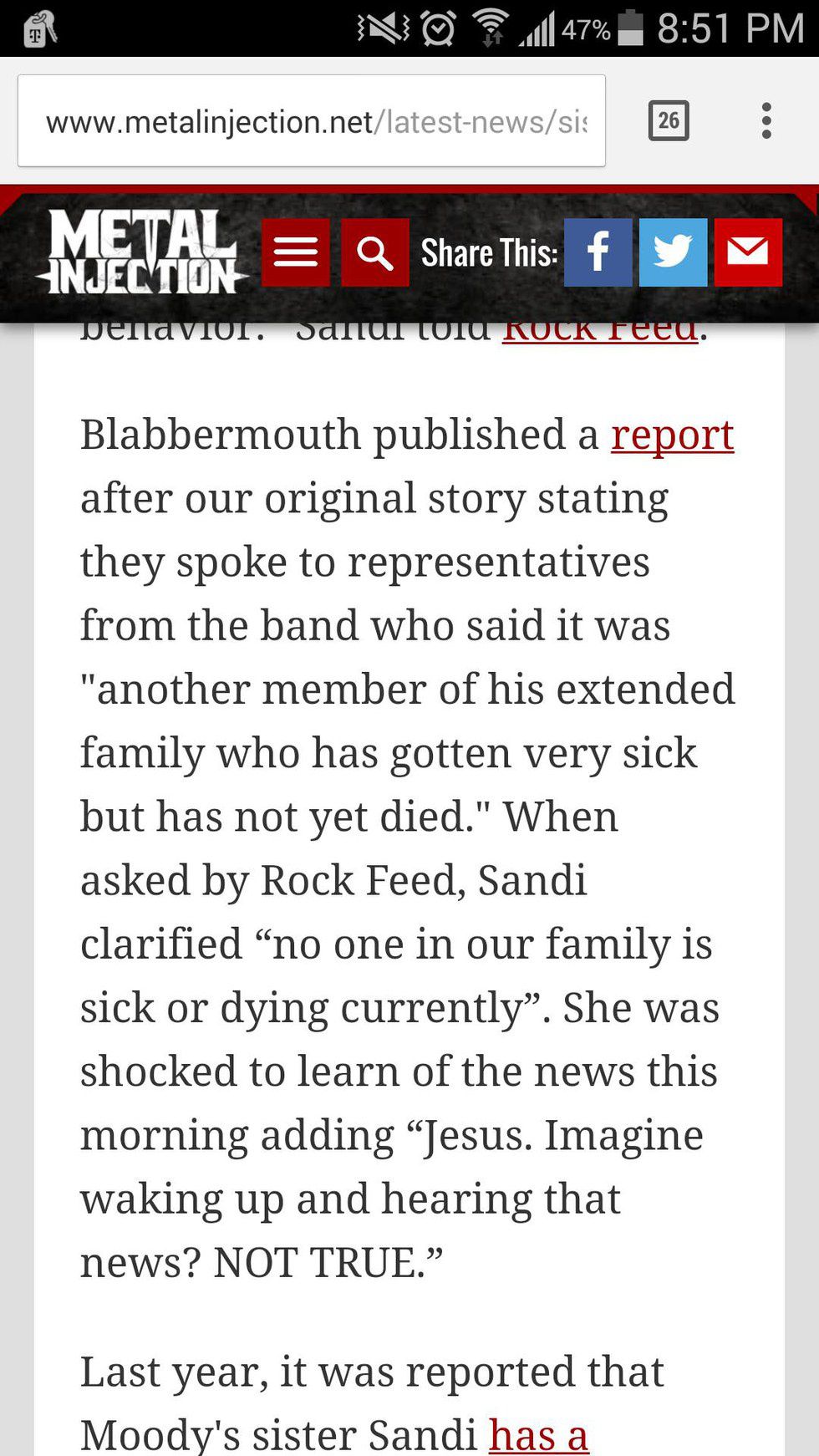 According to this article from Metal Injection, your own sister, Sandi, told Rock Feed that no one in your family is ill. Not only that, but you also scared the living shit out of her. You probably scared AND embarrassed the rest of your family just as much.
I had spent some of the day pondering on whether or not you were going to be playing your next show in New Jersey that night as part of your tour, and I was even more upset to learn that you indeed were. That proved so much - that you weren't going home to see your mother, that your mother was just fine, and that you lied to us in Worcester.
Don't even get me started on the speech you gave to the lucky fans of New Jersey.
---
"I was asked not to say anything about my past. I've never done what anybody told me to. Last night I had a mental moment. It had nothing to do with alcohol, drugs, or any of it. True. Just melted down.
The last thing I wanna do was embarrass my band, or my family, or any of you..."
---
You know, I find it funny how you sing a song called "Never Enough", and in the song, you sing about how you'll never be what a certain person wants you to be. Yet, you seem to think that with this speech, it will be enough to convince the audience of Worcester to forgive you. It doesn't make sense to me.
Look, Ivan. I'm not doubting that you had a mental breakdown. I have never experienced such a thing, so I cannot speak for you in any way. However, that doesn't change the fact that you deceived me - a huge fan of your band - and the entire crowd of Worcester. Furthermore, because of your lies, I'm not sure I can trust you, meaning I'm not sure I could believe you when you say you weren't intoxicated; you sure looked like you were anyway. I mean, dude, you could barely stand up straight!
The number of questions I have for you is flat out ridiculous.
If you were feeling upset emotionally before the show, why did you choose to attempt to play anyway? You know, I get it. You love your fans. But if you knew you were feeling down, why did you take such a risk? If you told the truth before or maybe even during the show, you would have saved a shit load of people a lot of trouble, inconvenience, and anger.
If you absolutely had to lie, why the hell did you have to tell a crowd consisting of thousands of people that your mother was dying? Or, if it was someone else in your family (although it's already been confirmed that no one in your family is sick), why did you refer to this person as your mother? Do you have any idea how your family must feel? I already proved my case when I mentioned your sister, so I don't think I need to ask more questions about your family.
What about the rest of your band? I get that they were probably there for you during the difficult time you had on stage, but how humiliated must they feel as well? I wouldn't doubt that they put a lot into Five Finger Death Punch, and it's not fair to them that they had to come off stage early because of your choice of words.
You have no idea how much this is affecting me, Ivan. I spent a lot of money on what was supposed to be one of the best nights of my life. Originally, I didn't want it back, but now I do. On top of that, I may never listen to your music with the same feelings ever again. I will always love your music - there is no denying that - but whenever I hear a song, I will tend to think back to the night you let me down.
I just don't understand, Ivan. If you could control yourself and if you knew what you were saying, all it would have took was the truth straight off the bat. But it's too late now. You haven't lost me as a fan, but your band may no longer be my favorite. I won't wash it all away (if you know what I mean).
Whatever it is that is taking you over - whether it is alcoholism, some mental illness, both, or something completely different - I hope you beat it. If you want your career and band to continue, I hope you conquer your demons and get everything together. I'm not sure if I'll ever see you again, but that's all I'm asking of you. Some of your fans need you, Ivan. Your family wants you to recover. Your band wants to be there for you. Please, Ivan.
Sincerely,
A disappointed Five Finger Death Punch fan