It seems that every day in the beauty community there is another scandal between two influencers. The two have been in a semi-public fight since the middle of April after James Charles originally posted a sponsored ad with the company "Sugar Bear Hair," Westbrook's main competitor for her similar vitamins "Halo Beauty." According to Westbrook, James had said numerous times in the past that he did not like or support Sugarbear Hair. Shortly after this, influencers started claiming sides either Sister James or Miss Tati.
Since the initial "Bye Sister" and "Tati" videos released, Charles has lost over 3 million subscribers, and Westbrook gaining over 5 million. Fans are keeping track over a live stream comparing the two. From the initial start of the backlash to now, here's everything you need to know about the fight.
Who are James Charles and Tati Westbrook?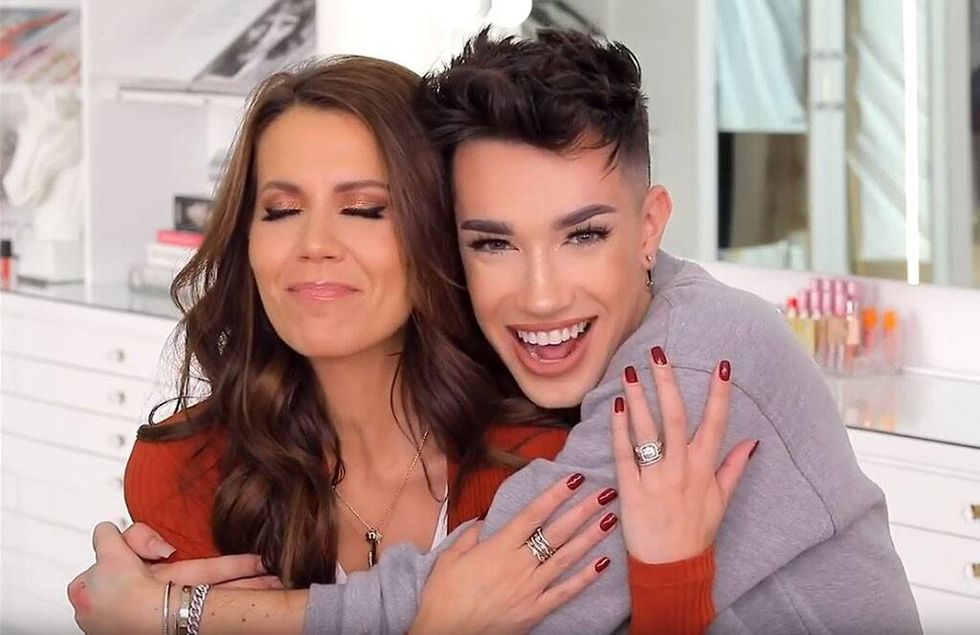 James Charles and Tati Westbrook are both beauty influencers predominantly known for being YouTubers with high numbers of subscribers.
Tati Westbrook (@glamlifeguru) is 37 years old and is pegged as one of the first beauty influencers. Tati is known for posting makeup tutorials and reviews and has also launched a beauty vitamin brand called Halo Beauty.
James Charles is relatively new to the beauty industry, at only 19 years old. Charles has only been involved for around three to four years becoming Covergirl's first male spokesmodel in 2016. He has also launched a palette with Morphe.
Charles has often called Westbrook his mentor as well as his "mother." The duo has appeared in a number of videos together.
How has the feud escalated?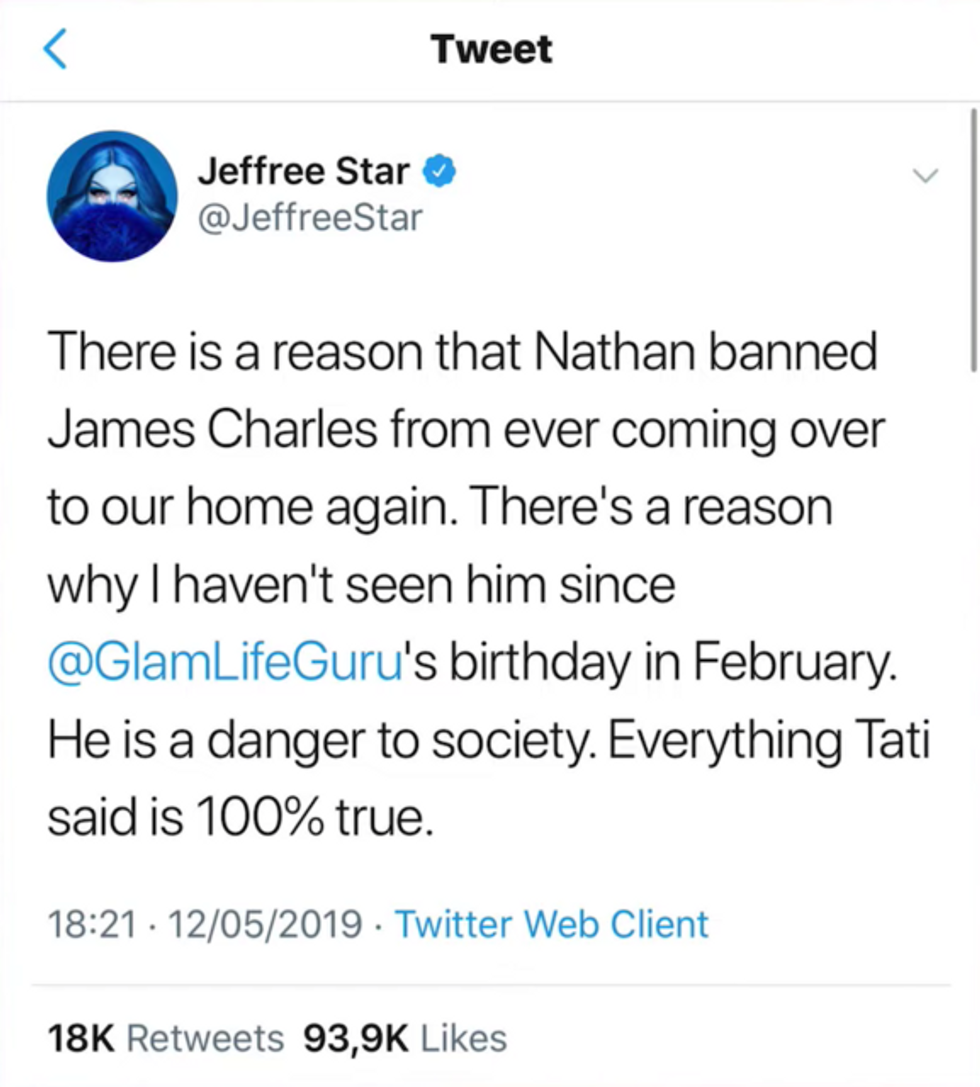 Screenshot by Arielle Anderson
Since Tati's "Bye Sister" and James "Tati" video, numerous influencers and celebrities have voiced their sides, as well as others, coming forward about their personal experiences. On James' side other than some subscribers, Nikita Dragun and Gabriel Zamora are the only clear supporters of James. Zamora in a recent video said, "I'm confused and this is just me, I don't get where the betrayal was... all of these videos are being made where James is made out to be this horrible human being and I'm just confused as to what happened."
Nikita Dragun shared a screenshot of a conversation with herself and Charles during Coachella, where Charles asked her to connect with SugarBear Hair. However, fans are mad about the tweet, as this was the smaller of the issues brought to the light by Westbrook. Since Tati's video, All of the Kardashian/Jenner's have unfollowed James as well as Demi Lovato, Ariana Grande, Katy Perry and a large number of other influencers. Including James' previous best friends Emma Chamberlain, as well as Grayson and Ethan Dolan.
Tati says in her "Bye Sister" video, "My relationship with James Charles is not transactional. I have not asked him for a penny. I have never been on his Instagram," and goes on to explain that it was never the vitamins that were the main issue, it was her continuously having to apologize for James' behavior. This ranged from saying bad things about other companies and influencers to sexually harassing men who were not interested in him.
Jeffree Star, in a now-deleted tweet, stated, "There is a reason that Nathan banned James Charles from ever coming over to our home again. There's a reason why I haven't seen him since Tati's birthday in February. He is a danger to society. Everything Tati said is 100% true." Jeffree also responded to James' younger brother's post saying "Why does everyone act so tough over the internet?" With "Why is your brother a predator?? Why'd you really move back to NYC? Exactly. Shut the fuck up."

Lastly, in Tati's video, she states "You were talking in detail about things you wanted to do to the waiter. And when I said "James he's straight" your response was "Doesn't matter I'm a celebrity." SO FREAKING GROSS. And you said it in front of my family." Since this, numerous videos with people's experience with Charles and his sexual comments have surfaced.
In the initial videos, Westbrook posted a 40-minute video with no ads, meaning she was not paid and spoke her story. Charles responded with an eight-minute video which is seemingly staged and scripted and included three paid ads. Again, using his platform for the wrong things.

At this point in time, it is unclear if Charles will lose any professional brand deals from this. His palette collab with morphe is currently still for sale on Ulta.com and at Morphe. Charles apparel line Sisters Apparel line has been taken down. The brand was manufactured by Killer Merch, which is backed by Jeffree Star. However, it is unclear if Star had anything to do with the removal.

Since the "James Charles is canceled party" began after Tati's video, fans everywhere have begun taking matters into their hands with their James Charles palettes.
Overall, Tati has proven to be the adult, and speaking facts on the situation, with new drama coming from both sides and its supporters each day.