Thanksgiving is only a couple days away now, which means that we are only a small time away from turkey overload, three kinds of potatoes, and endless pumpkin-flavored desserts. It also means that I can watch a marathon of all the "Friends" Thanksgiving episodes without being judged. With every season of "Friends" besides the second having an episode dedicated to the turkey holiday, you could spend hours watching this group of adults celebrate together. So, if you've only got time to fit in a couple episodes between your family's flag football game and the setting of the dinner table, here's my ranking of all the episodes, from best to worst. Now you can decide which are worth your time (Hint: it's all of them).
9. "The One Where Chandler Doesn't Like Dogs" - Season 7
This one takes the bottom spot on the list mostly because it involved Rachel's assistant Tag. His character was kind of irrelevant and he just bugged me. He was, as Joey would say, "Moo." However, this episode does get points for Clunkers, the cute dog that was involved.
8. "The One With Rachel's Other Sister" - Season 9

Christina Applegate was the perfect guest star to play Rachel's self-absorbed sister, and she definitely provided some great laughs (I mean, she referred to baby Emma as Emmet the entire time and it was hilarious). And the plot line about Monica's precious wedding china, which culminated in Chandler's destruction of the beautiful plates, was also one that made this episode worth watching. Still, it lacked a certain bit of "Friends" magic that comes with just having an episode focused on the special group of six.
7. "The One With Chandler In A Box" - Season 4

The fact that Chandler spends half of the episode hidden in a box and is still the funniest character speaks volumes to the talent of Matthew Perry as an actor and the strength of the show's writers to create a good Thanksgiving episode. And Monica's rant to all of her friends after they scrutinize her relationship with Richard's son is comedic gold.
6. "The One Where Underdog Gets Away" - Season 1
[rebelmouse-proxy-image https://media.rbl.ms/image?u=%2Ffiles%2F2016%2F11%2F21%2F636153036267644770187753826_friends-thanksgiving-sucks.gif%3Fw%3D620%26h%3D415%26crop%3D1&ho=https%3A%2F%2Faz616578.vo.msecnd.net&s=357&h=ebc554135a265229ead60f1caec88324654565934da6408f3bf2550aff180188&size=980x&c=3305941875 crop_info="%7B%22image%22%3A%20%22https%3A//media.rbl.ms/image%3Fu%3D%252Ffiles%252F2016%252F11%252F21%252F636153036267644770187753826_friends-thanksgiving-sucks.gif%253Fw%253D620%2526h%253D415%2526crop%253D1%26ho%3Dhttps%253A%252F%252Faz616578.vo.msecnd.net%26s%3D357%26h%3Debc554135a265229ead60f1caec88324654565934da6408f3bf2550aff180188%26size%3D980x%26c%3D3305941875%22%7D" expand=1]
This one does deserve a lot of credit for being the inaugural "Friendsgiving" episode; it marked the beginning of a tradition that happened every season except one. And the premise of the episode brings all the friends together for the holiday, teaching viewers about the power of close friendships. It ranks lower on the list simply because after the first season, the writers of "Friends" created even bigger and better Thanksgiving episodes.
5. "The One With The Late Thanksgiving" - Season 10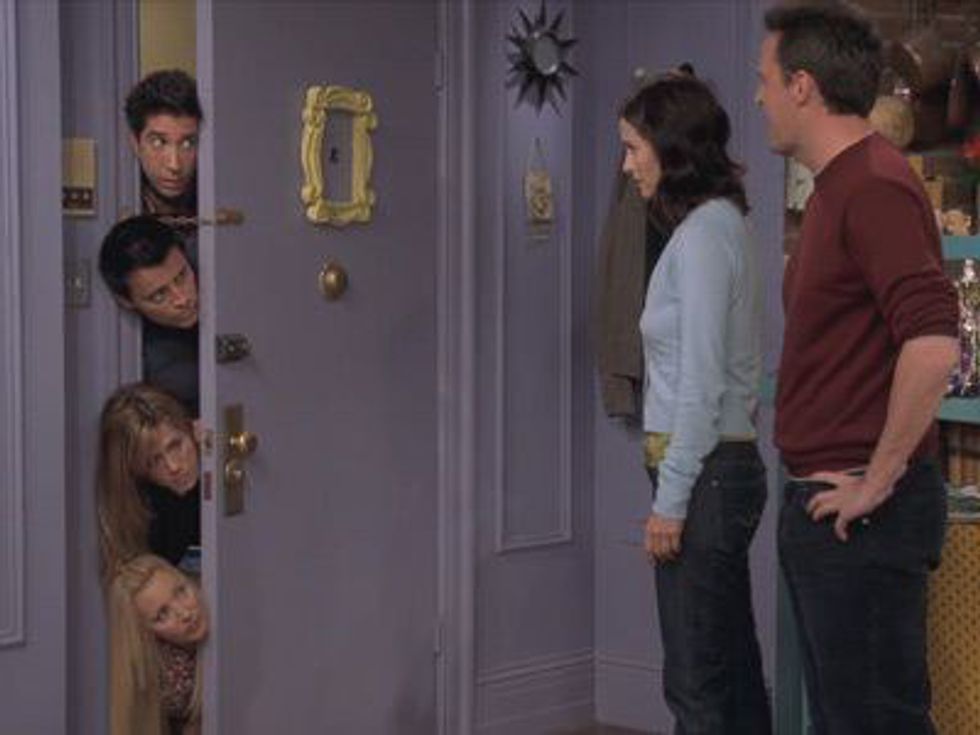 This episode gave us many great "Friends" moments. We learned that you could add fire and water to a game of rock, paper, scissors to make it more interesting. And the iconic moment when Joey got his head stuck in the door was hilariously entertaining. But perhaps the reason I rank this episode here is because in the final moments before the end credits, Monica and Chandler find out that there is a birth mother interested in letting them adopt her child.
4. "The One With The Thanksgiving Flashbacks" - Season 5

[rebelmouse-proxy-image https://media.rbl.ms/image?u=%2Ffiles%2F2016%2F11%2F21%2F636153483725865048668121933_giphy3.gif&ho=https%3A%2F%2Faz616578.vo.msecnd.net&s=793&h=4a4b5f675559e87f6d268b128bebf32d523701075e20a452acd1797786761615&size=980x&c=3535073048 crop_info="%7B%22image%22%3A%20%22https%3A//media.rbl.ms/image%3Fu%3D%252Ffiles%252F2016%252F11%252F21%252F636153483725865048668121933_giphy3.gif%26ho%3Dhttps%253A%252F%252Faz616578.vo.msecnd.net%26s%3D793%26h%3D4a4b5f675559e87f6d268b128bebf32d523701075e20a452acd1797786761615%26size%3D980x%26c%3D3535073048%22%7D" expand=1]
This episode is the byproduct of each friend's reflecting on some of the worst Thanksgivings they've ever experienced. And the end result is hysterical. Better yet, we get to see both Monica and Joey with turkeys on their heads--classic.
3. "The One Where Ross Got High" - Season 6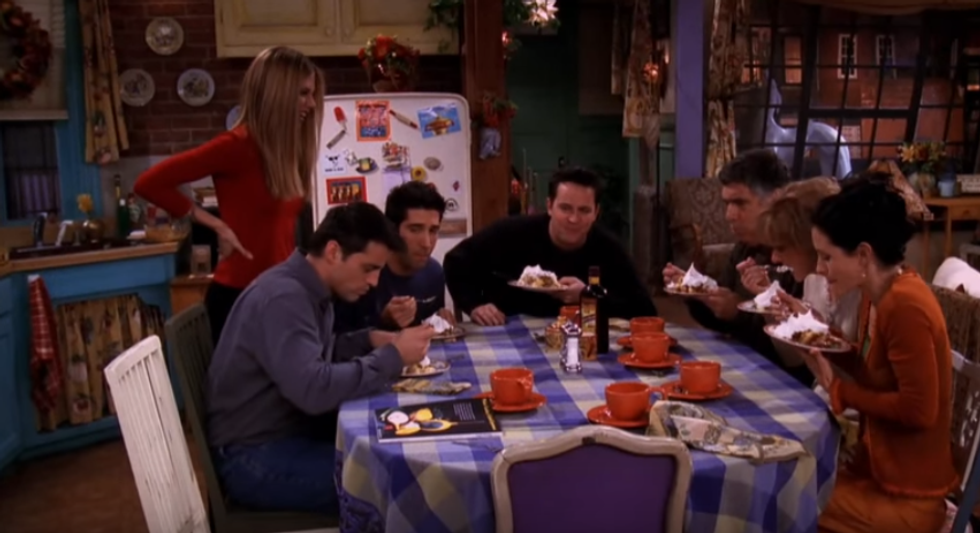 Ahhhh Rachel's infamous truffle. So, so bad, but it made the episode so, so good. As did the screaming match between all parties at the dinner table. This episode also includes Ross and Monica's parents, who make any episode of "Friends" all the more funny.
2. "The One With The Football" - Season 3

Part of the reason I love this episode so much is that it's mainly focused on the gang, with no extra characters. But the story line itself is also just great. The Ross and Monica fight is fun to watch, and the entire gang creates one of the most entertaining football games I've ever seen. It's a classic "Friends" episode.
1. "The One With The Rumor" - Season 8


Two words. Brad Pitt. Having Pitt guest star in this Thanksgiving episode was a brilliant idea by the "Friends" writers, who did a fantastic job of effortlessly weaving his character into the story line. The entire episode is full of laughs and Thanksgiving goodness. And we all know we agreed fully when she asked Pitt's character to take off his shirt.
So that's it, that's all the "Friends" Thanksgiving episodes. Here's hoping your holiday is filled with love, lots of food, and time spent with your favorite 90s gang!