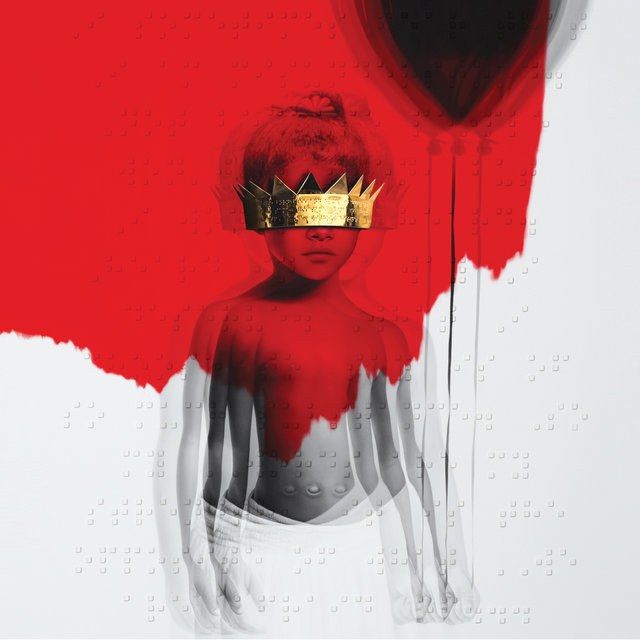 If you're as big of a Rihanna fan as I am, you know that her newest album "ANTI" dropped after almost four years of waiting. Even with a few singles ("FourFiveSeconds," "B**ch Better Have My Money" and "American Oxygen"), which happen to not even be on the album, fans wanted more. It's no doubt that this is one of the most anticipated albums ever, and in my opinion, it did a pretty great job at living up to its expectations. I have listened to it over and over again since its release on January 28, and have put together a song-by-song review of Bad Gal RiRi's deluxe edition of "ANTI."

The album opens up with the Rasta-like sound of "Consideration" featuring R&B singer SZA and the line, "I came fluttering in from Neverland/ Time can never stop me, no/ I know you've tried to." In this song, Rihanna expresses her desire to be seen as more than just an entertainer. SZA's unique style of singing compliments Rihanna's voice on the harmonious parts. Personally, this is one of my favorites from the album. I have to give this song an 8/10, instead of a 10, since it isn't even three minutes long.
The album then slows down to transition into "James Joint." As it is an interlude, this song is very short, but makes for a nice transition into the album's next song. This song mixes one's desire for a true love with one's use of drugs. I give this one a 6/10; if there was more to it, maybe I'd give it a better score.
"Kiss It Better" starts off with a few drum beats, and then a strong electric guitar solo comes in. Rihanna sings lines like "What are you willing to do?" and "Why argue? You yell, but you take me back." This song is another one of my favorites, and I personally have been waiting for it since December 2014 when badgalriri herself posted a very short snippet of the song on her Instagram. This electric song has rock ballad written all over it and has a huge Talk That Talk sound. 9/10
The fourth song on the album was released as a single right before the entire album was dropped. "Work" features a verse from rapper Drake, and samples Jamaican Patois- i.e. "work" means "sex," "haffi" means "have to," and "ah go" means "going to."- throughout the song. The song is similar to the two's previous collaborations on Drake's "Take Care" and Rihanna's "What's My Name?" where two lovers narrate a story. If you see me on campus, I'm probably listening to this in my headphones. This one is definitely a bop. I want to be biased and give it an 10/10, but due to the fact that Rihanna doesn't say too much compared to Drake's verse due to the repetitive use of the word "work," I have to give it an 8/10.
The dark beats of "Desperado" follow the previous collaboration on this album. This song tells the story of being in love someone on the run, or a desperado. Rihanna sings the line, "If you want, we can be runaways/ Running from any site of love." The beat from this song is an alteration of the vocals from alternative-singer Banks' song "Waiting Game." The way Rihanna says the word "desperado" makes you want the song to never end. 7/10
The next track, "Woo," features Travis Scott, although he isn't actually listed as a feature in the song title. In this song, Rihanna has torn emotions about a past lover, using conflicting lines like, "I've been thinking 'bout you late at night/ I've been thinking only of you" and "I don't even really care about you no more." This song has a deeper message with a dirtier sound. 7/10
The DJ Mustard produced "Needed Me" is another one of my favorites off the album. The song is the perfect sample of a mid-tempo ballad. Rihanna sings raw lyrics like "You needed me/ To feel a little more, and give a little less/ Know you hate to confess/ But baby, ooo you needed me," over dark, flowing synths. In this song, Rihanna scolds her lover for catching feelings, claiming she is a "savage." Rihanna definitely deserves a 10/10 for this one for the amazing riffs and runs she showcases through the choruses.
"Yeah, I Said It" is another short, interlude-like song on the album. In 2 minutes and 13 seconds, Rihanna proves a short, sexy sound that makes us want more. "We don't need a title," seems to the general message behind this song. 7/10
The next song on the album is a cover of Tame Impala's "New Person, Same Old Mistakes" (her's is titled "Same Ol' Mistakes"). Even though it's only a cover, this song fits perfectly on the album. The mesmerizing, heavy instrumentals match perfectly with Rihanna's vocals where she sings lines like, "Feel like a brand new person/ But you make the same old mistakes" and "Well I don't care I'm in love/ Stop before it's too late." 9/10
"Never Ending" opens up in the complete opposite with an acoustic guitar and Rihanna's line, "Ghost in the mirror/ I knew your face once, but now it's unclear." The melody of this song is calming, and soothing, leaving a lighter note. The song ends with the line, "Why does it have to feel so strange/ To be in love again?" 9/10
"Love on the Brain" is quite possibly one of the most beautiful sounding songs on the album. When I first listened to it, I didn't believe it was even Rihanna because of the unique vocal talent I was listening to. The song's 1950s "doo-wop" can be compared to Amy Winehouse, and has a similar title to Chris Brown's "Heart Ain't a Brain". "Must be love on the brain/ That's got me feeling this way/ It beats me black and blue," is one of the subtle references to the physical assault she experienced a few years ago from Chris Brown. I don't think I will ever be over Rihanna's vocals in this song. 10/10
If you're as big of a member of Rihanna's "Navy" as I am, you have been waiting for the album's next track "Higher" ever since the singer drunkenly posted snippets of the song earlier in 2015. Rihanna stretches her vocals to sound raspier, and it works well for her, on lines like, "You take me higher, higher than I've ever been, babe." I want to give this song a 10 but unfortunately, can only give it a 6/10 due to how incredibly short it is (2 minutes and 1 second to be exact).
After that short track, we get yet another ballad, "Close To You." In this song, Rihanna sings about the difficulty and hard times of losing connection with a lover with lines like, "Like so close, if they hurt you, you wouldn't find out/ If you let me, I'd be there by now/ Close to you." The beautiful piano melody fits well with the deep lyrics and mesmerizing harmonies. This song reminds me a lot of her song "Stay" featuring Mikky Ekko from her seventh studio album Unapologetic. 8/10
The final interlude on the album, "Goodnight Gotham," samples Florence + The Machine's "Only If For a Night." Personally, this was really disappointing to me because not only has she been teasing this as a big song for a while now, but the album version doesn't feature any singing by Rihanna, but only Florence Welch. 4/10
"Pose" is the typical dirty Rihanna song we all expect at least one of on each album. The heavy instrumentals, produced by the same producer as "B**ch Better Have My Money," backup dirty slang and vocals like "Yaaaass b**tch" and "Take it off/ I wanna see you work it like oh my god." Don't get me wrong: I love a dirty, obscenity-ridden Rihanna just as much as the next Rihanna fan, but there's something about this one that isn't as good as the others. I think the instrumentals might be a bit too much at times; otherwise, it's a great song to get down and dance to. 6/10
ANTI closes with the album with the song "Sex With Me." In this song Rihanna wants us to know how incredibly amazing it is to be with her, and not someone else. "Sex with me is amazing, with her it'll feel alright." The song ends with a unique mix of vocals and instrumentals, and in my opinion, ending ANTI correctly. 9/10
"ANTI" Tracklist:

1. Consideration (feat. SZA)
2. James Joint
3. Kiss It Better
4. Work (feat. Drake)
5. Desperado
6. Woo
7. Needed Me
8. Yeah, I Said It
9. Same Ol' Mistakes
10. Never Ending
11. Love on the Brain
12. Higher
13. Close To You
(Deluxe Edition)
14. Goodnight Gotham
15. Pose
16. Sex With Me