I have always considered myself an adventurous and not easily offended or uncomfortable person, so when a friend of mine invited me to come with him to see a local burlesque show, I agreed, even though I didn't have much of a clue what burlesque even was. I had seen my fair share of drag shows and cabarets and figured it would be a similar style of performance, and being fairly new to the Orlando area, was curious to see what the entertainment scene had to offer.
In addition to that, my friend was in the process of applying for a job as a technician for the group and wanted to show his face at the show, and didn't want to go alone. Having actually been to the space a week before for an event through my college, and intrigued by the place (and the attractive staff), I blocked off my Friday night and drove across town to see what this show was all about.
The first thing I noticed when we arrived was that my friend and I, college students, were the youngest people in attendance by at least 5 years. The crowd was so diverse, however, that it didn't matter; no one paid us any attention because of our age and went about their business socializing with friends and fellow regulars. There were groups of friends, people out for a ladies' night, straight couples, gay couples, artists, and representatives from all over the Orlando entertainment scene. It was a melting pot of attendees and not at all what I expected, although, in retrospect, I'm not sure exactly what I was expecting.
My college wallet was pleased to learn that employees of any of the nearby theme parks got a 50% discount, so we paid our admission and joined the rest of the people standing outside the theatre waiting for the doors to open. We slid our way through the crowd to pick up water bottles and diet coke from the bar as it was all that was available to our underage selves, and after a few more minutes of waiting, found a few seats towards to back of the house and got ready for the show.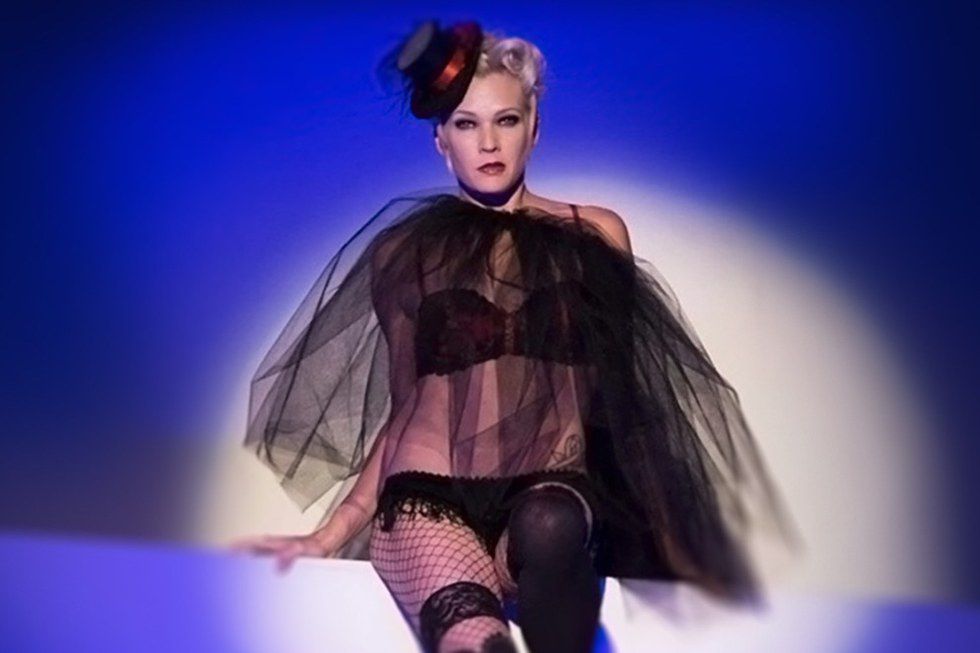 As the lights dimmed and the music grew louder, our host strutted onto the stage and the audience went crazy. Although the theatre wasn't very big, it was almost completely full and most of the spectators seemed to know the performer. She introduced herself as BlueStar, picked on a couple of the straighter men in the audience, entertained us with a few minutes of what could be considered stand-up comedy, and then introduced the first performer. The first dancer was a winner of one of the group's amateur burlesque competitions from a little while back, and from what I understood, most if not all of the shows offer an amateur winner a chance to perform a number. Although the crowd didn't know her, they cheered just as loud upon her entrance as they did for the host of many years.
As she began her dance, I tried to figure out just what a burlesque show really was, as nothing that had happened so far had really shed any light on what the performance was going to consist of. There were elements of drag in the sense that the costumes, hair, and makeup were elaborate and told a story of their own, and rehearsed lip sync was present as well. The dancing was well-tuned and impressive, like in a cabaret, and even incorporated aspect of culture. But what I hadn't experienced before nor expected was the exposure aspect, both in the physical and emotional sense.
As the number progressed, the dancer gradually began to take off articles of her clothing and costume, and by the end, was practically naked with the exception of minimal coverage of her "bathing suit" areas, for lack of a better term. It was nothing more risqué than scenes of an R-rated movie, but what made it different was that it was live and she had an audience of mostly strangers in front of her. Were someone to see a video of her performance, they might view what she was doing as nothing more than glamorous stripping, but that couldn't be farther from the truth.
Although it's hard to put the atmosphere into words, it was as if she was performing her routine with us, instead of for us. The audience was there to enjoy her talent and to support her in performing, not to sexualize her or to use her physicality for their own benefit. Nobody threw ones or catcalled, but instead cheered and put money in her tip jar when she did a particularly difficult dance move or cleverly incorporated humor into the show.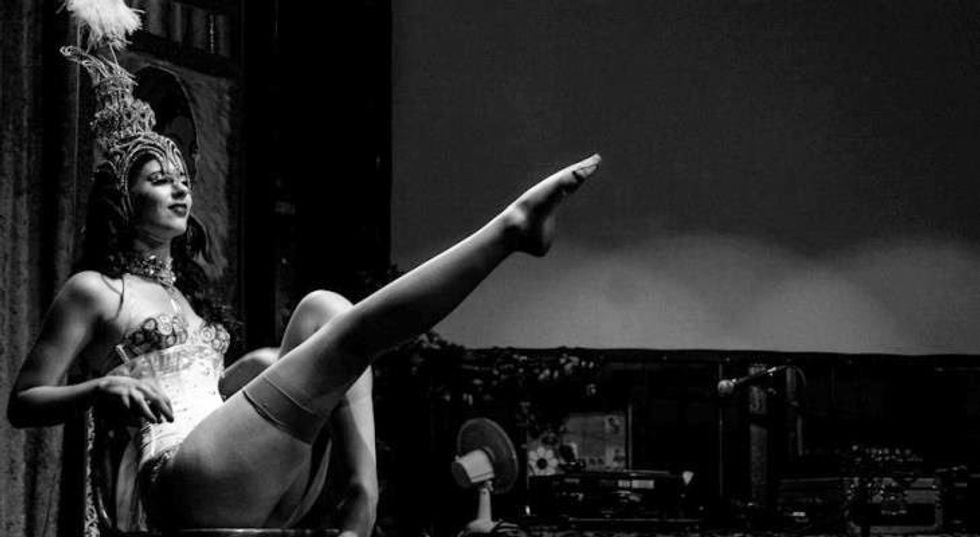 The environment felt similar to that of the private dance club in Magic Mike XXL, of all things. In the movie, a woman runs a club of male dancers where women can buy memberships, but it's much more than a strip club. The men don't discriminate between the skinny and the plus sized customers when choosing who to dance with, and you can tell that that choice has a positive effect on the women's self-esteem. And at the end of the night, one of the dancers chooses a lady from the audience who has just experienced a bad breakup, a divorce, or any other event that might negatively affect her confidence, and presents her a personalized song and offers her a dance. Just like the burlesque show, the customers didn't come to get sexual pleasure from the experience, they came to be a part of the show and to interact with talented performers.
The audience's behavior stayed the same all throughout the show, even with the regular performers. They were respectful, supportive, and generous with their tips, even though they knew they wouldn't get anything in return. The rest of the evening consisted of a variety of different performances with dancers of all different sizes, races, and ages. Masks and body paint were incorporated thanks to a visiting artist, and all the various forms of art that were a part of the show made it an impressive spectacle. There was even a segment in tribute to the late Prince, which was loved by all.
Overall, I was fascinated by the burlesque community. From the dancers to the regulars to us new guys, it was a welcoming environment and a celebration of talent. As a performer myself, it always excites me to see people using their talents to do what they enjoy, and it's even better when they have such genuine support. We artists owe it to each other to learn about all the forms that our out there, and we humans owe it to selflessly support others in their pursuit of their happiness.
If you live in the Orlando area or happen to visit, be sure to support the local art scene! The Venue hosts burlesque shows weekly, and the Orlando Fringe Festival is a major event in the world of entertainment that happens every summer. And wherever you are, be sure to support the arts!