I am a five-year veteran of the busiest time of year at Tennessee-Alabama Fireworks in Kimball, Tenn. Located just off I-24, we meet all kinds of people traveling the stretch of road that connects Nashville to Chattanooga, Tenn. After five holidays, there are only so many questions a girl can hear before she develops a sense to predict what she's about to be asked. In celebration of America's 240th birthday, here are the most common questions you hear when your summer job is at a fireworks store.
1. "Y'all sell fireworks?"

Yep. From firecrackers to Roman candles, to sparklers and fountains, to 100-gram, 350-gram and 500-gram cakes, to artillery shells and packaged assortments of fireworks, we have everything you'll need to light up your Independence Day and stay under budget (whatever that number might be).
P.S. Haha, funny joke, we've never heard that one before.
2. "Do you have restrooms?"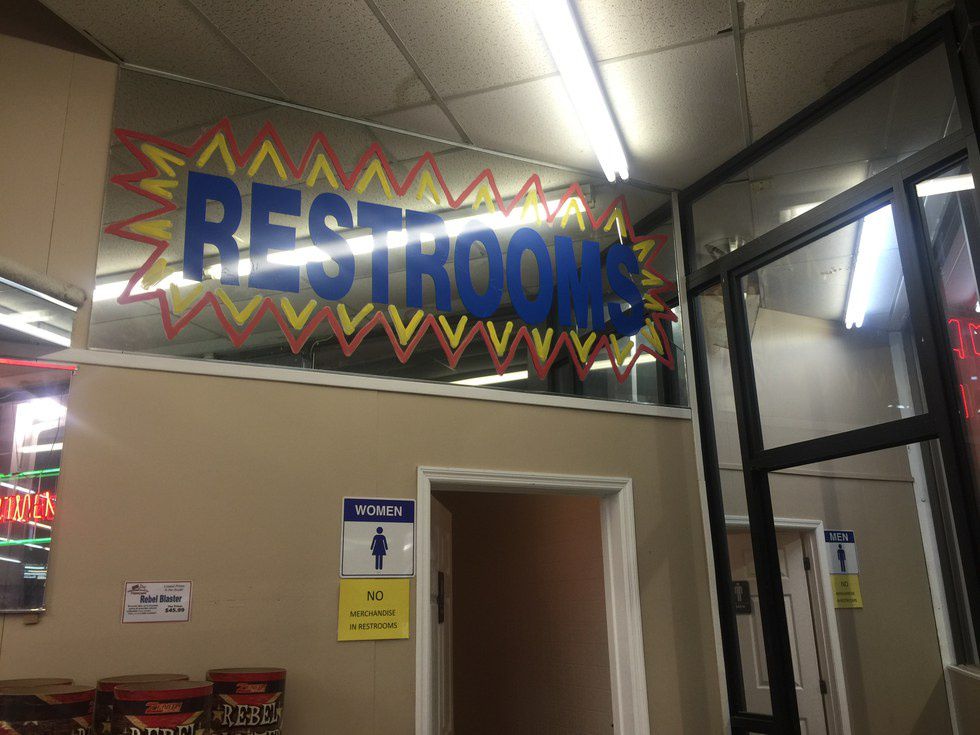 Nah, only fireworks.
Just kidding. They're in the right, front corner of the store, under the giant, painted mirror that reads, "RESTROOMS."
3. "Has a firework ever gone off in here?"
The store has been open year-round, seven days a week for at least 21 years (definitely more, but I'm using my age as a point of reference), and thank all the gods, no, there has never been an ignition within the store. There have been, however, numerous ignitions in the outside the store, during launch battles between the neighboring fireworks store and our own.
4. "Wouldn't it be cool if a firework went off in here?" Or, "Wouldn't it be cool if a fireworks store caught fire?"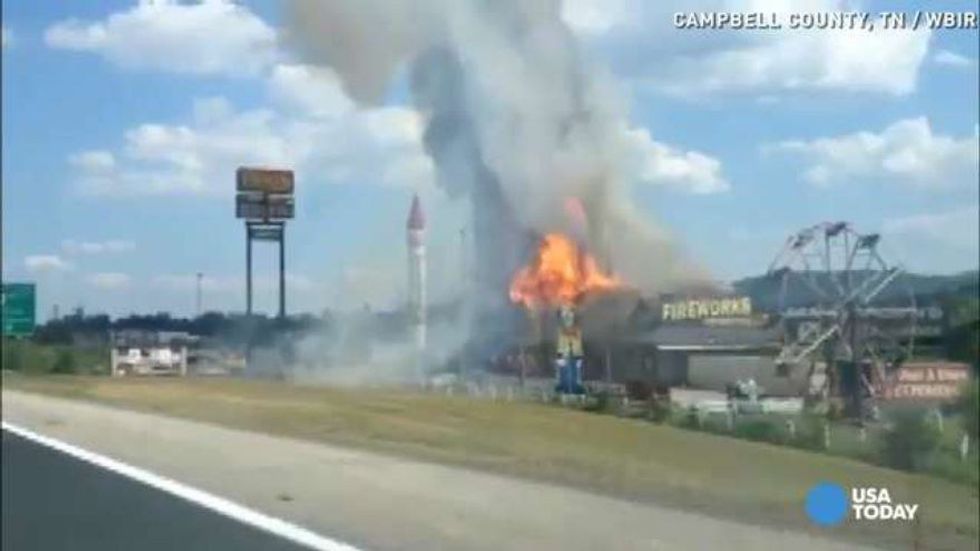 In short, no.
Not only do we have thousands of dollars' worth of fireworks inside the store, we also have mega-tanks of gasoline beneath the parking lot just feet away from the front door. Contrary to popular belief, a blaze inside the store would result to little more than various explosions and black smoke as packages erupted simultaneously. Sorry, no beautiful colors and shapes.
So for the benefit of us all, please handle carefully the fireworks you pick up, both for their integrity and for the safety of everyone in the store. Keep lighters and matches away from packaging. Don't smoke near the packages. When you're ready to light, be sure the firework is on a stable, non-flammable surface, and move away to a safe distance to observe the effects.
5. "Can I smoke in here?"
See number four.
6. "So if I'm not satisfied with these, I get a refund, right?"
Of course, but only if you can catch all the burning shrapnel in its original packaging as it drifts down before it hits the Earth. In exchange, we'll give you an apologetic smile.
7. "Do you sell M80s/Sky Lanterns/Excalibur?"
No, no and no.
Since 1976, the M80, or "Cherry Bomb," firecracker has been illegal to sell to civilians not in possession of special licensing. The M80 was originally created by the military to use to simulate artillery fire, and later they were produced as fireworks and sold to the public. The M80 and its larger variations (M100 Silver Salute, M250, and M1000 or "Quarter Stick") contained anywhere from 3 to 25 grams of pyrotechnic flash powder, and trauma resulting from improper use includes damage to face and limbs in the smaller variants and severe injury and disfiguring as well as death in the larger ones. The firecracker that most closely resembles the M80 is the M150, which has nowhere near as much powder installed but still does the job.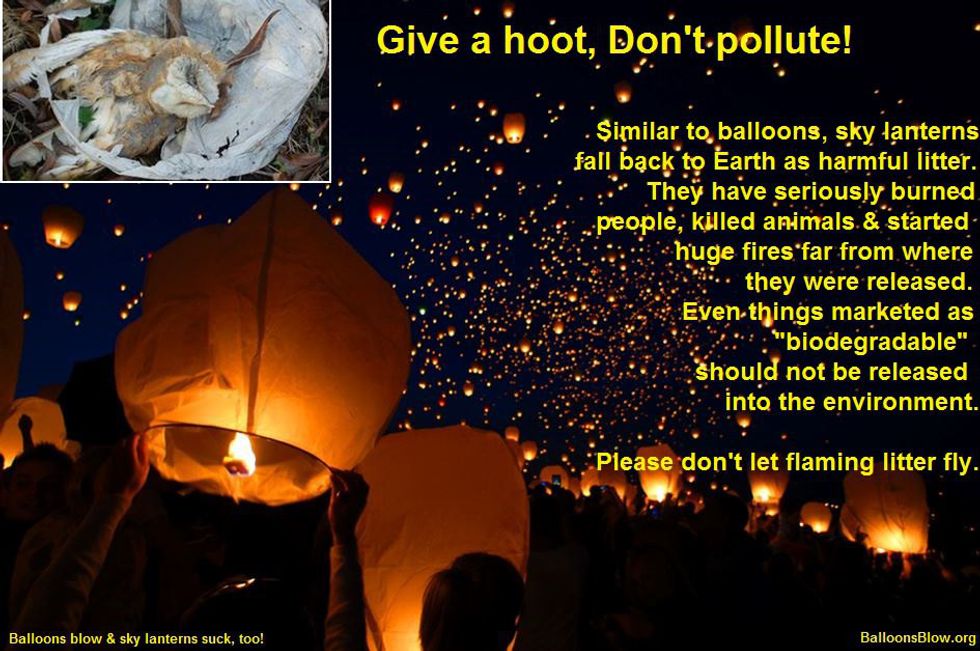 Sky lanterns, a.k.a. "flaming litter," are illegal to sell or purchase in 29 of the United States as well as in 11 countries, including Canada, Spain, Germany and Brazil. While they might be in bulk to watch drift into the great unknown from a lake or mountainside establishment or wedding party, the very construction of the sky lantern makes for a dangerous combination of combustibles kept aloft by flame and, eventually, floating back down toward Earth. Unfortunately, most of these lanterns will still be lit when they come down miles from where they were releasing, potentially damaging structures and wildlife wherever they land. Lanterns have already been responsible for at least tens of wildfires, including one rager that destroyed 800 acres of land in South Carolina.
Excalibur might have been the top-dog artillery shell in its heyday, and while you can still find it online and from wholesale warehouses for an ungodly amount of money, the packages are likely years old and, consequently, pretty dangerous to ignite now. Mortar shells are updated yearly, which is why selections are constantly changing and why you might now be able to find your favorite firework next year. We have a huge selection of artillery shells to fit every budget. Our first-class mortars are Diablo and Night Walker, which boast 70-foot spreads and a chest-shaking boom at the top.
8. "Do you have something that goes up and busts?"
Almost everything in the store will do something to that effect, an exception being the postcards. It's hard to get a postcard to do anything more than be a postcard.
Our knowledgeable staff is happy and able to help you find anything your heart desires within our store; however, you'll have to give a little more description than that to receive any sort of feedback.
9. "Y'all sell gas, beer and fireworks?! This is the best store ever!"
You know, I think so too. The staff is friendly, funny and hardworking. The customers are excited and all on different journeys. I am honored to be a part of both the team that makes the Fourth of July happen, as well as the unique holidays of the families that stop in. To everyone, have a beautiful and safe holiday, whether you're shooting fireworks, watching them, spending the day on the water, cooking out, traveling to visit family, working or staying in with a cold one and the company of close family and friends. Thank you for allowing me to be a part of your celebration. Happy Fourth, and I hope to see you in the store.