I have unfortunately always been cursed with a weakness for shopping, yet at the ripe old age of 14 I was ~shipped~ (ha, puns but just kidding -- I wanted to go) off to boarding school, and I feared for the worst. I was in the middle of nowhere, with no means of transportation, and the nearest store was a Big Y grocery store. Not ideal. So, being the adaptable clothing hoarder that I am, I put my talents to work on the world wide web, and I am pleased to say that I have developed into a systematic, efficient, and skilled online shopper. And therein lies the problem. My expertise has turned into an addiction, so here are the nine struggles of being an online shopping addict.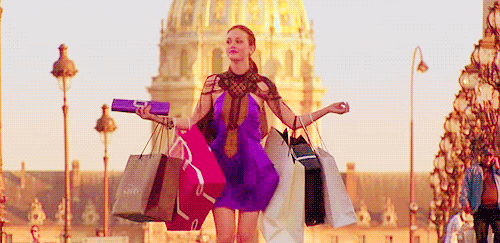 1. You figure out which websites have free shipping and use it as justification.
I will spend ridiculous amounts of money on jeans, but they second you ask me to pay for shipping I'm out. Also, if you don't have free return labels I quit too. I'm an online shopper, I'm obviously lazy.
2. You have an amazing eye for which brands or cuts will look good on your body.
I love off the shoulder tops, but I've ordered enough to know that my man shoulders look horrendous in them, so alas. On the other hand, trial and error has led me to my favorite denim brands, so not all is lost. Plus nothing beats trying things on in the comfort of my own room so no one can see when I can't even get one leg in a dress.
3. You know where to look if one website doesn't have your size.
Oh bookmarked website A doesn't have that bathing suit in my size? Let me just head over to bookmarked website B, ah yes there it is. Ooh, maybe I actually like that color better anyways.
4. You scroll through the new clothing sections often enough that you recognize what is actually recently added.
Just in? Lies, I saw this last week.
5. Your credit card information is saved so you can skip right to "place my order". Dangerous.
One-click shopping is absolutely incredible. My wallet would disagree, but you know you've made it when a website has your shipping, billing, and payment information raring and ready to go.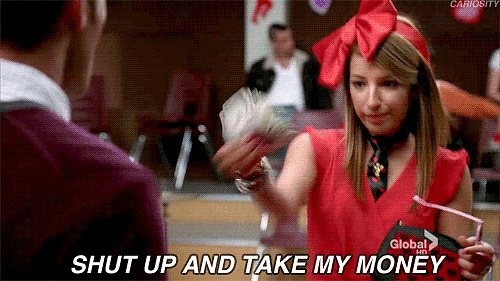 6. You know where everyone's clothes are from and how much they cost.
I like your shirt I almost bought it.
7. Your shopping cart is never empty.
Sometimes I'm so pleasantly surprised when I look at the gems that I've left in my cart. I forgot about you! And you've been sitting there for so long that now you're on sale?! What a time to be alive.
8. Sale sections are overwhelming for other people. Not for you.
For the faint of heart, the vast amount of clothing that is available online is terrifying. Where to even start? Once you're an online shopper, you are able to navigate the seemingly endless pages of clothing whether you are sorting your searches by price and color, or figuring out which websites to hit up for bathing suits (RIP all of my money for like three triangles) and which to check for formal dresses (not trying to be twins with five girls in my sorority). Or you can be so advanced like myself where you just hit "view all" and let your extremely trained eye do the work. Who said you can't win on talent alone?
9. Your wish list is also never empty because you want to buy everything and every day is a test of your self-restraint.
I think that some of the things on my wish lists have been there for years. Sometimes I look back and just what was I thinking. But the point is, online shopping is an addiction. And for a generation that loves immediate gratification (I open packages as soon as I get them and put on my new clothes over what I'm already wearing, it's just so exciting), there is nothing better than being a quick click from having all of the beautiful clothes you could want right on your doorstep. Its seriously like getting Christmas presents. But on a random Tuesday.