Going to college is stressful but registering for the classes is worse. Every college student knows the awful feeling they get when advisors start emailing about appointments and registration dates. What's even worse is the hours spent perfecting a schedule just to have it ruined in 0.5 seconds because you're competing with everyone in school who also need the same classes as you.
Registering for classes is best described as "The Hunger Games." Competing with thousands of other students for a spot in a class that you literally need in order to graduate. Not to mention that you need the class at a certain time and preferably with a good professor so you can get the most out of it. I know it sounds almost impossible... that's because it is.
Since fall semester is coming to a close, here are nine stages of class registration that all college students will be able to relate to, really soon.
1. Check for holds on your account and make an advisement appointment.
This is just the beginning of the dreadful process. You have to make sure that all holds with any other department at the university are taken care of before being able to register for classes. Also, you have to schedule a mandatory appointment with your advisor; do it quickly or there won't be any appointment slots left.
2. Make the perfect schedule months in advance to your registration date.
This includes checking all of the professors teaching your classes on rate my professor, planning to get proper breaks throughout your day and making sure you get some classes with your friends.
3. Make three back up schedules.
Although the first one is what you're fighting for, you have to be prepared to pick new classes as quickly as possible if some do not work out.
4. Get on the registration website hours before it opens.
It's not like it's going to open early but maybe if you're the first one to hit register when it opens, you'll get every class you planned on registering for.
5. The seats that are available go from 100 to 0 real quick!
In a matter of seconds, everyone in your grade submits their schedules leaving a class that once had 100 spots with 2 left.
6. The registration website crashes...
nerve-racking is such a common problem, it's actually maddening. With the number of people that are trying to get on the same website at once, it's pretty likely for something like this to happen. Also, the website gets slow, at a time like this, we don't have time to refresh. We need to get into classes.
7. You fight to switch into classes with one spot left until you get an ideal schedule.
If your classes are really popular, you may have to do this, which makes the process even more stressful. You check up on the class every thirty minutes just to see if one person will drop.
8. At this point, dropping out seems like a better idea.
Between working so hard on your original schedule and trying to put classes that are available together to create a new one, it's stressful and annoying. At this point, you'll settle for any class... even if it is an 8:00 a.m.

9. Take a nap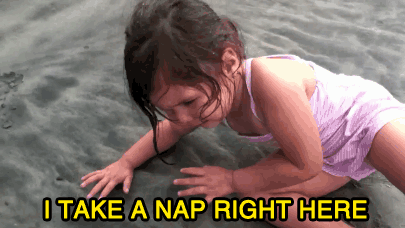 Giphy
After all of this is over, you accept the fact that you're not going to get a perfect schedule which is okay because it will all work out. Then you take a well-deserved nap.
Whether you got every class you wanted or didn't get a single one, registering for classes is a strenuous and nerve-racking process no matter what college you go to.