No one hates on Valentine's Day more than single people, and if you have not tricked anyone into loving you this year, you will likely become one of the haterz. Welcome to the club. As the couples line up for their reservations at The Hound and Hamilton's, all of us single people will be over at Skybar dancing the night away and pretending we are not single. Here is a list of the different types of people you will probably see on V-Day.
---
1. The overly affectionate PDA couple.   
Yuck. Okay, maybe a little PDA is alright but c'mon, do you have to kiss in between every single word? These guys are the ones single people love to hate on the most, probably because its so obvious they are really into each other.

2. The #WCW and #MCM. 
These are the worst. I mean, they are bad enough on Mondays and Wednesdays, but especially on Valentine's Day. These are the people who will be blowing up your Insta newsfeed with every picture they have ever taken with their BF/GF, not to mention exactly what they bought them for Valentine's Day. I am thrilled that you love your BF/GF, but all of the internet does not want to hear every last sappy detail of your relationship. 

3. The couple who just could not handle the pressure.
This would be the couple who comes and meets up with their friends after dinner because something obviously wasn't going right. Usually because the girl had way too high expectations, or he thought he did something really nice and she just didn't notice. Either way, they are the ones that need some help from their friends, so they hop on over to the bars to take a little pressure off themselves. Better luck next year. 

4. The recent break-up.
Bitter ex-lovers. These are the ones you especially do not want to be around on Valentine's Day. They are not quite over their ex and, man, are you going to hear all about it. Beware of the recent break-up. 

5. The singles who are just trying to mingle.
We all know these people, and in all reality, we probably all fit into this category at one point or another. There is nothing wrong with getting out there, gettin' yo flirt on and having a good time. Be careful not to let the fact that it is Valentine's Day, and you may be more lonely than usual, turn you into a thirsty thot. 

6. The two friends who, obviously, have something going on.
These are the people that totally want to be together on Valentine's Day, but haven't  quite figured out how to make it work -- whether it is with a new friend you just discovered you totally have chemistry with, or the one you definitely like, but something is always getting in the way. This one sucks most of all. For whatever reason, they cannot be with their one on Valentine's Day. For that reason alone, you are the real MVP because this night is the worst for you. 

7. The couple just trying to have a good time.
These are the couples that will be downtown hanging with their friends all night, just trying to get their groove on. They don't get caught up in the whole Valentine's Day thing because it just isn't a big deal to them. They just want to get their drank on and have a good night. 
8. The couple completely perfect for each other and might as well already be married. 
These guys are the ones that hold Valentine's Day close to their hearts. This day is totally devoted to their significant other, and all they want to do is spend time together. I mean, you can't even hate on them because these are the people everyone secretly wants to be. So you keep doing you, and go about your day in complete oblivious romantic bliss.
This is them.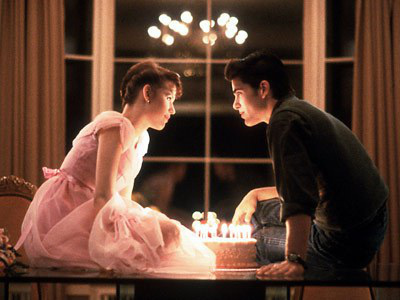 This is us.
---

Regardless of how you spend your Valentine's Day, it is a day set aside to tell the people you love just how much they mean to you. So, go out there and tell them because, after all, they are totally cool.