Ross and Rachel were the 90s "It" couple, everyone loved them and everyone wanted to be them. They were the cutest and there's no denying that. But "cute" isn't what makes a couple! If cuteness was the basis of all couples, Angelina Jolie and Brad Pritt would still be together, Anna Farris and Chris Pratt would be together, and I'd still be getting married to my first fiancé.
There were so many honest to God issues with their relationship. Don't get me wrong, I find them highly cute. But as previously stated, cuteness isn't what makes a couple. In the grand scheme of things, you have to look past the couple's cuteness and look at the essence of the relationship. I could probably pick and choose and dice and chop at their relationship to come up with a novel length of issues, but nobody wants that. So here are only 7 reasons that they weren't great together.
1. They WERE on a break.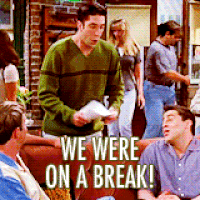 So in all reality, Rachel is so full of crap to be mad at him! When a couple is on a break, what he did was ok, just ask Taylor Swift. So he did not cheat, they were on a break.
2. They're TOO different.
Okay, I hear that opposites attract but come on! Rachel was such a worldly person, and Ross was the complete opposite of that. Ross was family orientated and Rachel was ruled by the fashion world.
3. How Many Times Does a Couple Have to Breakup until they realize, THEY DON'T BELONG TOGETHER?
Let's take a moment to think about this: if a couple keeps breaking up, doesn't that say something about the way they jive? Or better yet the way they don't? Say your best friend comes to you and says they're getting back with that girl/guy for the umpteenth time, you'd absolutely freak! And then you'd tell her to get her holy sh*t together! Now THAT'S Ross and Rachel.
4. They're communication is just out of sync, completely!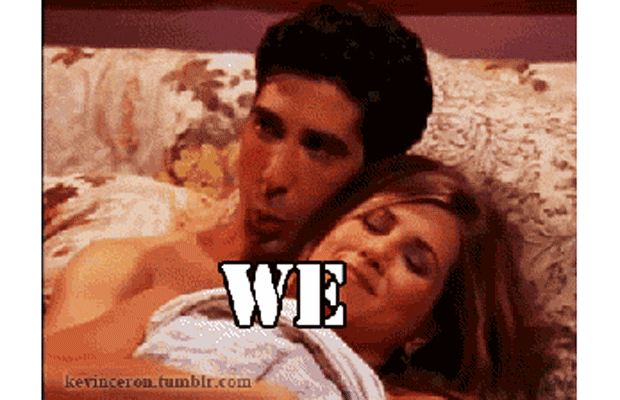 Again: THEY WERE ON A BREAK!. But clearly, just obviously, that means different things to people. And they were always fighting about everything.
5. Jennifer Aniston and David Schwimmer Didn't Have Great on Screen Chemistry.
From an actor's point of view, I can clearly see the way they didn't like each other, I didn't need a Cosmo article to tell me that they didn't truly get along in person.
6. They Both Cling to the Past.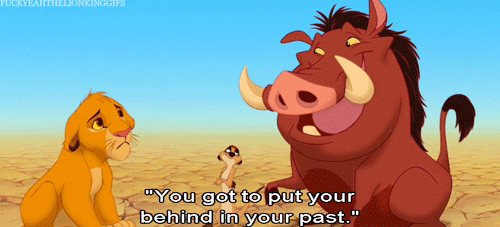 Let it go, let it go. But they never could. Fights in the past continued to effect their future. And as long as you cling onto past mistakes, you can never move forward.
7. Ross is Possessive
Anyone who's seen the show knows it's just part of his nature. Some girls like that but Rachel was not one of those of those girls at all.
Although so many downfalls, they did manage to have quite a few cute and romantic moments together. And whether or not you ship the famous couple, they will always have a significant place in the show and in our hearts.